What's behind the shortage of Black fungus drug in India?
What's behind the shortage of Black fungus drug in India?
May 26, 2021, 04:36 pm
3 min read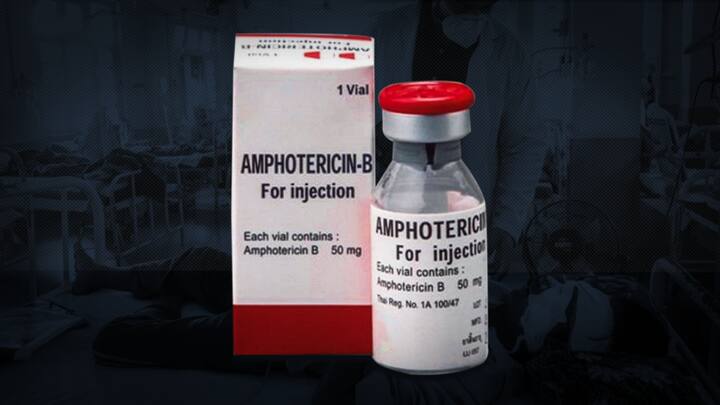 As cases of mucormycosis or the Black fungus infection continue to rise across India, the country has been faced with an acute shortage of liposomal Amphotericin B and other key drugs used in its treatment. So, how many doses does India need, how much is the current shortage, and what is being done to improve that situation - we answer your questions.
What is the Black fungus infection?
Mucormycosis is caused by a group of moulds known as mucormycetes. These fungi are naturally present in the environment, but they typically affect people who are on medication for certain health problems, which essentially weakens their immune system. Experts say misuse of steroids among coronavirus patients and use of contaminated water in oxygen therapy humidifiers may also be responsible for the infection.
How many Black fungus cases are there in India?
As of May 22, there were 8,848 cases of the Black fungus infection in India, according to the data released by the Union Minister for Chemicals and Fertilisers. 60% of those cases were from just three states - Gujarat (2,281), Maharashtra (2,000), and Andhra Pradesh (910). States and union territories like Delhi (197), Karnataka (500), Madhya Pradesh (720), and Rajasthan (700) are also affected.
Which medicines are used in treatment?
The drug primarily used in Black fungus treatment is liposomal Amphotericin B injection. However, if that is not available, the second choice is Amphotericin B deoxycholate (plain) injection. The drug Isavuconazole is a third option and comes in tablet and injection form. Posaconazole, a generic medicine available in tablet and injection forms, can also be used.
How many doses does India need?
Black fungus treatment using Amphotericin B can go on for four-six weeks, involving 90-120 injections. Assuming India still has the same number of cases it had on May 22 and each patient requires 100 injections during their treatment, India would require nearly 9 lakh injections. Notably, the actual number of infections is likely to be higher and expected to increase in the near future.
How many doses does India actually have?
Only 67,930 injections of Amphotericin B have been sent to states for the period May 10-31, official data says. The central government has said that domestic production will be ramped up to 2.55 lakh doses next month while another 3.15 lakh vials will be imported. That will take India's total availability to 5.70 lakh, far less than the estimated requirement of 9 lakh vials.
What are the issues in the supply chain?
A shortage of two key raw materials is affecting India's production capacity. They are active pharmaceutical ingredient (API) and purified synthetic lipids. Now even when these raw materials are available, production of the drug is a slow process - it takes around three weeks (21 days) to manufacture, in addition to the time needed for the sterility test.
Which all companies produce the drug in India?
Presently, Amphotericin B is manufactured by five companies in India - Bharat Serums & Vaccines, BDR Pharmaceuticals, Sun Pharma, Cipla, and Life Care Innovations. Last week, the central government gave the production license to five more firms. However, their production process can start only by July, and they can collectively provide no more than 1.11 lakh vials of the injection, reported The Indian Express.