Eggplant recipes you might not know about
Eggplant recipes you might not know about
Mar 05, 2022, 12:54 pm
2 min read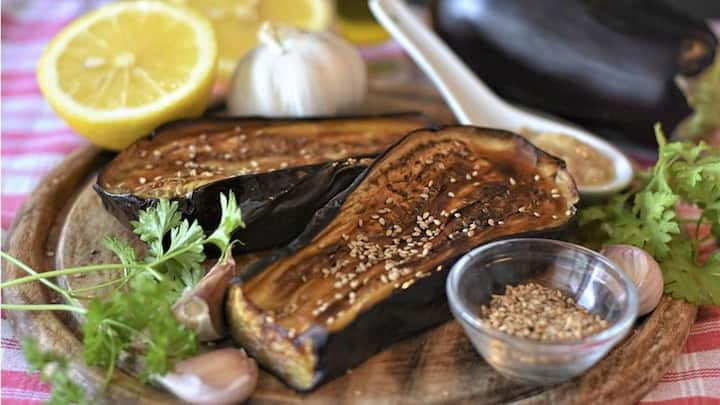 Eggplants are a good addition to your regular diet as they can be prepared in many ways and included in a number of dishes. Since eggplant has a satiating effect without being high on calories, it can be helpful for those trying to shed some extra kilos. It's great as long as it's not fried in oil as that's when it becomes fatty.
Thinly slice eggplants lengthwise. Sprinkle salt on them, rinse and pat dry. Whisk eggs in a bowl and in another bowl, mix parmesan cheese, bread crumbs, and desired seasonings. Dip eggplant in eggs and coat with crumbs. Arrange them in a single layer on a greased tray in a pre-heated air-fryer basket. Brush oil and cook until golden brown. Serve hot with ketchup.
Season eggplant slices with salt and pat dry later. Brush them with oil and roast until tender. Make cheese mixture with beaten eggs, mixed cheese, garlic, oregano, chopped spinach, some herbs, salt, and pepper. In a baking dish, spread pasta sauce. Add one layer of eggplant slices, then cheese filling, and then pasta sauce. Repeat layering and sprinkle mixed cheese on top and bake.
Season round pieces of eggplant with salt and pat them dry later. Dip the eggplant into beaten eggs and coat in breadcrumbs. Brush the breaded eggplant with oil and bake for 30 minutes. Add some pasta sauce to a baking dish and then some eggplant slices. Layer them with more sauce and parmesan cheese. Add the remaining eggplant, sauce, and cheese and bake again.
Make pizza dough with flour, water, yeast, salt, and oil. Roll out a pizza and stretch it down on a greased pan. Add a layer of pizza sauce, some round grilled eggplant slices, cherry tomatoes, Parmigiano, mozzarella, and a few basil leaves. Top it up with some more cheese and bake until the edges are crispy and the cheese is melted and bubbling.
Sprinkle salt on chopped eggplant and rest. Pat them dry and brush with oil and bake until tender. Meanwhile, cook your pasta until it is al dente. Then prepare the marinara sauce in a pan with tomatoes, garlic, herbs, and seasonings. Add some onion slices and the roasted eggplant and mix. Then add the sauce over cooked pasta and garnish with fresh basil leaves.