5 benefits of a gua sha massage
5 benefits of a gua sha massage
Feb 23, 2022, 11:55 am
3 min read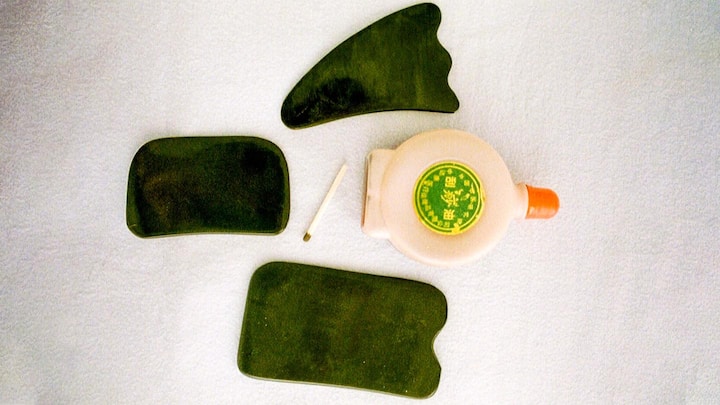 If you are a fan of facial or body massages, then the gua sha tool is a must-have in your skincare regimen. The gua sha stone is made up of jade or quartz with a flat surface that massages your skin, relaxes stiff muscles, and helps in promoting tissue drainage. It is a popular beauty tool among the Chinese since ancient times.
Gua sha is a Chinese word that means scrape and sand. The tool can cause some redness on your skin, which actually means that the skin is healing from the inside. This is what ultimately gives it a healthy glow. Gua shas are popularly used to release stress, promote circulation and sculpt your skin. They can also reduce puffiness from the face.
Gua sha promotes lymphatic drainage
Just like a jade roller, a gua sha has the ability to improve your lymph system and remove puffiness from the face. Acne and fatigue are the other problems that can happen due to an unhealthy lymphatic system. Gua sha massage promotes muscle movement and prevents fluid build-up in the body, increasing lymph circulation and reducing swelling and puffiness.
Provides relief from migraine
Are you fed up with consuming over-the-counter medicines for your migraine problems? Well, you can give gua sha a try for relieving. The tool can help you get rid of a headache as well. According to a study, a 72-year-old elderly woman who used gua sha for a 14-day period for her chronic headaches experienced some relief over a period of time.
Helps to reduce acne scars
Gua sha is extremely effective in healing your acne scars and the redness associated with them. The tool can reduce the visibility of acne scars by generating fresh blood to your skin surface that helps in regenerating skin cells. Gua sha also helps to improve circulation and prevent skin congestion that reduces acne size. However, do not use it on broken skin.
Helps you to relax and de-stress
Gua sha is a great natural remedy for eliminating stress and anxiety. Gua sha massage helps you to get rid of tightness in the face and jaw that calms your body and mind. It soothes your nerves and relaxes your muscles. Gua sha massage at night also prevents insomnia and helps you to get good quality sleep.
It helps to prevent wrinkles and fine lines
Gua sha helps to reduce wrinkles and fine lines in your skin by strengthening, lifting, and toning it. It also improves your overall skin tone and texture. It improves the elasticity of your skin and makes it look firmer. It also helps to relax the tissues and muscles on your face which in turn blurs out any aging signs and gives a healthy glow.