Sleeping positions of dogs and what they mean
Sleeping positions of dogs and what they mean
Jan 18, 2023, 04:47 pm
3 min read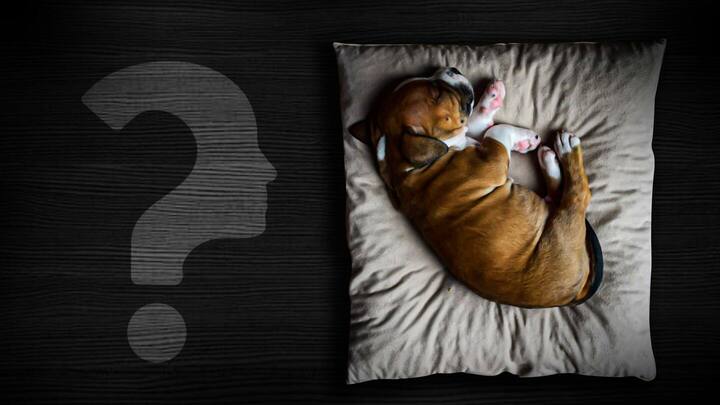 How often have you noticed your dog sleeping on your bed with you? What position do they sleep in? There is a lot that can be learned about how they are feeling at the moment from the way they sleep. Take note of your doggo's various sleeping positions to find out some hidden and adorable meanings of their feelings.
Sleeping with their head on top of their paws
Dogs, when they sleep keeping their head on top of their front paws and their back legs on one side, are merely resting and not sleeping deeply. They are conscious of their surroundings and sleep in such a position to sprawl up quickly if the need arises. The dogs who sleep in this position are protective and devoted.
Sleeping with their belly pressed to the floor
When your dog sleeps with its stomach pressed on the floor, its back legs behind them, and its front legs stretched forward, it means that it is tired but ready to play if the opportunity arises. Adorable isn't it? This position lets dogs hop up quickly to play. High-energy dogs often sleep in this superman-like position during the day. They are playful and energetic.
Lying on their side with their legs extended
This is the most common sleeping position among dogs. When your pooch sleeps this way, it means they feel relaxed and safe in their environment. They get into deep sleep mode in this position. You will often see them having paws spasm. This happens because the dog is in deep sleep mode and may be dreaming about something.
Lying on their back with their paws in the air
A dog lying on their back with their belly up and paws in the air is simply the cutest sleeping position of them all. When dogs sleep in this position, they are trying to keep cool. It also means that they fully trust their owners and feel safe in their environment. This sleeping position is a sign of comfort and relaxation in dogs.
Curled up in a ball with all limbs tucked inside
When your dog sleeps in a curled-up position with all their legs tucked close to its body, it is trying to protect itself while sleeping. Your dog might often sleep in this position when the weather is cold or windy in an attempt to preserve its body heat. This sleeping position is common among stray dogs or dogs in a new environment.