Suicide bombers being trained at Shaheen Bagh: BJP's Giriraj Singh
Suicide bombers being trained at Shaheen Bagh: BJP's Giriraj Singh
Feb 06, 2020, 01:54 pm
3 min read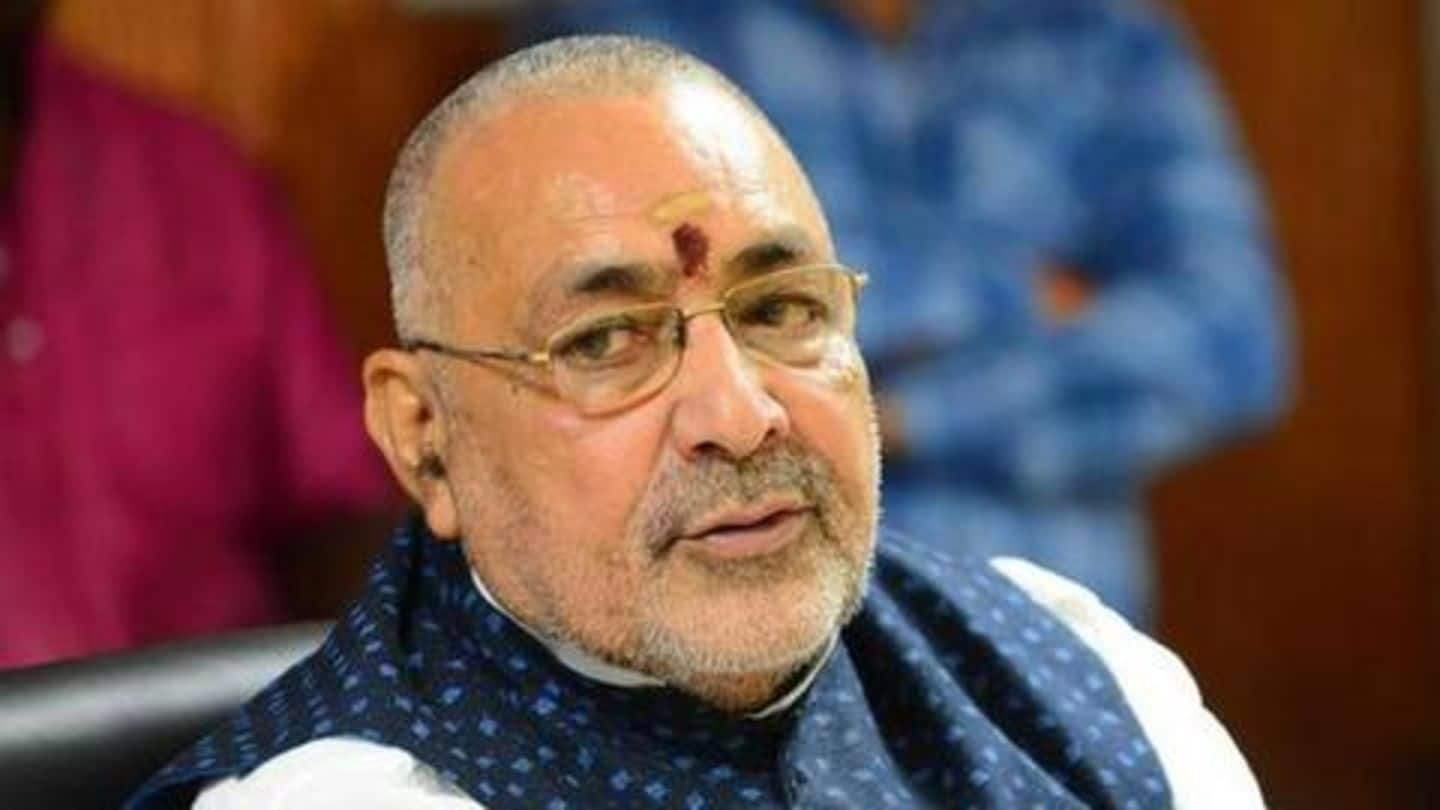 Adding to the long list of hateful comments that Bharatiya Janata Party leaders have made about Shaheen Bagh, Union Minister Giriraj Singh on Thursday said the protest site has become a breeding ground for suicide bombers. In a tweet, Singh, who has the reputation of passing controversial statements, said Shaheen Bagh is not about a movement anymore, but a conspiracy is being planned there.
Women sat on streets against CAA, haven't moved an inch
For almost two months now, the protest at Shaheen Bagh has been going on in full swing. Initially started by women who wanted that the Citizenship Amendment Act (CAA) is scrapped, the agitation got the support of activists and students with time. The protest put the traffic burden on the Delhi-Noida-Delhi flyway as the entire Kalindi Kunj-Shaheen Bagh stretch is blocked.
After 'ignoring' protest, all BJP talked about was Shaheen Bagh
For many weeks, the agitation didn't catch BJP leaders' attention, but in the run-up for Delhi assembly elections, Shaheen Bagh consumed a lot of their time. It was alleged that anti-national sentiments are being fanned at the site. One BJP leader, Parvesh Verma, even went as far as saying that if his party wins polls the site will be cleared within one hour.
This morning, Singh shared a video of a bunch of Muslim women. One woman can be heard saying that Muslim children aren't taught rhymes but about the Battle of Karbala. She claimed that the government minted crores of rupees through monuments which "our ancestors" built. "This Shaheen Bagh is not a movement anymore. Suicide bombers are being raised there," Singh tweeted.
Conspiracy is being planned in Delhi, said Singh
यह शाहीन बाग़ अब सिर्फ आंदोलन नही रह गया है ..यहाँ सूइसाइड बॉम्बर का जत्था बनाया जा रहा है।
देश की राजधानी में देश के खिलाफ साजिश हो रही है। pic.twitter.com/NoD98Zfwpx

— Shandilya Giriraj Singh (@girirajsinghbjp) February 6, 2020
Singh spoke about infant's death to prove his point
Defending his tweet, Singh reportedly said, "At Shaheen Bagh a baby dies and his mother says my son is a martyr. What is this, if not a suicide bomb?" The Union Minister for Animal Husbandry and Fisheries was referring to the unfortunate demise of four-month-old Mohammed Jahaan. The infant caught a fatal cold after he accompanied his mother Nazia to the protest site daily.
Evoking Shaheen Bagh, Surya said 'Mughal Raj' is almost here
Before Singh, BJP's young gun Tejasvi Surya also spoke about Shaheen Bagh, that too in the Lok Sabha. The parliamentarian from Bengaluru South, said on Wednesday, "What is happening today in Delhi's Shaheen Bagh is a stark reminder that if the majority of this country is not vigilant, the days of Mughal Raj coming back to Delhi are not far away."
Shaheen Bagh is symbol of Islamic fanaticism: Surya
"Shaheen Bagh is symbol of Islamic fanaticism in garb of constitutional secularism"

While hollow opposition is indulging in lies slander, Sh @narendramodi govt is moving forward with India's development story

My talk on President's Motion of Thanks: https://t.co/C7Un5FMQSi

— Tejasvi Surya (@Tejasvi_Surya) February 5, 2020
BJP's attack on Shaheen Bagh got emboldened after a controversial speech of one of the early organizers surfaced on the internet. Sharjeel Imam, a student of JNU, spoke about cutting off Northeast from India and said a mob was being readied for this purpose. He was charged with sedition, arrested in his home state Bihar, brought to Delhi, and is now in custody.