To stop Rahul Gandhi from resigning, Congress worker attempts suicide
To stop Rahul Gandhi from resigning, Congress worker attempts suicide
Jul 02, 2019, 05:27 pm
3 min read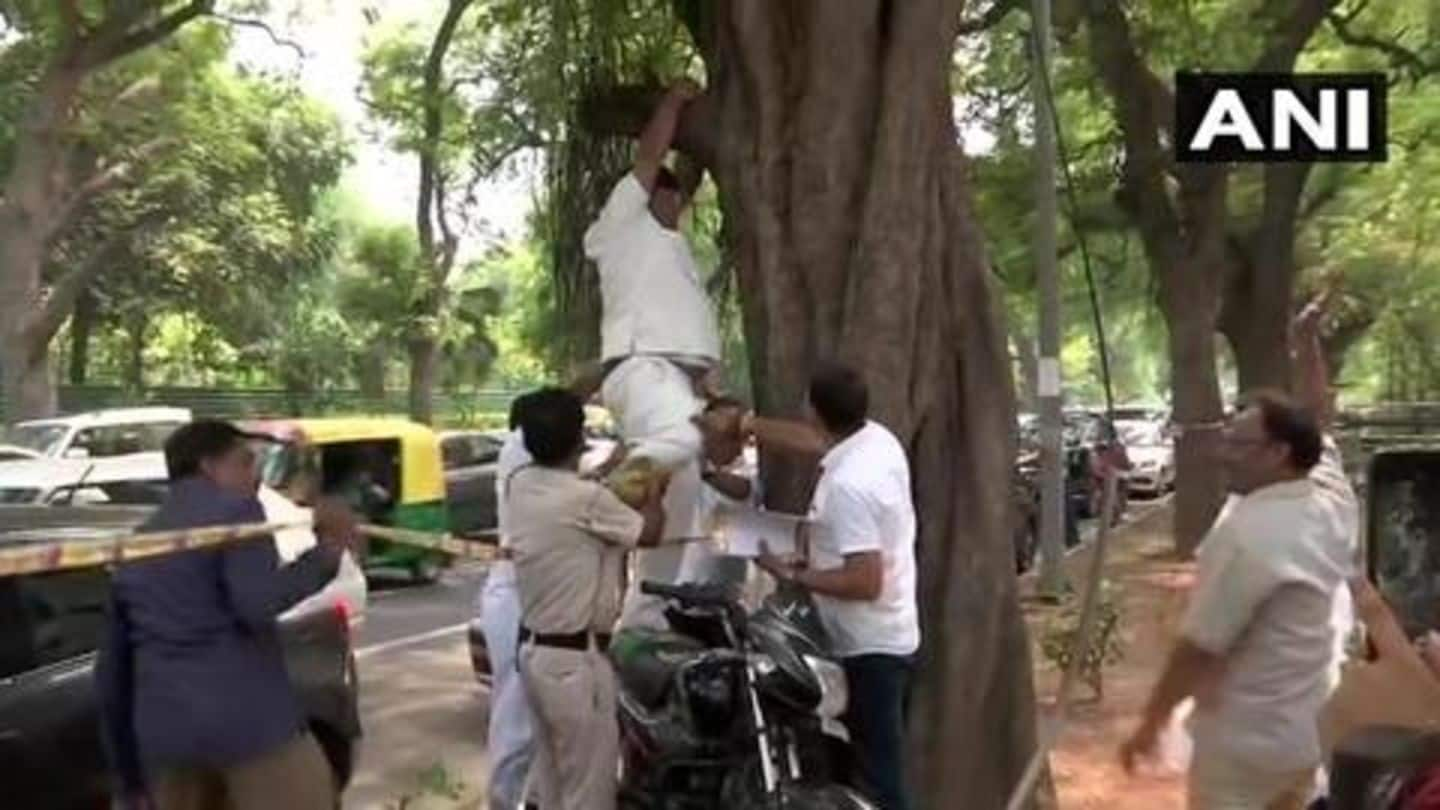 The ambiguity over Congress President Rahul Gandhi's resignation isn't nearing an end. The man, for the first time in his career, took responsibility for the poll debacle and decided to quit. But Congress leaders didn't accept his stand and are trying new ways to change his mind. On Tuesday, a Congress worker attempted suicide to convince Rahul to "stay". What is this insanity?
He tried to hang himself, was saved by locals
The worker, who wasn't identified, tried to hang himself from a rope on a tree outside Congress' office in Delhi. "Rahul Gandhi should take back his resignation else I will hang myself," he told media. However, his suicide bid was foiled by locals and cops, who brought him down. As the man was being taken away, party supporters reportedly shouted "Rahul Gandhi Zindabad".
For the love of Rahul Gandhi?
Delhi: A Congress worker attempted suicide by trying to hang himself outside Congress Office. He says, "Rahul Gandhi should take back his resignation else I will hang myself." pic.twitter.com/AhoClvzEPk

— ANI (@ANI) July 2, 2019
Separately, Congress leaders sat on indefinite strike to convince Rahul
This man tried to take his life on the same day when Congress workers sat on an indefinite strike to urge Rahul to not quit the top post. Most of the leaders, who protested at AICC headquarters, were those who resigned from their positions on Friday. Notably, leaders like Mahender Joshi, Naseeb Singh, Rajesh Lilothia, Shobha Oza, and Jagdish Tytler also attended the "agitation".
Rajesh felt Rahul shouldn't be blamed for Congress' dismal performance
About the strike, Rajesh said, "We have sat on an indefinite strike demanding Rahul ji to continue as party chief." He added that the responsibility for Congress' rout was on all party leaders, and not solely on Rahul. Separately, Shobha said only Gandhis can run Congress at this time of crisis. To recall, the Congress Working Committee (CWC) had also rejected Rahul's resignation unanimously.
Earlier, Congress CMs told Rahul his leadership was "important"
On Monday, Rahul met Chief Ministers of Congress-governed states to discuss pressing matters, and there too the leaders asked him to reconsider his decision. Reportedly, Captain Amarinder Singh (Punjab), Ashok Gehlot (Rajasthan), Kamal Nath (Madhya Pradesh), Bhupesh Baghel (Chhattisgarh), and V Narayanasamy (Puducherry), reminded Rahul about upcoming assembly polls and said his "leadership" was important. But he told them he won't change his mind.
It seems Congress hasn't learned anything from its mistakes
While Congress leaders think Rahul will "save them", his leadership failed miserably in 2019 polls. In this scenario, Rahul's resignation is probably the best thing to happen to Congress. But by delaying the process and turning to different tactics, Congress is digging its own grave. In case the leaders haven't noticed, Lok Sabha session has commenced and it's time to get back to business.