Mamata Banerjee's United Rally: Towering political leaders reach Kolkata
Mamata Banerjee's United Rally: Towering political leaders reach Kolkata
Jan 19, 2019, 11:25 am
3 min read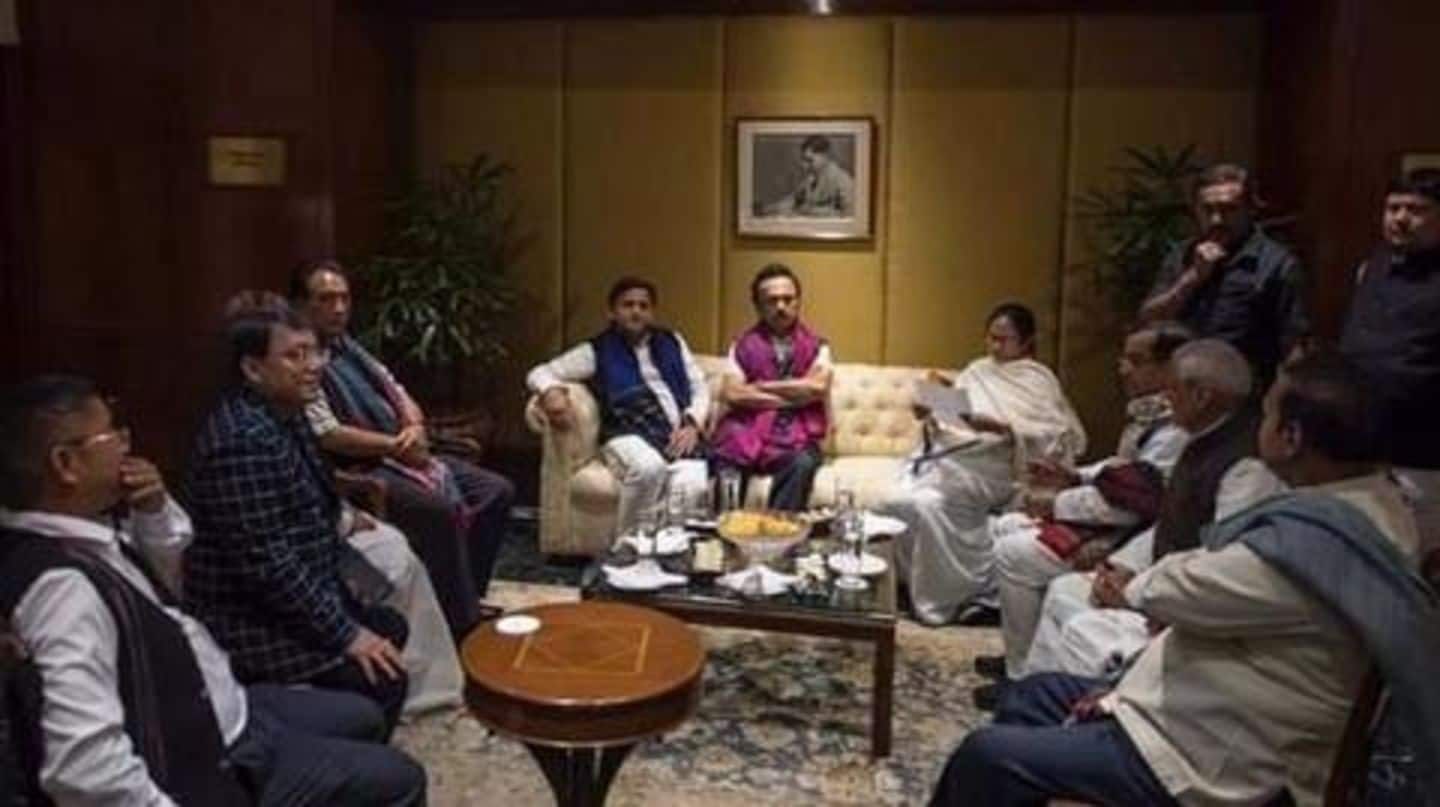 Mamata Banerjee's United Rally in Kolkata, West Bengal, on Saturday which is primarily a show of strength of opposition leaders will be attended by towering leaders of the country, including a former Prime Minister and several ex-Chief Ministers. The TMC Chief has met many leaders who have already arrived in the city. Notably, Congress President Rahul Gandhi won't attend this mega rally. Here's more.
Former Prime Minister Deve Gowda reaches West Bengal capital
Former Prime Minister HD Deve Gowda, former Uttar Pradesh CM Akhilesh Yadav, former Maharashtra CM Sharad Pawar, and former Arunachal Pradesh CM Gegong Apang have already arrived in Kolkata. Andhra Pradesh CM Chandrababu Naidu, Delhi CM Arvind Kejriwal, Karnataka CM HD Kumaraswamy, and Congress' Mallikarjun Kharge will also participate in the rally. Jharkhand politicians Hemant Soren and Babulal Marandi are also on attendees' list.
J&K's Omar Abdullah and Tamil Nadu's Stalin will attend rally
Apart from the aforementioned leaders, other political bigwigs who will attend the rally are Omar Abdullah (NC), Tejashwi Yadav (RJD), Sharad Yadav (LJD), MK Stalin (DMK), and Satish Chandra Mishra (BSP). Former BJP leaders Yashwant Sinha and Arun Shourie are also expected to be seen at the rally. BJP MP Shatrughan Sinha, who is quite vocal about his criticism for Centre, could attend too.
Rally will mark beginning of new India: Abhishek Banerjee
Abhishek Banerjee, the TMC Chief's nephew and the virtual second-in-command, said the rally will mark the beginning of new India. He claimed the events were unprecedented as this was the first time several regional parties came together. Mamata Didi said all opposition leaders will deliver speeches. "We would not like to talk much. I am waiting in eagerness to listen to them," she said.
Akhilesh Yadav says country needs a new Prime Minister
Akhilesh Yadav, who recently announced his pre-poll alliance with BSP in UP, said the country needs a new Prime Minister. Speaking to reporters at Kolkata airport, the SP President held the Centre, ruled by BJP, responsible for causing distress to people from all walks of life, including youth, farmers, downtrodden and Dalits. He praised West Bengal CM for 'inviting' all opposition leaders.
Notably, Congress President Rahul Gandhi won't participate in rally
On arriving in Kolkata, Arvind Kejriwal told media Prime Minister Narendra Modi and BJP President Amit Shah are dangerous for the country. While opposition leaders are heaping praises on Mamata Didi, the absence of RaGa is unmissable. However, he wrote a letter to her congratulating her on the event. He added the institutions which PM Modi 'wants to destroy can be saved together'.
"Is this Didi's army?" BJP leader mocks rally
BJP leaders who are fighting the joint forces of opposition fired potshots at the event. Dilip Ghosh, the saffron's party chief in WB, mocked TMC for putting up posters of regional leaders on the streets. He said, "Is this Didi's army? She wants to win this battle with generals who have been trounced on their own turf?" He claimed the rally won't get footfalls.
Babul Supriyo coins new slogan for opposition leaders