J&K authorities allow PDP delegation to meet Mehbooba Mufti
J&K authorities allow PDP delegation to meet Mehbooba Mufti
Written by
Siddhant Pandey
Oct 06, 2019, 07:37 pm
3 min read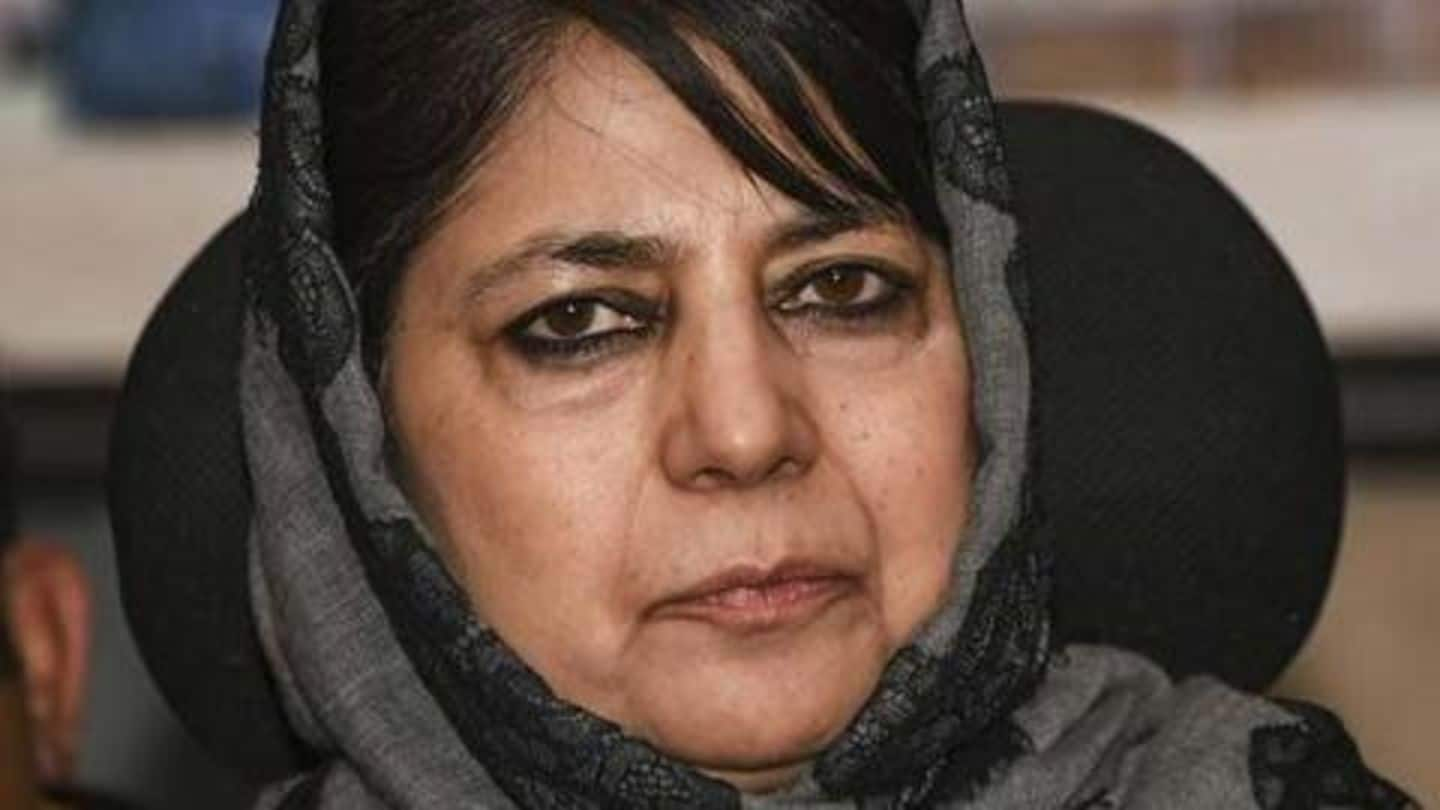 Jammu and Kashmir administration on Sunday allowed a 10-member delegation of the People's Democratic Party (PDP) to meet party chief and former Chief Minister Mehbooba Mufti, who has been under detention for the past two months. The delegation will meet Mufti on Monday in Srinagar. The announcement comes hours after a delegation of National Conference (NC) met detained ex-CMs Farooq Abdullah and Omar Abdullah.
Mufti detained on eve of Article 370 abrogation
Mufti was detained on the eve of August 5, when the Centre revoked J&K's special status by abrogating Article 370 and bifurcating the state into two Union Territories. Mufti has been detained at Hari Niwas in Srinagar. Mufti and other prominent political leaders, including the Abdullahs, were detained by authorities in a bid to prevent possible violence against the move.
However, Mufti's Twitter account remains active as her daughter, Iltija Mufti, gained access to the PDP chief's account with "due authorization." Iltija continues to tweet and share stories from the Kashmir lockdown to challenge reports of "normalcy" being restored in J&K.
NC delegation received approval to meet Abdullahs yesterday
Earlier today, the 15-member NC delegation met detained party leaders Farooq Abdullah and his son Omar Abdullah upon J&K Governor Satya Pal Malik's approval on Saturday. While Omar is detained at the Hari Niwas, his father remains under house arrest at his Srinagar residence. The delegation was led by Devender Singh Rana, Jammu's provincial chief of the party.
Delegation didn't discuss politics, say NC leaders Lone, Masoodi
Reportedly, the delegation met Omar Abdullah, who was sporting a beard, for just over half an hour. The former J&K CM was even seen clicking a selfie with party leaders. Thereafter, the delegation drove to Farooq Abdullah's residence. NC leaders Akbar Lone and Hasnain Masoodi told NDTV that politics was not discussed during the meeting, and they only inquired about the detained leaders' well-being.
NC's Devender Singh Rana requested all detained politicians' release
Rana also requested the release of detained politicians, saying, "We, as a party, appeal that for the political process to start and democracy to revive in J&K, political detenues anywhere and everywhere—be it mainstream political parties or otherwise, who have no criminal record—may be released."
Recently, government announced Block Development elections in J&K
Rana's request comes days after the government announced Block Development elections and relaxed restrictions. After the release of all political leaders detained in Jammu, Governor Malik's advisor, Farooq Khan, said that Kashmiri leaders will be released in a phased manner. BJP leader Ram Madhav added, "We want normal political activity to be restored in the state. But it has to be normal political activity."