Google upgrades end-to-end encryption for group chats on Messages
Google upgrades end-to-end encryption for group chats on Messages
Jan 20, 2023, 03:25 am
2 min read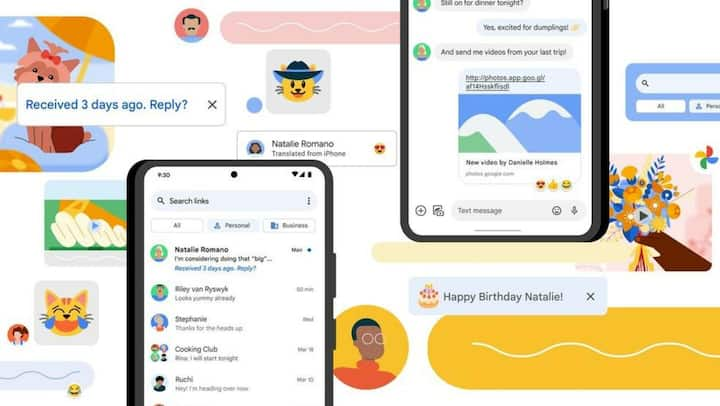 Google's RCS is touted as the future of text messaging. Last December, the company rolled out end-to-end encryption to group chats in Google Messages. However, it was limited to 21 people. Now, the company has seemingly increased the limit to 100 people for those who are part of the beta program. With the update, Google would be hoping to convince users of RCS' superiority.
Why does this story matter?
Google has been pushing RCS or Rich Communications Service as a replacement for SMS for a while. However, Apple's reluctance to adopt the service has been a roadblock in realizing the company's dream of universal adoption of RCS.
The enhancement of the end-to-end encryption feature on the service is expected to make it more appealing to iPhone users.
The advent of messaging apps such as WhatsApp, Telegram, and Signal has made SMS obscure. RCS is a modern take on SMS. It combines the best features of popular messaging apps and operates within the text messaging app of a smartphone. Introduced in 2007, the protocol allows the exchange of texts, high-resolution photos, videos, audio, and a lot more.
Earlier, groups with 21+ members didn't get end-to-end encryption 
Google introduced end-to-end encryption for one-on-one chats in Messages in 2021. In May 2022, the company teased end-to-end encryption for group chats. By the end of the year, the feature was rolled out to beta users. However, if more than 21 people were present in a group chat, Google Messages automatically turned off encryption. This was seen as a failure on Google's part.
iMessage supports end-to-end encryption for group chats with 32 participants
It seems Google took that feedback seriously. By raising the limit to 100, users will be able to realize the potential of RCS as it supports groups with 100 participants. This also puts Google Messages a step above iMessage, as the latter only supports end-to-end encryption for conversations with up to 32 participants. Signal leads in this regard with encryption support for 1,000 people.
Google has been critical of Apple's refusal to accept RCS
The new update may not be enough to sway Apple's decision. The Cupertino-based tech giant has been stubborn in its refusal of RCS. Google has been vocal about its criticism of Apple's stance. Last year, it published a blog "Happy birthday and farewell, SMS! It's time for RCS," where it ridiculed Apple's decision to stick with the outdated SMS.