NASA is considering these innovative concepts for its future missions
NASA is considering these innovative concepts for its future missions
Jan 11, 2023, 05:27 pm
3 min read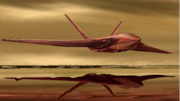 From laying pipelines on the Moon to growing Martian bricks, a bunch of innovative concepts that can be utilized in future space missions have been proposed as part of the NASA Innovative Advanced Concepts (NIAC) program. Funding of $175,000 has been granted to each of the 14 research groups, 10 of whom are first-time NIAC recipients. Take a look at some of the ideas.
TitanAir: A probe that can transition from watercraft to aircraft
The TitanAir project, proposed by planetary scientist Quinn Morley of Planet Enterprises, involves a "flying boat" that will be able to sail through the nitrogen-and-methane-laden atmosphere and oceans of Saturn's moon Titan. The probe, which can transition from a watercraft to an aircraft, will collect and analyze liquid samples along with sampling atmospheric samples. It has been visualized to perform flights every day.
A pellet-based propulsion system to ferry heavy payloads 
A pellet-based propulsion system that can transport heavy spacecraft to the solar system, and even into interstellar space, has also been put forward. The proposed concept will be able to ferry payloads to the outer planets in less than a year and to distances farther than 100 times the distance between Earth and the Sun in about three years.
Lunar pipeline near Moon's south pole
One of the prime goals of NASA's Artemis program is to establish a long-term sustainable presence on the Moon and the space agency intends to use on-site resources, such as extracting oxygen from the lunar regolith (soil) and water-ice. Peter Curreri from Lunar Resources in Houston suggests building a pipeline, from the lunar south pole, where most of the Moon's water-ice is present.
This concept provides a way to construct settlements on Mars
If humans are going to inhabit Mars, then we will need settlements. Congrui Grace Jin, from the University of Nebraska-Lincoln, suggests that instead of "shipping prefabricated outfitting elements to Mars, habitat outfitting can be realized by in-situ construction using cyanobacteria and fungi as building agents." The microbes will help convert Martian regolith into building blocks that can be assembled into various structures.
Only a few concepts will enter Phase III
The proposed concepts are a part of preliminary Phase 1 studies which will have to be completed within nine months. They are not "official NASA missions." Some of these concepts will be selected for Phase II, where the research teams will be granted more funding and two more years to develop their ideas. After that, only a few will be selected for Phase III.