Centre to establish three centers of excellence to boost AI
Centre to establish three centers of excellence to boost AI
Feb 01, 2023, 05:19 pm
2 min read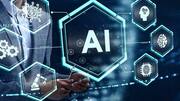 As part of the Union Budget 2023, Finance Minister Nirmala Sitharaman announced that the government will set up three centers of excellence in order to boost artificial intelligence (AI) in India. The centers will be established in the top educational institutions across the country, in support of the government's "Make AI for India" and "Make AI work for India" initiatives.
Why does this story matter?
The excellence centers established across the leading educational institutions will help train students in AI and make the country future-ready.
The Centre has already been promoting the use of AI through government missions.
For instance, the Digital India Bhashini portal, an AI-led language translation platform, intends to provide internet access and digital services to all Indians in their own language.
Agriculture, healthcare, and sustainable cities will be focused on
The government's push to set up excellence centers comes at a time when AI technology is steadily gaining importance. The prime goal of these centers will be to research and develop practical AI applications in agriculture, health, and sustainable cities. The excellence centers would also foster collaboration between the educational institutions and leading industries on our shores.
'Interdisciplinary research will be conducted'
"Leading industry players will partner in conducting interdisciplinary research, and develop cutting-edge applications and scalable problem solutions in the areas of agriculture, health, and sustainable cities," said the Finance Minister. "This will galvanize an AI ecosystem and nurture human resources in the field," she added.
Experts have expressed their support
Several experts and industry leaders have come out in support of the excellence centers. According to Rajsri Rengan, Head of Banking and Payments, India and Philippines, these centers will lead to the betterment of the financial ecosystem. Rengan believes improvements in AI and machine learning applications will promote financial inclusion and make services accessible to more people in the country.
'AI will increase participation in financial ecosystems'
"Innovative digital technologies like AI, and machine learning is a big step towards promoting financial inclusion in India, enabling industries across sectors to become accessible to a wider section of the population," said Rengan, hailing the move. "This will result in boosting service delivery and enable various sections of society to actively participate in financial ecosystems," she added.