Statistical analysis of Steve Smith and Virat Kohli's Test performance
Statistical analysis of Steve Smith and Virat Kohli's Test performance
Aug 17, 2019, 02:35 pm
2 min read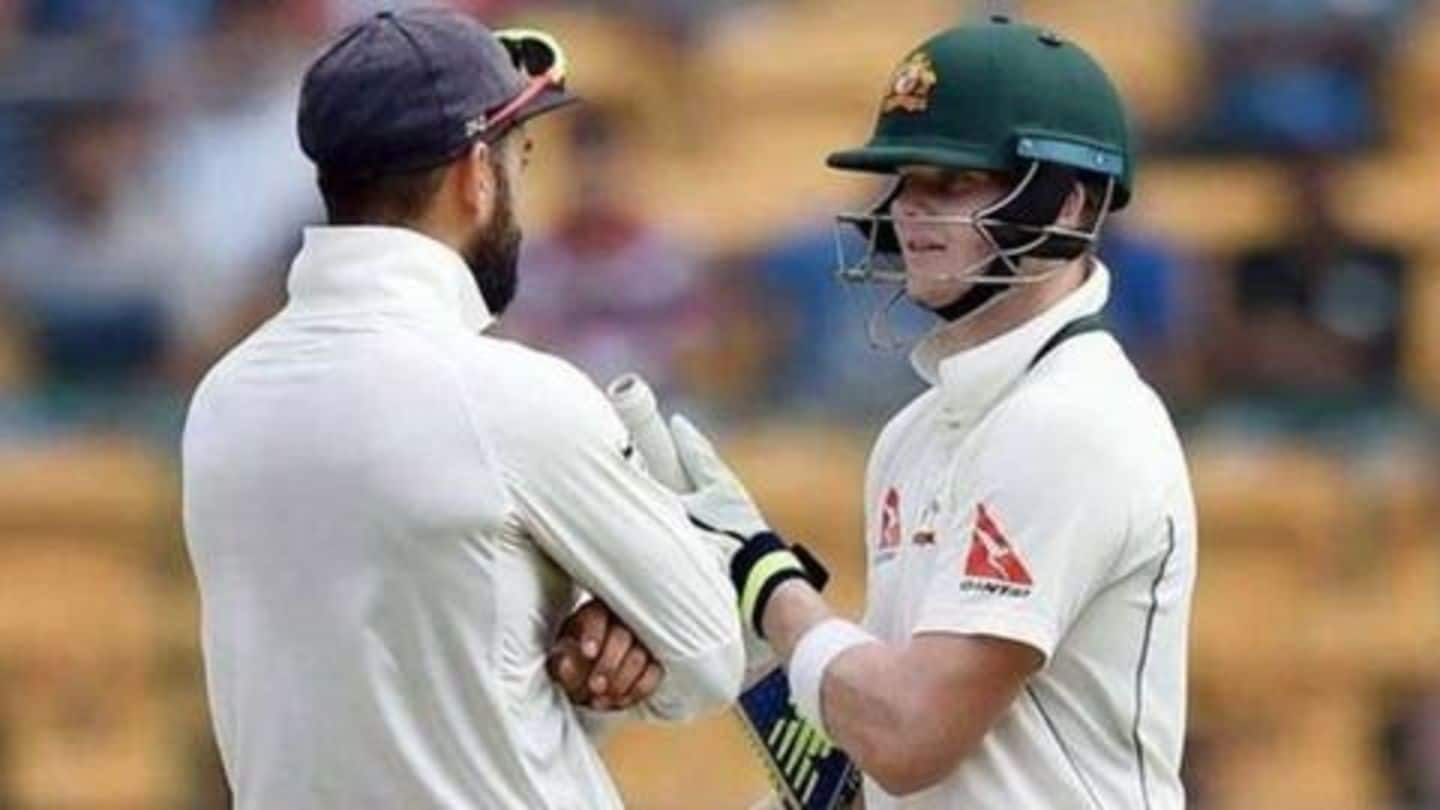 Australian batsman Steve Smith scripted a number of records with his prolific batting performance in the opening Ashes 2019 Test. In the process, he also reached several unique milestones. With both him and Indian skipper Virat Kohli enjoying an amazing run in red-ball cricket, comparisons are bound to happen. Here, we do a statistical analysis of performance of these two in Tests.
Smith registers better batting average than Kohli
When it comes to the best batting average in the format, Sir Don Bradman is untouchable. However, Smith (63.08) is the only one among active players with an average of 60+. On the other hand, Kohli's average is 53.76. That is not all. Comparing their performance as skippers, Smith still leads the race with an average of 70.36, compared to Kohli's 62.70.
Smith ahead on average playing at home and away
Continuing with the batting average, Smith pips Kohli on two other counts as well. Playing at home, Smith has an average of 77.25, compared to Kohli's 64.68. Meanwhile, playing away, Smith averages 56.74, compared to Kohli's 46.77.
Close call in terms of centuries scored
Moving to the number of centuries, both men have registered 25 centuries each so far. However, Smith has taken 4.76 innings per century, while Kohli has taken 5.24 innings. As a result, Smith has scored it in 119 innings, compared to Kohli's 131 innings. Taking into consideration the number of centuries as captain, Kohli leads the race, scoring 18, while Smith has scored 15.
Smith leads in terms of win, Kohli on conversion rate
As far as 50-plus scores are concerned, Smith takes just 2.42 innings per 50-plus score, compared to Kohli's 2.91. However, when it comes to the conversion rate of 50 to 100, Kohli leads the chart, with 55.56%, as compared to Smith's 51.02%. Meanwhile, talking about centuries coming in winning causes, Smith has 17 under his belt, compared to Kohli's 11 winning tons.
Smith has been more prolific in terms of Test scoring
Of the 6,000 runs scored in the format by both, Smith leads the chart, having done so in 111 innings, as compared to Kohli's 119 innings. Also, Smith has hit more number of sixes so far, of 38, in the format, compared to Kohli's 19. However, Kohli has scored 600-plus in a series on three occasions, as compared to Smith who has done twice.