Inter Miami's Gonzalo Higuain announces retirement: Details here
Inter Miami's Gonzalo Higuain announces retirement: Details here
Oct 04, 2022, 05:07 pm
2 min read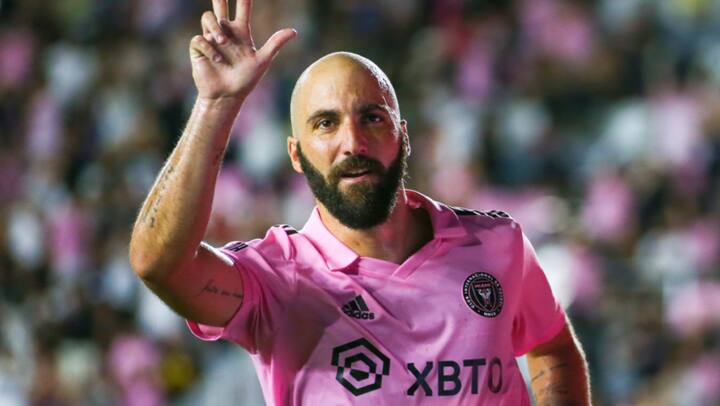 Inter Miami striker Gonzalo Higuain is set to retire from football. Higuain, who played for Real Madrid, Napoli, and Juventus in the past, will look for a solid finish in Major League Soccer (MLS). The 34-year-old carved a name for himself with his vision, physique, and offensive movements. He called time on his international career with Argentina in March 2019. Here's more.
'I had an unthinkable career'
"The day has arrived to say goodbye to football, a profession that has given me so much and one I feel privileged to have lived with its good and bad moments," Higuain said at a conference attended by the Inter Miami squad. "I had an unthinkable career and achieved more than I could imagine. It's a decision I made three or four months ago."
Here's the official confirmation
A look at Higuain's numbers over the years
Higuain started his senior club career at River Plate and scored 13 goals across 35 appearances. He found incredible success at Real Madrid (2007-13) with 107 goals in 190 appearances. He netted 71 and 48 goals in his stints at Napoli (2013-16) and Juventus (2016-20), respectively. He was on loan at AC Milan and Chelsea, where he scored six and five goals, respectively.
A look at Higuain's trophy cabinet
Higuain won three La Liga titles with Real Madrid, a Copa del Ray, and two Spanish Super Cups. With Napoli, El Pipita won Coppa Italia and Suppercoppa Italiana before winning three Serie A titles with Juventus. He also won two Coppa Italia titles with the Old Lady. Not to forget, he won the UEFA Europa League with Chelsea in 2018-19.
Higuain has been on a roll
Higuain has already netted 12 goals in the last 14 matches for Inter Miami. Besides, he owns 31 goals for his national side across 75 appearances, the last of those in the 2018 World Cup against win Nigeria.
Other memorable feats attained by Higuain
Higuain was the leading goal-scorer in Serie A 2015-16 as he fetched 36 goals for Napoli. He made it to the Serie A Team of the Year in 2013-14, 2015-16, and 2016-17. He was also adjudged as the Juventus MVP of the Year (2016-17, 2017-18).