Aussie tennis star Nick Kyrgios admits assaulting ex-girlfriend; avoids conviction
Aussie tennis star Nick Kyrgios admits assaulting ex-girlfriend; avoids conviction
Feb 03, 2023, 11:48 am
2 min read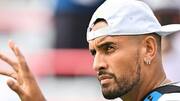 Australian men's tennis star Nick Kyrgios has admitted to assaulting his ex-girlfriend but managed to avoid a criminal conviction. The 27-year-old had pleaded guilty in a Canberra court after his lawyers failed to have the charge dismissed on mental health grounds. As per BBC, Mr. Kyrgios pushed Chiara Passari onto the pavement during a row in Canberra back in 2021, the court heard.
A magistrate calls the incident a single act of stupidity
The magistrate called the incident "a single act of stupidity or frustration" and spared Kyrgios a criminal record. Agreed facts that were tendered to the court say Mr. Kyrgios pushed Ms. Passari after she stopped his car from driving away while they were arguing on January 10, 2021.
Key details regarding the complaint
Notably, Krgios' ex-girlfriend reported the incident to the police the following month but did not make a formal complaint. The report adds that the couple reconciled and carried their relationship forward, but after it came to an end, Ms. Passari made a formal complaint in December 2021.
What argument did Kyrgios' lawyer bring up?
Lawyer Michael Kukulies-Smith argued Mr. Kyrgios had been trying to de-escalate the fight by calling an Uber and had repeatedly tried to "lawfully" move Ms. Passari away from the car. "It is in that context and the frustration that resulted, that my client reacted and the offense occurred," he said. He also cited mental health about the offence.
Kyrgios' Wimbledon fiasco!
Kyrgios had earlier settled a legal case with a spectator he accused of being "drunk out of her mind" during the 2022 Wimbledon final. Anna Palus instructed solicitors to bring defamation proceedings against the 27-year-old Australian. Kyrgios was competing in his first Grand Slam final, which he lost in four sets to Serbian ace Novak Djokovic.