US: 6-year-old boy shoots school teacher inside classroom 
US: 6-year-old boy shoots school teacher inside classroom 
Jan 07, 2023, 02:20 pm
2 min read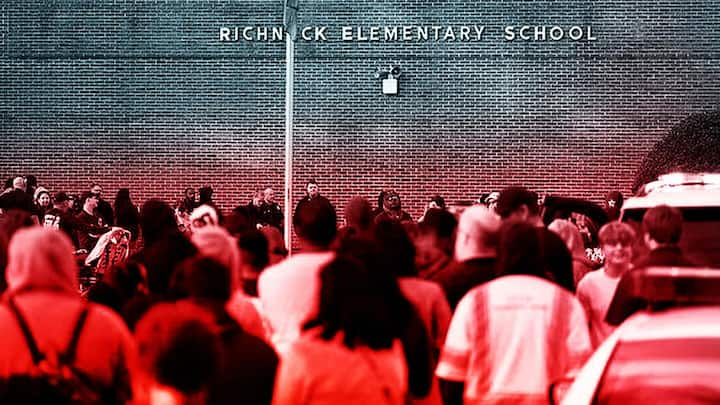 A six-year-old kid shot and injured a teacher at Richneck Elementary School in Virginia's Newport News city in the United States (US) on Friday, the police told news agency Reuters. Reportedly, the teacher sustained life-threatening wounds, but her health has improved considerably in the hospital. "The individual is a six-year-old student. He is right now in police custody," said Police Chief Steve Drew.
Why does this story matter?
Over the past few years, gun violence has become a massive issue in the entirety of the United States.
As per the data released by Gun Violence Archive, the US estimated 44,000 gun-related deaths in 2022.
Half of these numbers include accidents and self-defense cases, while the other half consists of murder and suicide cases.
Not an accidental shooting incident, confirms police chief
While the police confirmed that no students were hurt in the school shooting incident and were shifted to a gymnasium for safety, chief Drew revealed that "this was not an accidental shooting." Meanwhile, local officials expressed their concerns over the incident and promised to find ways to prevent a report of such an event again.
City school superintendent reacts to shooting incident
The police chief also revealed that an altercation in the first-grade classroom resulted in one shot fired. The city superintendent of schools, George Parker, spoke to the news agency AFP about the incident and said: "I'm in shock, and I'm disheartened." "We need the community's support to make sure that guns are not available to youth," he added.
Need to keep guns out of young people's hands: Parker
Speaking on the incident, Parker further said: "We need to keep guns out of the hands of our young people. I cannot control access to weapons. My teachers cannot control access to weapons." He added that all school campuses are fitted with random metal detector searches. However, it was not deployed on Friday at Richneck Elementary, revealed Parker.
Similar incident of shooting in Chicago
On December 17, two students died, and two more were wounded in a shooting near a high school in West Side, Chicago. An official revealed that the 16-year-olds were taken to the same hospital, where one of the boys was pronounced dead on arrival. Chicago Public Schools CEO Pedro Martinez said: "We want to first make sure we have the victims in our prayers."