Republican Kevin McCarthy named US House speaker in marathon voting
Republican Kevin McCarthy named US House speaker in marathon voting
Jan 07, 2023, 01:46 pm
3 min read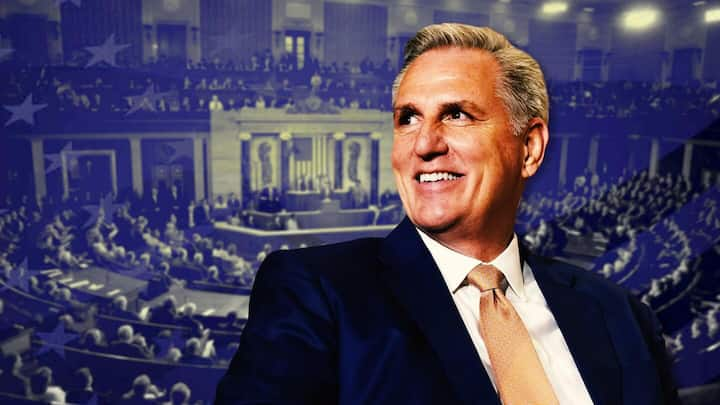 Republican leader Kevin McCarthy was named the 55th speaker of the US House of Representatives on Saturday, according to AFP. He won with 216 out of 428 possible votes in 15 rounds of voting for over four days and squabbling among Republicans. Notably, the speaker presides over House proceedings and is the second in line to the presidency in the United States.
Why does this story matter?
McCarthy's win came two years after the deadly attack on the Capitol in 2021, during which he allegedly accused former President Donald Trump and his followers of ransacking Capitol facilities.
In the House Speaker race, however, he has been asking for votes from some of Trump's most fervent supporters all week, including Matt Gaetz, who suggested and voted for Trump to be Speaker.
McCarthy triumphs after hectic negotiations
McCarthy's victory came after four days of exhausting discussions, per USA Today. The contest was the first of its kind in more than a century that required more than one ballot in choosing a speaker, it said. Notably, McCarthy overcame conservative critics within his own party to survive one of the longest and most tumultuous speaker elections since the Civil War.
Democratic representative hands over gavel; members took the oath 
After officially greeting members to the 118th Congress and underlining the Democratic Congress's unity, Democratic Representative Hakeem Jeffries handed over the speaker's gavel to McCarthy. Subsequently, McCarthy administered the oath to all members-elect on his first day. After a lengthy speaker vote for four days since Tuesday, he officially began legislative action in the lower house.
McCarthy's first speech as the speaker
"That was easy, huh?" McCarthy said as he took the podium amid "U-S-A" chants. "I never thought we'd get up here," he said. He touched on spending, inflation, jobs, and immigration in his first speech. "My father always told me, it's not how you start, it's how you finish and now we need to finish strong for the American people," he said.
President Joe Biden congratulates McCarthy
Soon after the announcement, President Joe Biden swiftly released a statement congratulating House Speaker McCarthy on his election. However, he promptly threw McCarthy a challenge as well. In a statement issued by the White House, Biden stated, "The American people expect their leaders to govern in a way that puts their needs above all else, and that is what we need to do now."
Republican control return to US House following series of controversies
The Republican Party reportedly contested the speaker election based on perceptions about the 2021 Capitol attack, COVID-19, and corruption claims. Because the Democratic Party controlled both chambers for two years, the Capitol assault was the subject of an 18-month congressional investigation. Notably, before the proceedings on Friday started, House lawmakers remembered the victims of the tragic incident in 2021 and paid homage to them.