Coronavirus dampens Christmas joy in Bethlehem and elsewhere
Coronavirus dampens Christmas joy in Bethlehem and elsewhere
Written by
Srijita Sen
(Sourced from PTI)
Dec 25, 2020, 12:26 pm
3 min read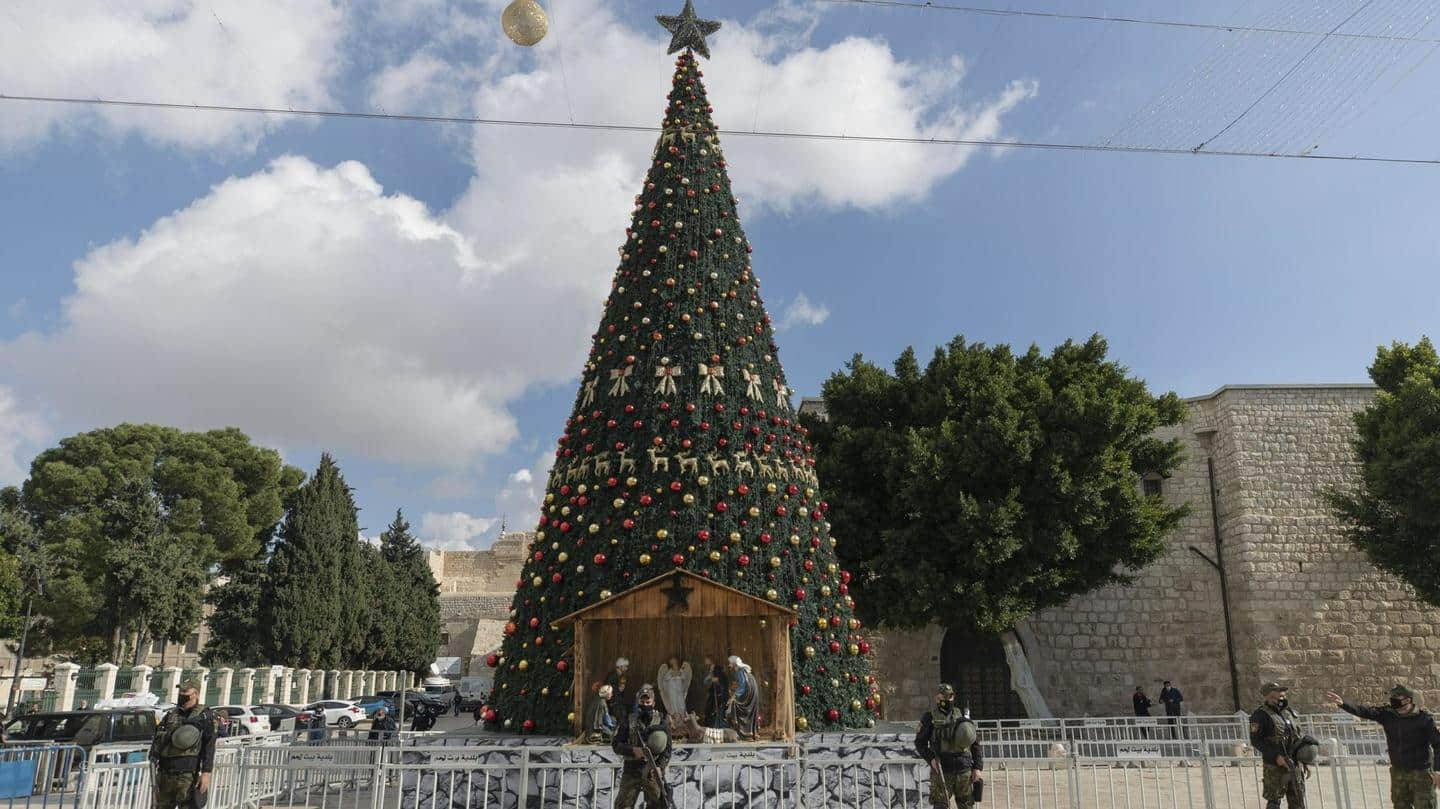 On Thursday, Bethlehem ushered in Christmas Eve with a stream of joyous marching bands and the triumphant arrival of the top Catholic clergyman, but few people were there to greet them due to the pandemic induced restrictions that dampened celebrations in the traditional birthplace of Jesus. Only several dozen people gathered in the central Manger Square to greet Latin Patriarch Pierbattista Pizzaballa.
"We want to offer hope," said Pizzaballa. Thousands of pilgrims usually flock to Bethlehem. But the closure of Israel's international airport to foreign tourists, along with Palestinian restrictions banning intercity travel in the areas they administer in the Israeli-occupied West Bank, kept visitors away.
Bethlehem is optimistic about the future: Mayor
In Bethlehem, officials tried to make the most out of a bad situation. "Christmas is a holiday that renews hope in the souls," said Mayor Anton Salman. "Despite all the obstacles and challenges due to coronavirus and due to the lack of tourism, the city of Bethlehem is still looking forward to the future with optimism," he added.
Dampened celebrations all across the world
Meanwhile, in Australia worshippers booked tickets online for socially distanced church services. The Philippines barred mass gatherings and traditional Christmas Eve dinners for extended families. Greece canceled door-to-door children's carols. In Italy, Midnight Mass started way too early, owing to their 10 pm curfew. The Christmas vigil Mass in St. Peter's Basilica was moved up from 9:30 pm to 7:30 pm.
Celebrations in Vatican City and Pope Francis's statement
Barely 200 worshippers were allowed in St. Peter's Basilica. Pope Francis offered reflections on Christmas' significance. "We often hear it said that the greatest joy in life is the birth of a child. A child makes us feel loved but can also teach us how to love. God was born a child in order to encourage us to care for others," said Francis.
Saint Peter's Lutheran Church in Manhattan one of the hardest-hit
One of the hardest-hit churches in New York City has been Saint Peter's Lutheran Church in Manhattan. Church leaders say out of 800 members of the congregation, over 60 members have died of COVID- 19. However, congregation members, many of them immigrants, donated coats, scarves, and other winter clothes for more than 100 migrant minors at a detention center in Manhattan.
Venezuelan migrants are spending Christmas away from their families
Celebrations elsewhere in Europe were canceled or greatly scaled back owing to the surge in cases and the detection of a new variant that may be more contagious. In Colombia, thousands of Venezuelan migrants are spending Christmas away from their families in precarious conditions. Colombia's government has shut down border crossings with Venezuela in a bid to slow down COVID-19 infections.