Zelenskyy demands military aid as Russian airstrikes hit Ukraine's Lviv
Zelenskyy demands military aid as Russian airstrikes hit Ukraine's Lviv
Written by
Abhishek Sharma
Mar 27, 2022, 11:05 am
3 min read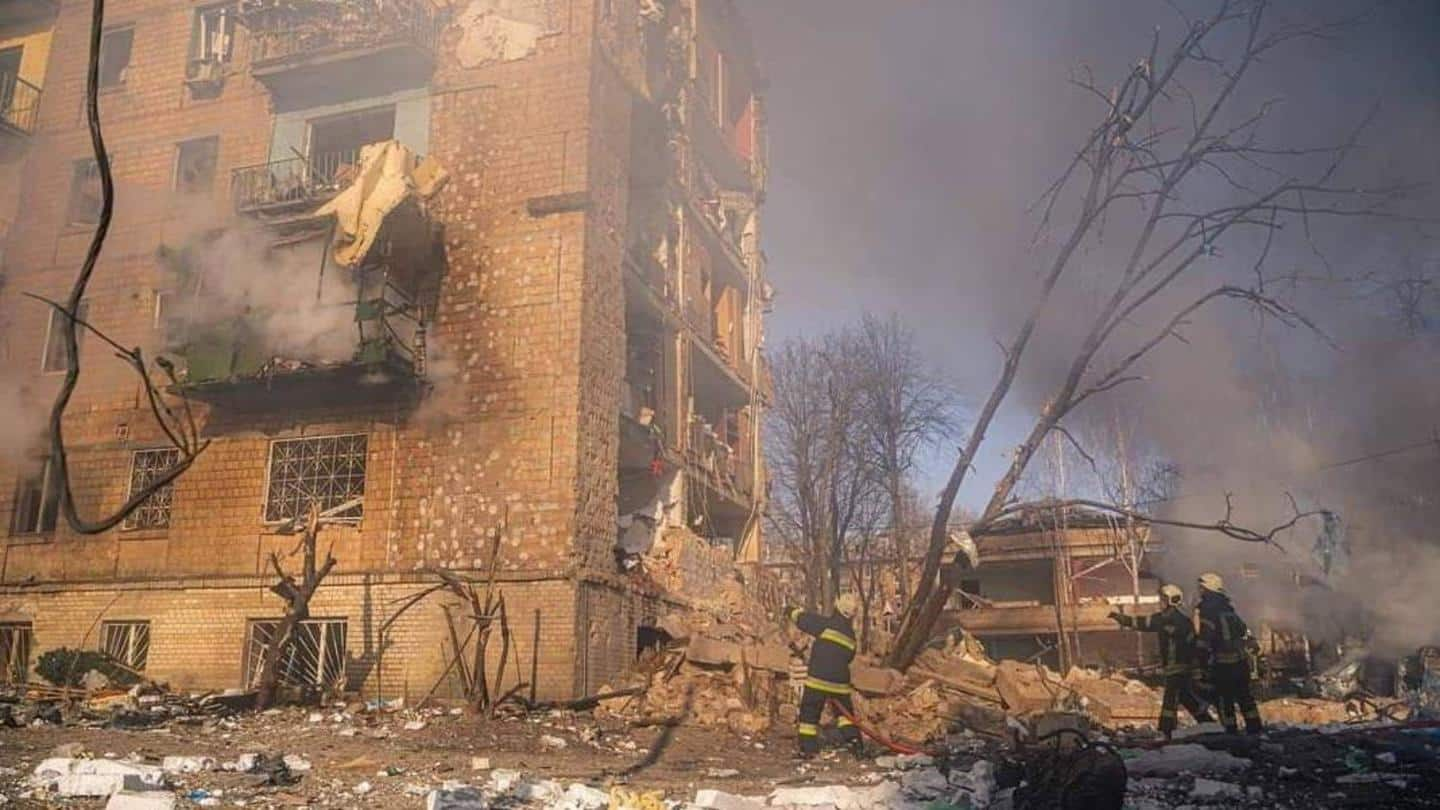 Multiple rockets struck the city of Lviv in western Ukraine on Saturday afternoon, leaving several injured. Two rockets hit an oil depot in the city, while two hit a military factory later, Lviv Governor Maksym Kozytsky informed. Notably, Lviv has been a haven for displaced people since Russia's invasion began on February 24. The city had so far escaped bombardment and fighting.
Need just 1% of NATO's aircraft: Zelenskyy
Meanwhile, Ukrainian President Volodymyr Zelenskyy on Saturday demanded western countries to provide military aid "not only for Ukraine's freedom but for the freedom of Europe". In a late-night video address, a visibly irritated Zelenskyy said Ukraine needs just 1% of NATO's aircraft and 1% of its tanks. "That is what our partners have, that is what is just gathering dust there," he said.
"Who is in charge of the Euro-Atlantic community?"
Zelenskyy further asked if the West was intimidated by Russia. "We've already been waiting 31 days. Who is in charge of the Euro-Atlantic community? Is it really still Moscow, because of intimidation?" he said.
Zelenskyy talks to his Polish counterpart
Earlier on Saturday, Zelenskyy spoke with his Polish counterpart Andrzej Duda and expressed disappointment that Ukraine is yet to be transferred the Russian-made fighter aircraft in Eastern Europe. "The price of procrastination with planes is thousands of lives of Ukrainians," a statement from Zelenskyy's office quoted him as saying. Poland and US had expressed readiness to make a decision on the planes, Zelenskyy said.
Russia removed 40,000 Ukrainians in an unknown direction: Ukraine
On the other hand, Ukrainian Deputy Prime Minister Iryna Vereshchuk has claimed that Russia forcibly removed 40,000 Ukrainians "in an unknown direction" through "quasi-humanitarian corridors." This removal of people was not coordinated with the Ukrainian authorities, Vereshchuk was quoted by news outlet Nexta as saying.
US to accept 1,00,000 Ukrainian refugees
US President Joe Biden has announced that his country will accept 1,00,000 Ukrainian refugees. "Helping Ukrainian refugees is not something Poland or any nation should carry alone," a tweet from the President's official handle read. "All the world's democracies have a responsibility to help. And the people of Ukraine can count on the United States to meet its responsibility," it added.
Thousands killed in conflict
Notably, despite over four weeks of fighting, Russian troops have failed to capture any major Ukrainian city so far. Thousands have been killed in the conflict. Nearly 3.8 million have fled the country, while around 13 million people are estimated to be stranded in affected areas. Over half of Ukraine's children have been driven from their homes, according to the United Nations.