Sri Lankan PM Mahinda Rajapaksa resigns amid violent clashes
Sri Lankan PM Mahinda Rajapaksa resigns amid violent clashes
Written by
Srishty Choudhury
May 09, 2022, 04:50 pm
3 min read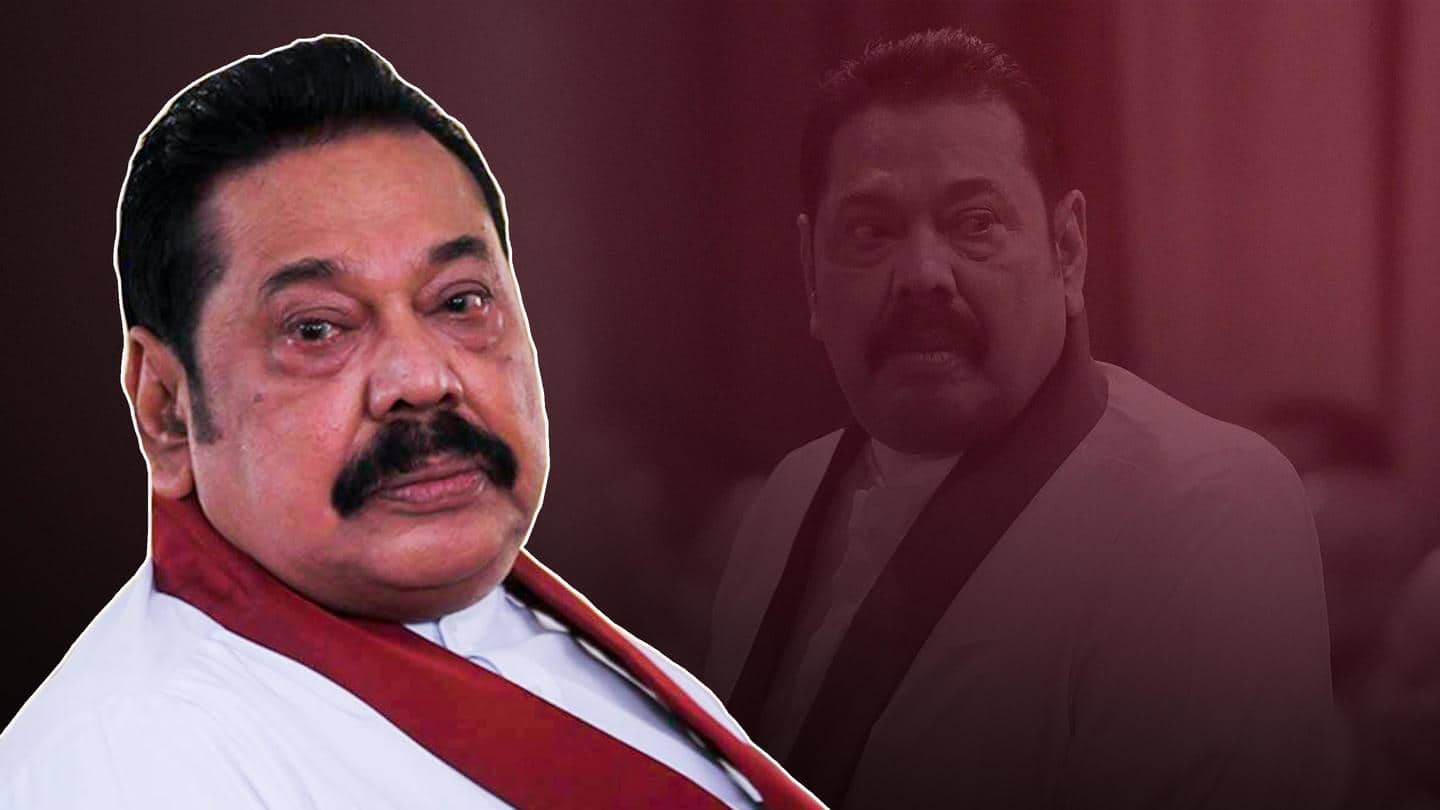 Amid the deepening economic crisis in Sri Lanka, Prime Minister Mahinda Rajapaksa resigned from his post on Monday, local media reported. Earlier on Monday, Sri Lankan authorities imposed a nationwide curfew and the Army was deployed in Colombo. This came after a violent clash erupted outside President Gotabaya Rajapaksa's office after reports emerged that Mahinda might offer to step down as the prime minister.
Why does this story matter?
Sri Lanka has been reeling under an economic crisis stemming from a foreign exchange shortage leading to a shortage in essential supplies like fuel, food, and medicines.
Protests have been ongoing for days calling on the government and lawmakers to find urgent solutions.
PM Mahinda announced his resignation at a time when the resentment among the people is growing with each passing day.
Mahinda Rajapaksa's resignation tweet
Effective immediately I have tendered my resignation as Prime Minister to the President.

අගමැති ධූරයෙන් ඉල්ලා අස්වීමේ ලිපිය ජනාධිපතිතුමා වෙත යොමු කළෙමි.

— Mahinda Rajapaksa (@PresRajapaksa) May 9, 2022
130 people injured in violence
Anti-government protesters have long been demanding the resignation of the Rajapaksa brothers: President Gotabaya and Prime Minister Mahinda. At least 130 people were reportedly injured in the violence on Monday when pro-government groups attacked the protesters at MynaGoGama and GotaGoGama protest sites. The police had to use tear gas and water cannons to control them.
Nationwide curfew imposed
A nationwide curfew was imposed with immediate effect until further notice, local media reported. A military contingent was deployed in Colombo following the protests. Earlier on Monday, Mahinda took to Twitter and wrote, "I urge our general public to exercise restraint and remember that violence only begets violence. The economic crisis we're in needs an economic solution which this administration is committed to resolving."
President Gotabaya declared emergency on Friday
Earlier on Friday, President Gotabaya declared a state of emergency for the second time in just over a month as anti-government protests escalated amid the most distressing economic crisis since Sri Lanka's independence in 1948. A spokesperson for the president said the emergency was invoked to "ensure public order" after trade unions held a nationwide strike on Friday demanding Rajapaksa's resignation.
President wants to end crisis with PM's resignation: Report
At a Cabinet meeting on Friday, some reportedly suggested that Gotabaya was keen to end the political crisis with Mahinda's resignation, PTI reported citing ministerial sources. However, Mahinda's supporters insisted he shouldn't resign as the public demand was more for Gotabaya's resignation. For the last few weeks, Gotabaya has been wanting the PM to resign in order to set up an all-party interim government.
Why Sri Lanka is facing economic crisis
Sri Lanka's economic crisis is a result of its massive foreign debts, dwindling foreign currency reserves, series of lockdowns, soaring inflation, fuel supply shortage, and devaluation of the currency. It, however, has its root in the Lankan government's move to ban imports in March 2020 to save foreign currency for its $51B foreign debt leading to a shortage of essential items and skyrocketing prices.
Experts believe that Sri Lanka has to restructure its debt and repay it over a three-year period to deal with the ongoing economic crisis. This will help it in saving US dollars and easing the burden on the citizens experiencing shortages of essential items. The cash-trapped island nation also sought a loan from the International Monetary Fund (IMF) under the rapid financial instrument window.