Bentley Bentayga EWB Azure v/s Rolls-Royce Cullinan: Which is better?
Bentley Bentayga EWB Azure v/s Rolls-Royce Cullinan: Which is better?
Jan 22, 2023, 11:01 am
3 min read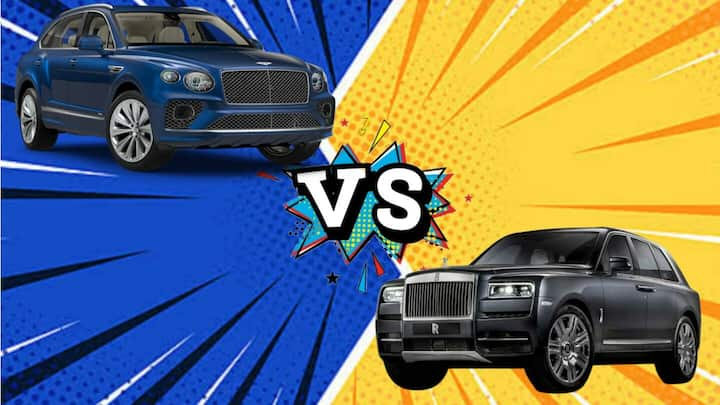 Bentley has launched the Bentayga EWB Azure in India with a sticker price of Rs. 6 crore (ex-showroom). An extended wheelbase (EWB) version of the SUV was conceptualized to replace the brand's aging Mulsanne sedan, as the flagship model. It rivals the Rolls-Royce Cullinan, the most premium production SUV, for the champion's crown in the luxury vehicle category. Which one is more opulent?
Why does this story matter?
SUVs have become the most popular body style in the Indian market in recent years. Almost all automakers are developing one to benefit from the trend.
Considered the pioneers of luxury mobility, both Rolls-Royce and Bentley have also joined the bandwagon with the Cullinan and Bentayga, respectively.
With eye-watering price tags, both SUVs offer the most lavish motoring experience to their occupants.
Bentley Bentayga EWB Azure looks more pleasing to the eye
The Bentley Bentayga EWB Azure has a long and sculpted hood, a rectangular chromed grille, circular LED headlamps with crystalline jewel-like DRLs, 22-inch chromed alloy wheels, oval-shaped LED taillights, and quad exhaust tips. The Rolls-Royce Cullinan flaunts a muscular bonnet, a large 'Pantheon' grille, a 'Spirit of Ecstasy' ornament, squared-out LED headlights with DRLs, suicide doors, 22-inch designer alloy wheels, and LED taillights.
Rolls-Royce Cullinan packs a larger, more powerful engine
The Bentley Bentayga EWB Azure is offered with a 4.0-liter, twin-turbocharged, V8 petrol engine that generates 542hp of maximum power and 770Nm of peak torque. The Rolls-Royce Cullinan is backed by a 6.75-liter, naturally-aspirated, liquid-cooled, V12 engine that churns out a maximum power of 563hp and a peak torque of 850Nm. Transmission duties on the SUVs are carried out by an 8-speed automatic gearbox.
Both SUVs are equipped with wooden veneers and leather upholstery
Bentley Bentayga EWB Azure gets wooden veneers on the dashboard and central console, hand-stitched leather upholstery, optional 'Airline Seats' at the rear, a Naim sound system, and a 10.9-inch infotainment panel. Rolls-Royce Cullinan features wooden veneers, premium leather upholstery in multiple color options, an 18-speaker bespoke audio system, and a 12-inch HD infotainment panel. Both SUVs are equipped with multiple airbags and ADAS functions.
Which one should you buy?
In India, the Bentley Bentayga EWB Azure sets you back by Rs. 6 crore, while the Rolls-Royce Cullinan can be yours at Rs. 6.95 crore (all prices, ex-showroom). In our opinion, the Rolls-Royce Cullinan should be the first vehicle on your list, if you are looking for the most luxurious production SUV, that also packs a powerful engine and a host of safety features.