Zoho's Sridhar Vembu opens up about estranged wife, autistic son
Zoho's Sridhar Vembu opens up about estranged wife, autistic son
Mar 14, 2023, 06:32 pm
3 min read
Sridhar Vembu, the founder and CEO of Zoho Corporation, a business software provider worth $4.5 billion (per Forbes), is embroiled in a bitter divorce battle with his soon-to-be ex-wife wife, Pramila Srinivasan. Srinivasan accuses Vembu of abandoning her and their autistic son. Now, the Zoho CEO has replied to the accusations with a profoundly personal thread detailing his side of the story.
Why does this story matter?
Vembu has been in India since 2020 after spending nearly a quarter of a century in the US. He now lives in the Mathalamparai village in Tamil Nadu.
He has maintained that he moved to India to begin rural initiatives and provide employment. His efforts have won him several accolades, including a Padma Shri.
Now, he has detailed his personal story in public.
Estranged wife accused Vembu of transferring his Zoho stake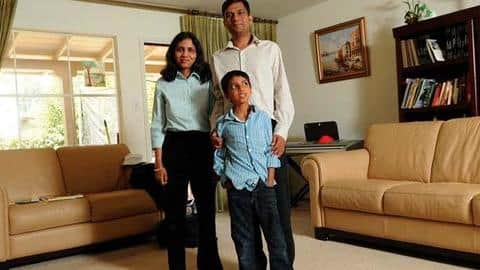 Srinivasan and Vembu have been married for 29 years. In the divorce case in California, Srinivasan accuses Vembu of transferring a part of his stake in the company to his sister and her husband without ever telling her. She said the transaction moved Zoho's intellectual property to India. "He left his special needs son three years ago," she said in the court filing.
Did not transfer shares to anyone: Vembu
Vembu has refuted the allegation that he transferred shares to someone. "I never ever transferred my shares in the company to anyone else," he said. According to him, his son Siddhu's autism "destroyed" their lives and left him "suicidally depressed." Vembu told Forbes he tried to get his wife and son to come to India, "but she refused."
Vembu wanted his son in rural India
Vembu spoke about how differing opinions regarding his son's treatment led to further issues between the couple. The Zoho CEO felt that his son would be "better off in rural India" as the treatments were not helping much. He wanted his son to be around "loving people," he said. However, his wife felt he was giving up, causing the marriage to collapse.
Vembu refuted the allegation of abandoning his wife and son
About abandoning Srinivasan and Siddhu, Vembu said, "It is complete fiction to say I financially abandoned Pramila and my son." "They enjoy a far richer life than I do and I have supported them fully," he added. According to him, any hopes of reconciliation between them after his move to India evaporated due to the pandemic.
He accused his paternal uncle of spreading malicious rumors
In his Twitter post, Vembu targeted his paternal uncle. "All of this mess was caused by my uncle Ram," he said. According to Vembu, Ram is "taking out his own long running frustrations with my father." "Sadly Pramila has chosen to trust my uncle Ram," he added. He claimed Ram's "falsehood" is behind the messy legal battle.
Vembu responded to allegations in a deeply personal post