#LokSabhaElections2019: Urmila Matondkar joins Congress, says 'not here for elections'
#LokSabhaElections2019: Urmila Matondkar joins Congress, says 'not here for elections'
Mar 27, 2019, 05:45 pm
2 min read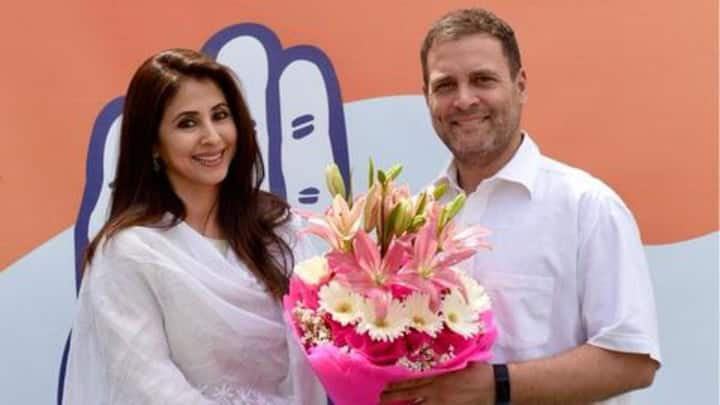 A day after reports about Urmila Matondkar entering politics surfaced, the Bollywood actress joined Congress today. The official announcement was made after Urmila met Congress President Rahul Gandhi at his residence. Reportedly, the Rangeela actor will be contesting in the upcoming Lok Sabha polls. Talking about it, Urmila said that she isn't here just for election but for long.
Congress President Rahul Gandhi welcomes Urmila to his party
Urmila calls it her first step in active politics
Undoubtedly, Urmila is delighted about her political debut and called it her first step in active politics. She further mentioned that she has been raised in a family with strong political ideals. "I'm from a family that has shaped my political views based on the ideologies of Mahatma Gandhi, Jawaharlal Nehru and Sardar Patel. I had social awareness right from childhood," Urmila added.
I believe in what Congress stands for, says Urmila
Urmila also spoke about the reason for joining Congress and stated that she strongly believes in the party's ideology. "I am here because I believe in what the party stands for. I have not joined the party for the sake of elections," she added.
Urmila to compete against BJP MP Gopal Shetty
Reportedly, Urmila will be contesting for the upcoming elections from Mumbai North seat on Congress ticket. There hasn't been an official announcement about it. However, if the reports turned out to be true, she will be competing against Bharatiya Janata Party MP Gopal Shetty for the constituency, which was once said to be BJP's bastion. The polling will take place on April 29.
Former 'Bigg Boss' contestants Shilpa Shinde, Arshi Khan join Congress
Meanwhile, Urmila is not the first B-town celebrity, who will be entering politics with Congress this year. Earlier, Bigg Boss 11 winner Shilpa Shinde had also joined Congress with the intention to "do something for the people." Besides, Arshi Khan, former BB11 contestant, had also joined the political party this month. Haryanvi singer Sapna Choudhary is also rumored to be joining Congress.