TN: 14-year-old gored to death by bull during Jallikattu event
TN: 14-year-old gored to death by bull during Jallikattu event
Jan 22, 2023, 12:05 pm
2 min read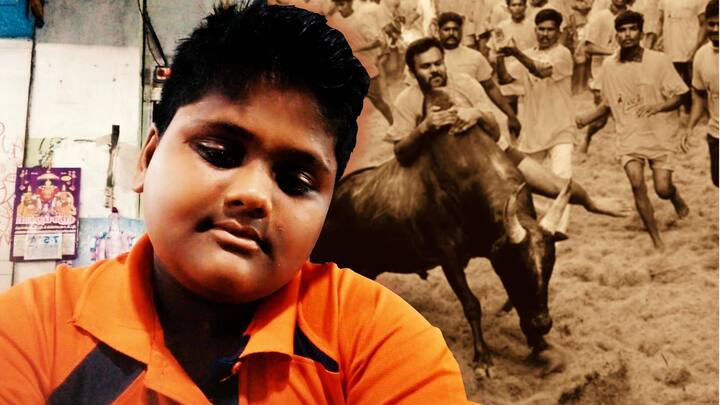 A 14-year-old boy who came to Tamil Nadu's Dharmapuri to watch the bull-taming sport—Jallikattu—died after a bull gored him. Identified as Gokul, the victim had gone to watch Jallikattu along with his relatives when the incident happened. The boy was injured severely when a bull gored him in the stomach. The event was being held in the state's Thadangam village.
Dharmapuri Police have launched a probe into incident
The victim was immediately rushed to the Dharmapuri government hospital, where he was declared dead, according to The New Indian Express. The Dharmapuri Police have launched a probe into the incident and searched through footage to find precisely how he died. As per reports, Gokul is the fourth individual to die related to Jallikkattu in 2023.
Nearly 700 contests, over 600 bulls took part in event
Inaugurated by the state's Agriculture and Farmers Welfare MRK minister Panneerselvam, a total of 700 contestants and 622 bulls participated in the event. The Jallikkattu event in Dharmapuri started with nearly 350 participants at 8 am when the first bull was let loose through the Vadivasal after the animal husbandry department veterinarians thoroughly examined each bull.
Two deaths and injuries reported last week in Jallikattu events
According to PTI reports, two people lost their lives in separate Jallikattu events in the state on January 16. Identified as Aravind Raj and M Aravindh from the Pudukottai district, Chief Minister M K Stalin had also announced an ex gratia of Rs. 3 lakh for the victims' families. "I offer my deepest condolences to the bereaved families and friends," Stalin added.
Jallikattu can be defined as a traditional Tamil Nadu sport involving embracing or hugging the bull. It is widely celebrated as a part of the Pongal festivities on Maatu Pongal (one day after Pongal), day two of Tamil month Thai. The bulls are bred explicitly for this event, primarily attended by temple bulls - a village's cattle head.
Legal scenario for Jallikattu
In the past, Supreme Court banned Jallikattu numerous times after appeals by the Animal Welfare Board of India, claiming the death of nearly 43 individuals and four bulls between 2008 and 2014. Amid mass protests and support from many celebrities, it again received the go-ahead under specific guidelines. The Union government had also voiced its support for the event in the country's apex court.