PM Modi holds bilateral talks with Argentine President Mauricio Macri
PM Modi holds bilateral talks with Argentine President Mauricio Macri
Written by
Shiladitya Ray
Feb 18, 2019, 02:38 pm
2 min read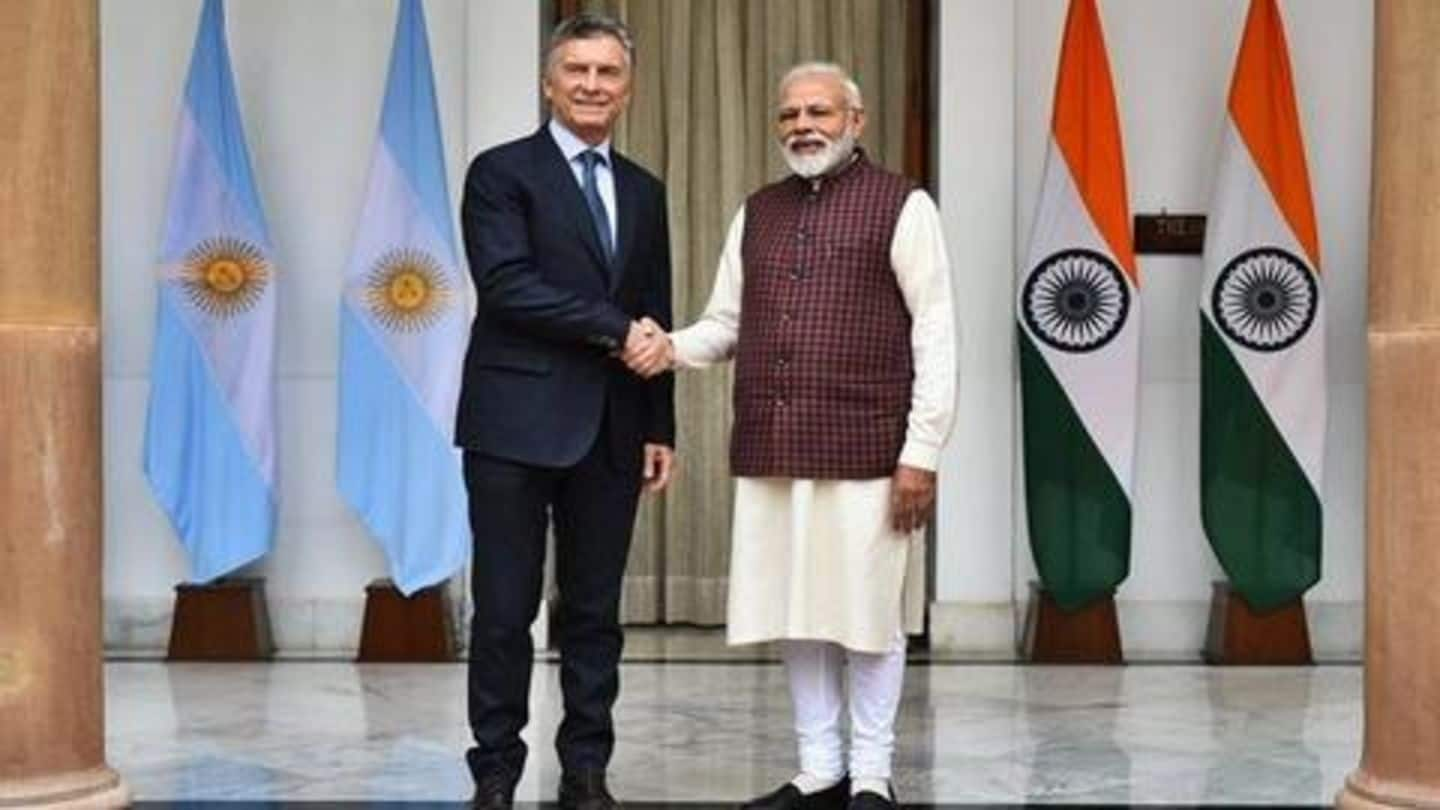 On Monday, Prime Minister Narendra Modi and Argentine President Mauricio Macri held bilateral talks at the Hyderabad House in New Delhi as part of the latter's ongoing three-day visit to India which began on February 17. Later in the day, the two nations are slated to hold delegation-level talks, and sign several agreements. Here are the details.
The Argentine President's visit began on Sunday
President Macri, accompanied by First Lady Juliana Awada, began their visit to India on Sunday, February 17. On Monday morning, the duo were accorded a ceremonial welcome at the Rashtrapati Bhavan by PM Modi and President Ram Nath Kovind. Subsequently, the Argentine President laid a wreath at Raj Ghat, to pay his tribute to Mahatma Gandhi.
Have great expectations about cooperating with India: Macri
"I'm very glad to be in India. It's such a wonderful country. We have great expectations about the future of the relations between both countries. We have many things to develop together in favour of the future of our people," Macri told media.
New areas of cooperation to be explored
The Argentine President's visit to India coincides with the 70th anniversary of the two countries establishing diplomatic ties. During the duration of the visit, PM Modi and President Macri will review progress in bilateral ties, apart from exploring new areas of cooperation. After talks, Argentina and India are slated to sign several agreements, before President Macri leaves for Mumbai on February 19.
READ: MEA spokesperson Raveesh Kumar's tweet on President Macri's visit
What we know about the agreements that will be signed
While concrete details of agreements to be signed have not emerged as of now, Argentine ambassador Daniel Chubur has told the press that seven to eight agreements are expected to be signed. These bilateral agreements will span across several sectors, including defense, nuclear technology, tourism, education, culture, and pharmaceuticals. The defense agreement, in particular, is expected to open up new channels of bilateral cooperation.
Will talk about civilian use of nuclear technology: Chuburu
"We are developing modular power plants called Carem. There will be talks in this regard and on other civilian uses of nuclear technology...There are a lot of things in which we think there is a good possibility of getting together and working with India," said Chuburu.