#DefenseDiaries: Integration of BrahMos on 40 Sukhoi-30MKI combat aircraft begins!
#DefenseDiaries: Integration of BrahMos on 40 Sukhoi-30MKI combat aircraft begins!
Dec 18, 2017, 12:05 am
3 min read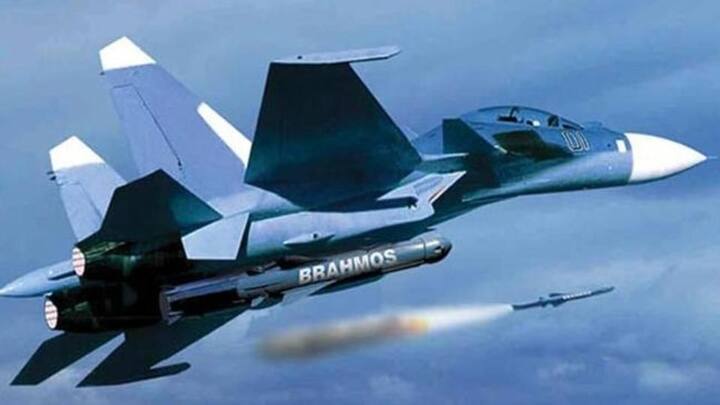 Following the successful test-fire of BrahMos supersonic cruise missile from a modified Indian Air Force (IAF) Sukhoi-30MKI fighter jet, India has started working on integrating BrahMos on 40 Sukhois. It would fulfill IAF's "critical needs" in the midst of the rapidly evolving security situations in the region. The successful test in November marked a significant milestone, enhancing the IAF's precision strike capability. Know more!
Sukhoi jets to undergo structural modifications at HAL
The process of integrating BrahMos on about 40 Sukhoi jets has already begun. The project's timeline is being set; it is expected to be completed by 2020. Structural modifications would be made to the aircraft at the state-run Hindustan Aeronautics Limited. BrahMos missile, weighing 2.5 tons, can fly at nearly three times the speed of sound at Mach 2.8-3.0, with a 300km range.
Integration requires several modifications to Sukhoi
After the test-fire of the BrahMos-A supersonic Air-Launched Cruise Missile (ALCM) from a Sukhoi-30 jet, Indian Air Force said that BrahMos coupled with Sukhoi's superlative performance would give the IAF a strategic reach, allowing the force to dominate the ocean as well as the battlefields. The complicated process of BrahMos-Sukhoi integration involves electrical, mechanical, and software modifications to the Sukhoi aircraft.
Indo-Russian joint venture under a 1998 agreement
The BrahMos is a ramjet supersonic cruise missile that can be launched from ships, submarine, aircraft, or land. It is a joint venture between India's Defence Research and Development Organization (DRDO) and Russia's NPO Mashinostrieyenia. It is developed under an agreement signed by India and Russia in 1998. The missile with advanced capabilities was named after India's Brahmaputra River and Russia's Moskva River.
Su-30MKI is among world's most manoeuvrable aircraft
The Su-30MKI is a twin-seater, twin-engine heavy multi-role fighter jet. It features the capable Russian N011M PESA radar that can track fighter jets up to 150-km away. It's powered by two Al-31FP engines giving it a maximum speed of Mach 1.9. The engines come with thrust-vectoring nozzles, making the Su-30MKI among the world's most maneuverable. The aircraft has a phenomenal range of 3,000km.
Why the BrahMos launch from Sukhoi-30MKI matters
For the past few years, the Hindustan Aeronautics Limited and BrahMos Aerospace have been working to integrate the missile to the Sukhoi-30MKI. The Sukhois required structural changes to carry the air-to-ground BrahMos. The fighter jet has a 3,200-km cruising range. Coupled with the Sukhoi-30MKI, the lethal BrahMos missile's effective range would increase exponentially. Sources said 42 Sukhois would be modified to fire BrahMos missiles.
Integration would help increase BrahMos's range
As India is now a member of Missile Technology Control Regime (MTCR), certain technical restrictions are lifted; so, BrahMos's range can even be extended to 400km. The 2.5-ton missile is the heaviest weapon ever to be deployed on Sukhoi aircraft. Once the BrahMos-Sukhoi integration project is complete, Indian Air Force's capability to strike targets in sea/land from large stand-off ranges would increase manifold.
Possibility of two-front war cannot be ruled out: An official
An official said, "It (Brahmos and Su-30 jet integration) is a very important project considering IAF's evolving requirement to boost air power when the possibility of a two-front war cannot be ruled out." Even earlier this year, in September, Indian Army Chief General Bipin Rawat said India should be prepared for a potential two-front war with China and Pakistan.