Zomato episode is the reflection of society, us
Zomato episode is the reflection of society, us
Written by
Shikha Chaudhry
Aug 02, 2019, 06:24 pm
3 min read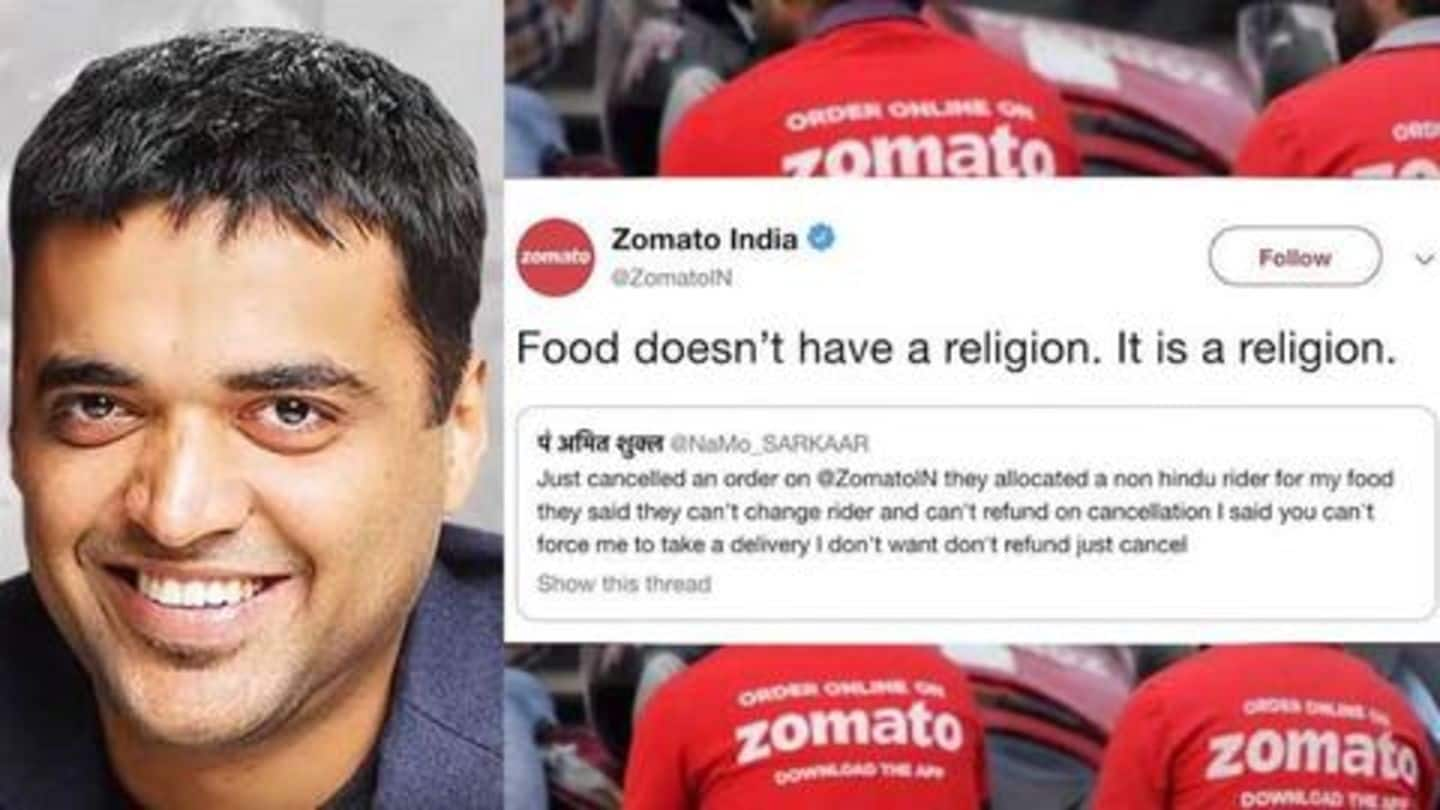 This week was eventful, and not in a good way. Ayodhya mediation failed, the controversial Unlawful Activities (Prevention) Amendment Bill, the contentious National Medical Commission Bill got passed, Apple thought of bringing stylus to iPhones, and CCD founder VG Siddhartha died an untimely death. And, all India is obsessing over is - Zomato episode. What does it tell you about us? In many ways, the reactions by stakeholders are a reflection of the society we live in.
Point No. 1: Every religious person is a bigot
Friedrich Nietzsche, a German philosopher, once said, "Is man merely a mistake of God's? Or God merely a mistake of man?" Looking at the situation in this country and elsewhere, I think both - Bigots are protecting God, when He doesn't need protection. This current version of God created by foolish men is flawed. So, let's say this out loud: Amit Shukla is a bigot. He likes Muslim b**bs, but not Muslim delivery men.
Is it the man who cancelled Zomato order for being assigned a non-Hindu delivery boy? He has no respect for women? Or he showed his disrespect to me because i am a non-Hindu? pic.twitter.com/PS8tBICGU4

— taslima nasreen (@taslimanasreen) August 2, 2019
Point No. 2: Companies do business with emotions
After Shukla displayed his disdain towards a Muslim man, Zomato lapped on to the opportunity to gain cheap publicity. Now, don't get me wrong - they have every right to school their customers on their platform. The problem is they decided to make a huge statement out of it. So, let's say this out loud: They chose to do business out of our emotions. I don't want a selective lecture from them, do you?
Point No. 3: Even an IIT degree can't evolve you
The worst is Zomato CEO's reaction, who wanted to become a Twitter trend, and successfully so. The high-handedness, holier-than-thou attitude, the wokeness is presumptuous at best, and annoying at worst. He is a great entrepreneur, whose focus and tenacity is exemplary. Why does he need to go hammer and tongs to prove that he has a heart too? So, let's say this out loud: An IIT degree can't always evolve you.
Point No. 4: Left liberals need new methods
When something concerns Hindus, how can the Left Liberal gang stay mum? How can the vultures not attack in herd? In any case, this time it was a godsend opportunity. From urging people to order from Zomato to standing in solidarity to calling Hinduism regressive, they used all the unimaginative, banal tricks. So, let's say this one more time: LeLi gang needs new ideas.
Don't think a tweet has become a case study so fast!👏
Gave a talk on Brand Agility on Social Media at the #iMediaIn Summit in Goa...the fabulous response of @ZomatoIN came in on top!
It's something that has sent the hate army frothing over - on their keyboards
My order pending! pic.twitter.com/IwEXO8DHBe

— The DeshBhakt (@akashbanerjee) July 31, 2019
Point No. 5: Law and order is a joke
The one which takes the cake here is definitely the Madhya Pradesh police. The school teacher-cum-Superintendent of Police took suo motu (on their own) action against Shukla. They sought a written undertaking from Shukla that he would not spread religious hatred. In a state where law and order is a joke, is the secular police this free? If I say one more word here, they may put me behind bars too.
A bigot man shows intolerance (for lack of a better word), brand becomes messiah and spreads love, the CEO wears a certain cap, unimaginative liberals act like vultures and the police proves it is secular. So, who won? Perhaps, the DAU and MAU of Twitter.