Pre-wedding hair care tips for brides-to-be
Pre-wedding hair care tips for brides-to-be
Dec 01, 2022, 07:36 pm
3 min read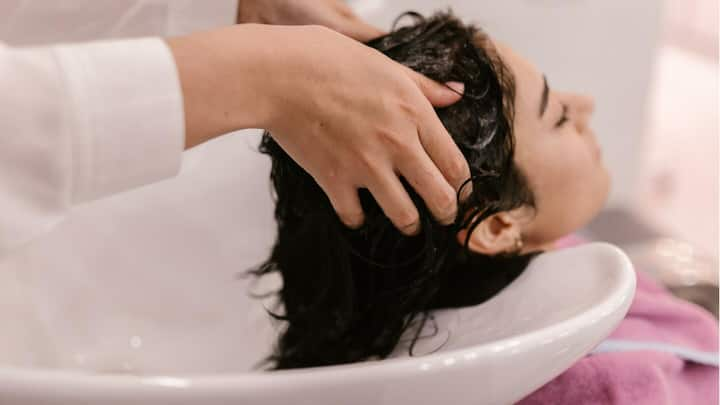 The wedding season is here and if you are also getting hitched to your beloved this season, then you have landed on the right page! While the bridal lehenga, jewelry, makeup, and wedding decor are the most important things to pay attention to, small details like pre-wedding skincare and hair care also require equal focus. Here are five pre-wedding hair care tips for brides-to-be.
One of the most important steps in pre-wedding hair care, oiling your scalp and hair will make it soft, smooth, and healthy. Hot oil massages also repair your hair strands by boosting blood circulation in your scalp. You can go for oils like coconut oil, bhringraj oil, argan oil, and castor oil for intense nourishment. After the massage, wash off after a few hours.
Go for organic shampoo and conditioner and try shampooing less
Stop using your regular shampoo and conditioner months before your big day as they come packed with chemicals like sulfates and parabens that can damage your scalp and hair. Instead, go for natural and organic shampoo and conditioner that contain no harmful ingredients. Also, avoid over-shampooing as it can dehydrate your mane. You can shampoo every alternate day or even twice a week.
Use a nourishing hair mask at least twice a week
Homemade hair masks not only exfoliate and condition your scalp but also help remove impurities, and dandruff. Mash together one banana, honey, and plain yogurt. Mix well and apply it to your hair strands. Wait for 20-30 minutes and wash off with your hair cleanser. Also, go for a hair spa once every month for three months straight before your wedding day.
Did you know that your hair is likely to grow an average of a quarter-inch every month whether you cut it or not? This is why you should go for regular trims no matter what your hair type is. Regular trims not only encourage hair growth but also prevent split ends. It will even reduce hair breakage and give you a voluminous look.
Have a healthy and nutritious diet
Apart from taking care of your hair externally, make it healthy from the inside as well by loading your plate with nutritious food. A few months before the wedding, include nuts, eggs, berries, avocados, fish, seeds, and green veggies in your diet to detox your body while improving your hair health. You can also take hair supplements like biotin, amino acids, and folic acids.