Paleontologists discover dinosaur nests, 265 fossilized eggs in Narmada Valley
Paleontologists discover dinosaur nests, 265 fossilized eggs in Narmada Valley
Jan 25, 2023, 03:00 pm
3 min read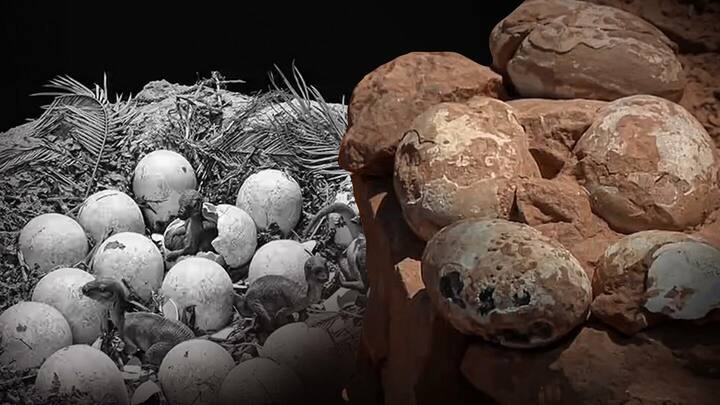 Paleontologists have found 92 dinosaur nesting sites and 256 fossils of eggs, in the Dhar region of Madhya Pradesh's Narmada Valley. The egg fossils are claimed to be of titanosaurs, one of the biggest known dinosaurs to ever live on the planet. Read on to know more about this latest discovery which suggests that dinosaurs used to lay their eggs in the Narmada Valley.
Narmada Valley was a nesting ground for dinosaurs
This finding suggests that titanosaurs traveled to this area of the Narmada Valley to lay their eggs. There is a strong possibility that the eggs hatched there too. According to the lead researcher Harsha Dhiman, the eggs showed signs of both hatching and not having been hatched. He informed no bones were discovered and that a micro CT scan is required for further investigation.
Discoveries of this nature have been made in past too
The fieldwork was done by a team of paleontologists from the Mohanpur-Kolkata, Bhopal, and Delhi's Indian Institute of Science Education and Research. This is not the first time a discovery of this nature has been made in the central region of India. Previously, paleontologists have found dinosaur nests and eggs in the Jabalpur district of Madhya Pradesh and Balasinor in Gujarat.
Eggs ranged between 15 and 17 centimeters
The eggs, belonging to several titanosaur species, ranged between 15 and 17 centimeters in diameter. The number of eggs in each nest, according to the lead researcher, ranged from one to twenty. Many of the nests found were in close proximity to each other. The first discovery of this nature was made in the 1990s, but this study focused especially on MP's Dhar district.
Titanosaurs' nesting behavior was similar to that of today's birds
The research suggested that the nesting behavior of titanosaurs was similar to that of today's birds. According to researchers, the close proximity of the nests suggests that the dinosaurs laid eggs together in colonies or rookeries, as many birds do in the present day. Some researchers also claimed that titanosaurs, just like birds, laid eggs sequentially and that the eggs showed birdlike reproductive behavior.
The titanosaurs were inattentive parents
Based on the physical characteristics of the nests, titanosaurs possibly laid eggs in marshy flatlands and buried in shallow pits, and left their babies to fend for themselves. Today's birds and crocodiles are not careless parents; they both incubate their eggs until they hatch safely. Unlike the titanosaurs, other dinosaurs are believed to incubate their eggs just like today's birds do.