Disagree with Digvijaya Singh's remarks over surgical strikes: Rahul Gandhi 
Disagree with Digvijaya Singh's remarks over surgical strikes: Rahul Gandhi 
Jan 24, 2023, 05:16 pm
3 min read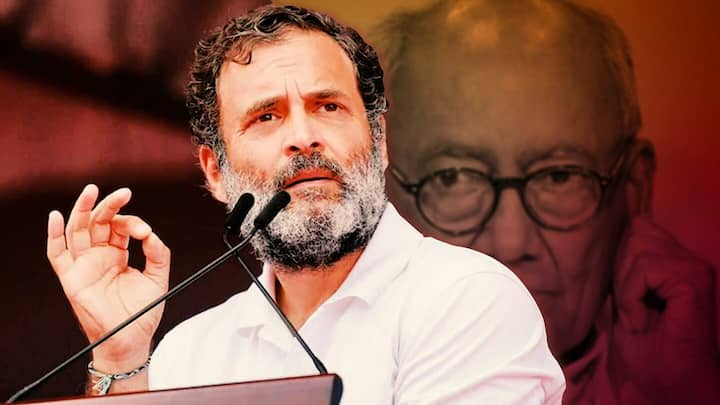 Congress leader Rahul Gandhi on Tuesday said he disagreed with the remarks made by his party colleague Digvijaya Singh over the Indian Army's 2016 surgical strikes on terror camps in Pakistan-occupied Kashmir. On Monday, Singh reportedly sought proof of these strikes from the government. The Congress distanced itself from his remarks that raised doubts about the Indian Army's retaliation to the 2016 Uri attack.
Why does this story matter?
Gandhi's reaction came as the Congress faced massive criticism over Singh's remarks amid the party's Bharat Jodo Yatra (BJY).
Singh's comments invited backlash from the Bharatiya Janata Party (BJP), which said the party was blinded by its "hate" for PM Narendra Modi and "insulted" armed forces.
On the defensive, the party immediately distanced itself from Singh's remarks and called them "his own" position.
What exactly did Gandhi say?
Addressing a press conference in Jammu, Gandhi said, "We disagree with Digvijaya Singh's views. The views of the party are above Digvijaya Singh's views." "Digvijaya Singh's views are outlying views. They are not views held by the party. We are absolutely crystal clear—the armed forces do a job and they do the job exceptionally well. They don't need to be providing proof," he said.
Controversial statement by Singh questioning surgical strikes
During the BJY in Jammu on Monday, Singh said the BJP-led central government has lied about surgical strikes. "To date, the government has not given information about the incident in parliament or in public... They are ruling by peddling a bundle of lies," he added. Singh even implied the 2019 Pulwama attack, which killed 40 CRPF jawans, was an outcome of a security lapse.
India won't tolerate Congress questioning armed forces: BJP
The BJP slammed the Congress over the remark saying Singh and his party hate PM Modi and were blinded by that hatred. Party spokesperson Gaurav Bhatia said the Congress was habitual of making "irresponsible remarks." "India will not tolerate if they speak against armed forces. They (Gandhi and Congress) repeatedly raise questions and insult the citizens of India and our armed forces," he added.
Congress has distanced itself from Singh's remarks
Hours after Singh's remarks, the Congress said Singh's remarks didn't reflect the party's views. Taking to Twitter, Congress leader Jairam Ramesh said Singh's remarks were his "personal views" and not endorsed by the party. "Surgical strikes were carried out before 2014 by the UPA government. Congress has supported and will continue to support all military actions that are in the national interest," he tweeted.
What do we know about surgical strikes?
On September 29, 2016, India declared that it had carried out "surgical strikes" targeting terror launch pads across the Line of Control (LoC) in Pakistan-administered Kashmir. While reports claimed Indian Army inflicted significant casualties, killing 35-40 terrorists, Pakistan disputed the claims about such strikes. Notably, the surgical strikes were conducted by India in retribution for the 2016 Uri terrorist attack, which killed 18 soldiers.