Chris Hipkins sworn in as New Zealand's 41st Prime Minister
Chris Hipkins sworn in as New Zealand's 41st Prime Minister
Jan 25, 2023, 11:13 am
3 min read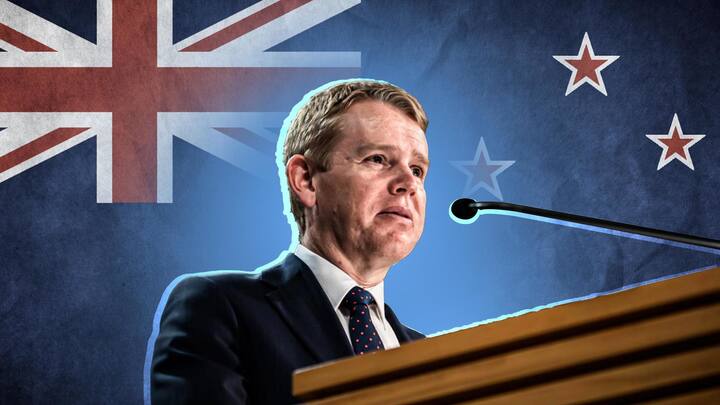 Labour leader Chris Hipkins was officially sworn in as New Zealand's 41st Prime Minister in a formal ceremony on Wednesday. The 44-year-old has vowed to take a back-to-basics practice, focusing on the economy and what he calls the "pandemic of inflation," Reuters reported. This comes days after PM Jacinda Ardern resigned, claiming she no longer has "enough in the tank" to lead the country.
Why does this story matter?
Jacinda Ardern was elected Prime Minister of New Zealand in 2017, becoming the country's third female PM and the world's then youngest.
She was lauded for her leadership throughout the COVID-19 epidemic, Christchurch mosque massacres, and White Island volcano eruptions.
However, recent surveys show her domestic popularity has declined and political analysts said she would have lost the election with her present support base.
This is the biggest privilege, responsibility of my life: Hipkins
Cindy Kiro, the country's Governor-General, officiated the oath ceremony after accepting the resignation from Ardern. Hipkins will now have little over eight months before contesting a difficult general poll, with opinion polls suggesting that his Labour Party is currently trailing its conservative rival. At the ceremony, the 44-year-old said: "This is the biggest privilege and responsibility of my life."
Carmel Sepuloni becomes New Zealand's new deputy prime minister
On Wednesday, Carmel Sepuloni also took oath as the deputy prime minister of New Zealand. With this, she became the first individual with a Pacific Island heritage to take up this role. After swearing in, Sepuloni congratulated Hipkins and also thanked him for showing his trust in her. The new New Zealand PM is also set to hold his first cabinet meeting on Wednesday.
Video of swearing-in ceremony of Hipkins
Earlier, Chris Hipkins acted as leader of the House of Representatives and the country's minister for education. In 2008, Hipkins was first elected from the Labour Party to parliament and was appointed as the minister for COVID-19 in November 2020. The 44-year-old's handling of the coronavirus crisis was globally lauded as New Zealand stayed virus-free during the first half of 2021.
New Zealand needs a fresh set of shoulders: Ardern
Addressing the media on January 19, Arden said that continuing as the prime minister would be a disservice to the country, knowing she doesn't have the energy anymore. She said that leading the country during peacetime is different from leading it during a period of crisis, adding that it had been tough five-and-a-half years and the country needed a fresh set of shoulders.