Doomsday Clock moves closest ever to midnight: What it means
Doomsday Clock moves closest ever to midnight: What it means
Jan 25, 2023, 11:23 am
3 min read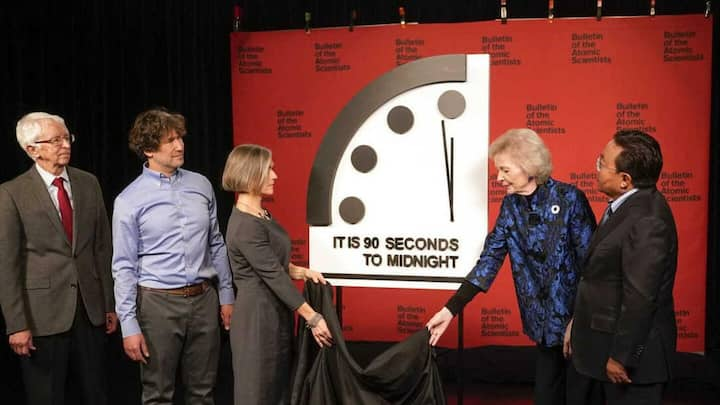 Humanity might be closer to its end than many of us imagine. At least, that's what a group of atomic scientists think. The Doomsday Clock, which represents how close humanity is to a perilous catastrophe, has been set closer to midnight than ever before, indicating an impending annihilation. The clock's purpose is to spark conversations about topics such as nuclear disarmament and climate change.
Why does this story matter?
The animosity between Russia and Ukraine reached its peak in February 2022 when the former mounted a large-scale invasion of the latter. The war has led to a number of casualties and Europe's biggest refugee crisis since World War II.
Nuclear escalation of the war can't be ruled out yet. The clock's new time is a metaphor for the impact of such an escalation.
What is the Doomsday Clock? 
The Doomsday Clock is a reminder of how close mankind is to self-destruction. The Bulletin of the Atomic Scientists (BAS), a group formed by scientists who worked on the Manhattan Project (the US government mission that built the first atomic bomb), manages the clock hands. It was set up in 1947 and is located at the University of Chicago.
The clock has been set to 90 seconds until midnight
The BAS has moved the clock's time in 2023 to 90 seconds to midnight. Midnight represents the moment at which our planet becomes uninhabitable for humanity. Before this, the closest the clock was to midnight was two minutes in 1953, when the US and USSR tested thermonuclear weapons, and in 2018 due to increasing nuclear threat and lack of action against climate change.
Russia's invasion of Ukraine is the main reason
The clock's hands are moved closer to or away from midnight based on scientists' perception of existing threat levels. From 2020-2022, it was set at 100 seconds to midnight. The decision to move it 10 seconds forward is largely due to the Russia-Ukraine conflict and the increasing risk of nuclear escalation. Climate change, biological threats, and disruptive technologies are other threats mentioned this year.
Announcement was done in English, Russian, and Ukrainian
The decision to move the clock's hand is made by the BAS science and security board. This year's announcement was made in English, Russian, and Ukrainian. "Russia's thinly veiled threats to use nuclear weapons remind the world that escalation of the conflict by accident, intention, or miscalculation is a terrible risk," said Rachel Bronson, the board's president, and CEO.
The BAS board of sponsors has 10 Nobel laureates
The BAS has boasted an exclusive line-up of scientists as its sponsors over the years. Its board of sponsors was set up in 1948 by Albert Einstein, with Robert Oppenheimer as the first chair. Currently, there are 10 Nobel laureates on the board, including Brian Schmidt (Physics, 2011), Frank Wilczek (Physics, 2004), Richard Roberts (Physiology, 1993), and John Polanyi (Chemistry, 1986), among others.