Who was Qassem Soleimani, the Iranian General US killed?
Who was Qassem Soleimani, the Iranian General US killed?
Written by
Siddhant Pandey
Jan 04, 2020, 12:00 am
4 min read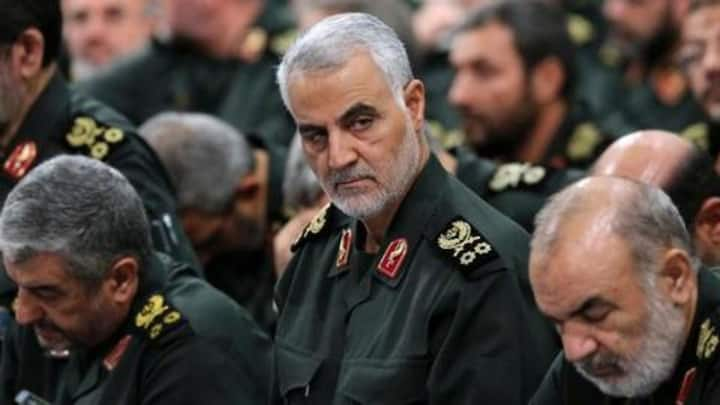 Earlier on Friday, the United States confirmed to have killed Iranian Major-General Qassem Soleimani in an airstrike at Iraq's Baghdad Airport. Reportedly, the strike, which also killed the deputy chief of Iraq's powerful Hashed al-Shaabi paramilitary force, was ordered by US President Donald Trump. Iran has now threatened "severe revenge" against "US terrorism." So, who was Soleimani and why did Trump have him killed?
Soleimani headed the elite Quds Force in Iran's Revolutionary Guard
Soleimani was the top commander of Iran's elite Quds Force for the Islamic Revolutionary Guard Corps (IRGC). He oversaw covert operations overseas and also backed Iraqi Shi'ite groups in the war against Islamic State. He was regarded as the mastermind of Iran's military strategy, expanding Islamic resistance across the Middle East. He was viewed as a deadly adversary to the US and its allies.
Soleimani came from humble beginnings
Soleimani was born into an agricultural family in Iran's Rabor on March 11, 1957. At age 13, he started a construction job in Kerman to help his father repay some loans. During the 1979 Iranian Revolution to overthrow the Shah—Mohammad Reza Pahlavi—Soleimani organized demonstrations against the ruler. Initially a volunteer in the IRGC, Soleimani rose through the ranks during the Iran-Iraq War in 1980.
He became chief of Quds Force in 1998
It was in 1998 that Soleimani was made the chief of the Quds Force by Iran's Supreme Leader Ayatollah Ali Khamenei. As head of the Quds Force, Soleimani helped Iran strengthen diplomatic ties with Hezbollah in Lebanon, the Bashar al-Assad-led government in Syria, and the Shi'ite militia groups in Iraq. The alliances came at a time when Iran's economy crippled under US sanctions.
After 9/11, he helped US target Taliban, al-Qaeda
Soleimani once worked closely with the US, after the infamous 9/11 attacks. Following 9/11, the US came in touch with Soleimani, a man with immense regional clout, to target the al-Qaeda and Taliban. His intelligence inputs helped the US-backed government take charge in Afghanistan and the al-Qaeda terrorist Osama bin Laden—who masterminded 9/11—fled to Pakistan, where he was killed by US commandos in 2011.
Soleimani's relations with US soured during the Iraq War
However, the Iran-US did not remain cordial as ex-US President George Bush blamed Soleimani for the deaths of hundreds of US soldiers in the Iraq War. When the civil war between Sunni and Shi'ite militants peaked in 2007 in Iraq, Soleimani supplied Shi'ite militants with weapons, the US said. Earlier this year in April, the US designated IRGC and Quds Forces as terrorist outfits.
Meanwhile, Soleimani's popularity attained 'celeb' status
Nonetheless, Soleimani's popularity surged in Iran after he was made the face of Iran's intervention in the Syrian conflict from 2013. His direct involvement in top-level talks over the formation of Iraq's government only helped his popularity, as some Iranians even pushed for him to step into domestic politics. Soleimani quickly became a celebrity of sorts.
Soleimani more popular than President of Iran: Survey
In 2018, a survey by IranPoll and the University of Maryland pegged Soleimani's popularity rating at 83%, higher than President Hassan Rouhani and Foreign Minister Mohammad Javad Zarif. Last year, he also became the first commander to receive the Order of Zolfiqar medal.
In recent times, US-Iran tensions had heightened
Despite his popularity in Iran, his support to the Shi'ite militants continued to irk the US. Soleimani backed the Iraqi Shia militant group Kata'ib Hezbollah even as the organization attacked an Iraqi military compound near Kirkuk, killing a US defense contractor. Last week, the US launched airstrikes targeting Hezbollah brigades, which triggered an attack on the US Embassy in Baghdad by protestors.
After recent escalations, Trump ordered Soleimani's killing
The US had also declared Kata'ib Hezbollah a terrorist organization and given recent escalations, the Trump administration decided to take out Soleimani—a decision both former Presidents George W. Bush and Barack Obama rejected, fearing war between the US and Iran.