Volkswagen Group's EV plans push market value toward $150 billion
Volkswagen Group's EV plans push market value toward $150 billion
Mar 18, 2021, 03:13 pm
2 min read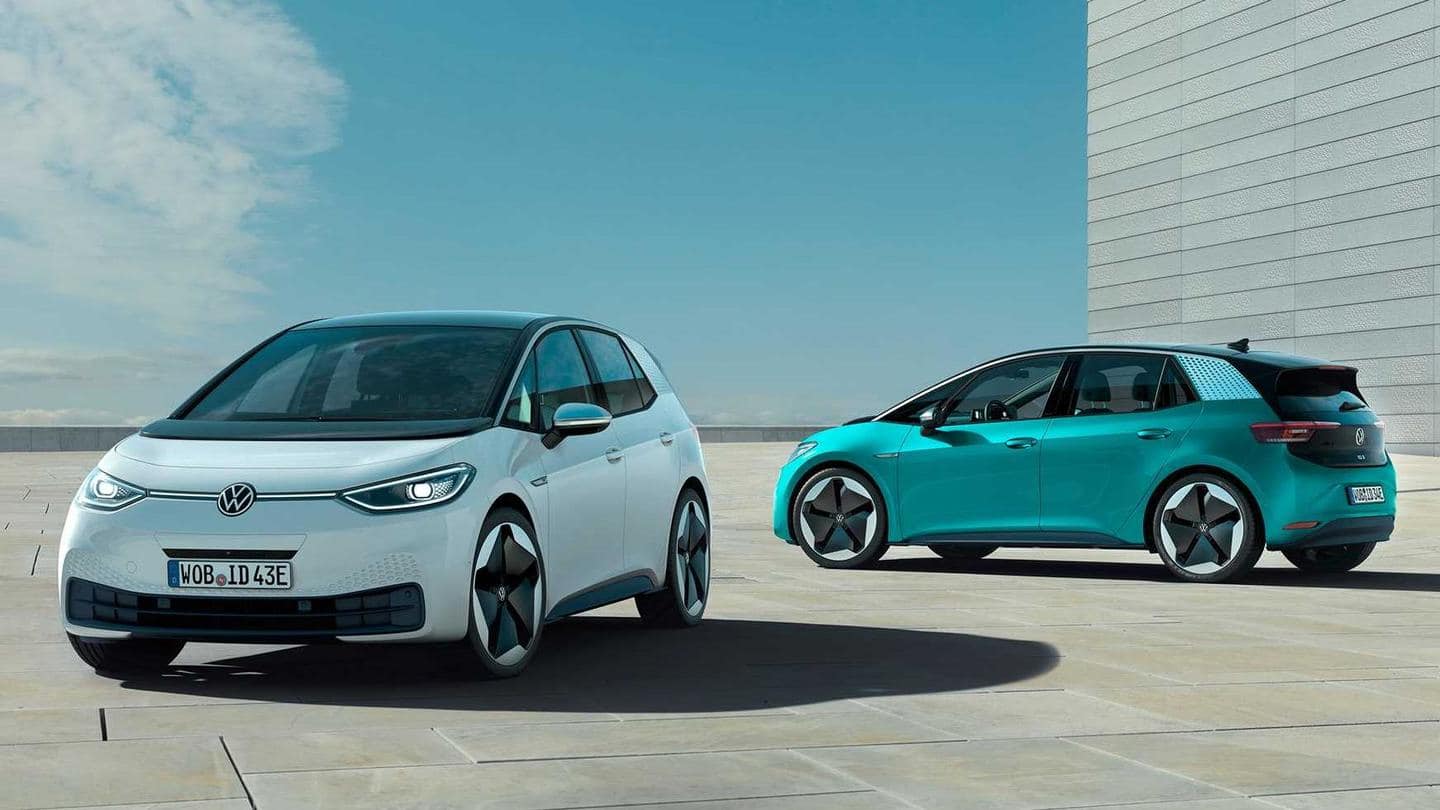 With a 9% surge in stock prices, Volkswagen's market value is staring at $150 billion as the world's second-largest automaker has shared details about its expansion in electric driving. The company has unveiled plans to build six battery cell factories in Europe and said it aims to increase deliveries of EVs this year by more than double. Here are more details.
'Cost-cutting to boost profits in coming years'
At its annual press conference, the company said that cost-cutting would aid in increasing profit margins in the coming years. "Our good performance in 2020, a year dominated by crisis, will give us momentum for accelerating our transformations," said Chief Executive Herbert Diess. He also said there was no need for immediate action when asked about a potential listing of luxury division Porsche AG.
Volkswagen's common stock witnesses largest gain since 2008
On Germany's DAX index, Volkswagen's preferred shares rose by 9.3% to their highest since July 3, 2015, granting the automaker a market valuation in excess of $144 billion. Meanwhile, Volkswagen's common stock, skyrocketed by 29% - its biggest intraday gain since the famous uptick in 2008 during which the company became the world's most valuable company for a short span of time.
The company is aiming for 7-8% operating margin by 2025
Diess believes Volkswagen is worth €200 billion, reflecting his ambition to dethrone Tesla as the world's biggest e-car manufacturer. Volkswagen, which delivered 4,22,100 EVs in 2020, said it would apply a standardized platform model to batteries, software, and charging. The company is aiming for a 7-8% operating margin by 2025 and would possibly end 2021 at the upper end of a 5-6.5% target bracket.
Volkswagen could cut up to 4,000 jobs in Germany
Volkswagen said it will achieve its target by lowering fixed costs by €2 billion by 2023 and a 7% reduction in material costs over the same period. To reduce staff costs, the carmaker has offered early or partial retirement to older employees. This would reportedly slash up to 4,000 jobs at its German factories. Currently, Volkswagen has about 6,70,000 employees globally.