Amid urination case, Air India modifies in-flight alcohol service policy
Amid urination case, Air India modifies in-flight alcohol service policy
Jan 25, 2023, 10:39 am
3 min read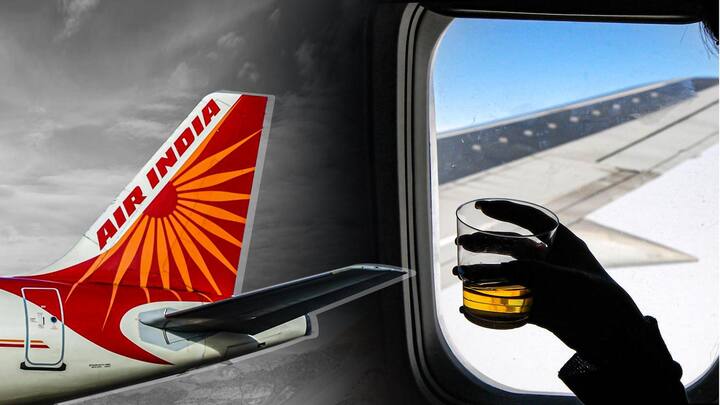 Air India decided to modify its in-flight alcohol service policy on Tuesday, wherein cabin crew has been instructed to refuse further serving of alcohol if needed amid the recent incident of an unruly passenger peeing on a co-passenger. The airline has been slapped with penalties in the past few days by the Directorate General of Civil Aviation (DGCA) in relation to the incident.
Why does this story matter?
The policy change follows the November incident in which Mumbai businessman Shankar Mishra allegedly urinated on a co-passenger while drunk on a New York-Delhi Air India flight.
An FIR was however registered nearly 40 days later after the victim wrote to Tata Sons chairperson N Chandrasekaran, which owns Air India.
Since then, the incident has sparked widespread media coverage and a nationwide uproar.
Air India's revised policy amid onboard incidents
Per the revised policy, passengers should only be allowed to drink alcohol if the cabin crew serves it and the cabin crew be attentive in identifying passengers who may be drinking their own alcohol on the flight. "Service of alcoholic beverages must be carried out in a reasonable and safe manner. This includes tactfully refusing to (further) serve a guest alcohol," reads the policy.
Air India releases list of 'dos and don'ts'!
The airline also released a new "dos and don'ts" list of service denials, which requires cabin crew members to be polite. The policy also advised its cabin crew to warn the passengers "politely that their behavior is unacceptable." "Don't raise your voice. If they raise theirs, lower yours... don't put off refusal, act while the guest can still be reasoned with," it further reads.
Managing unduly intoxicated patrons must be done assertively: Air India
Serving alcohol to passengers is a practice that has been there for numerous years, but the airline said that there is a difference between becoming intoxicated from alcohol and consuming it for pleasure, reported news agency PTI. "Managing unduly intoxicated patrons must be done assertively and respectfully," Air India instructed its cabin crew members in its recent release.
DGCA fines Air India Rs. 30 lakh
The DGCA fined Air India Rs. 30 lakh and suspended the pilot's license for three months for the November 26 incident. Previously, four cabin crew members and the pilot of the New York to Delhi flight were taken off the roster by the airline. Furthermore, the in-flight services director was also fined Rs. 3 lakh by the aviation regulatory body.
The complainant peed on herself, claimed accused
Last week, Air India's three-member internal committee imposed a four-month ban on the accused man. Mishra has denied those charges, with his lawyer also arguing that the elderly woman peed on herself.