JNU: Blackout, stone-pelting at students screening BBC documentary on Modi
JNU: Blackout, stone-pelting at students screening BBC documentary on Modi
Jan 25, 2023, 09:50 am
3 min read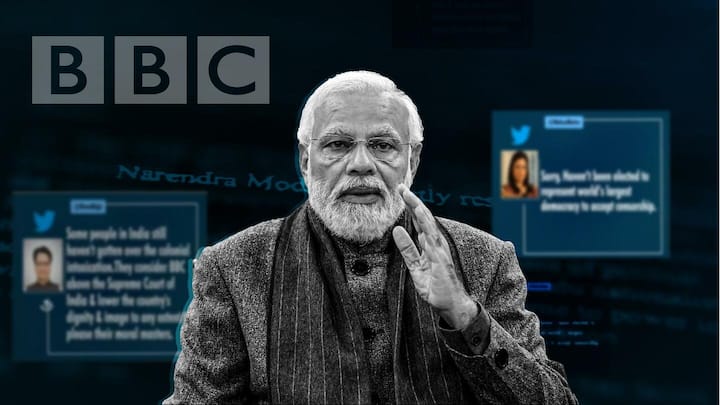 A group of students screening the banned BBC documentary on Prime Minister Narendra Modi at Jawaharlal Nehru University (JNU) on Tuesday alleged they were met with an administration-sponsored blackout and then stone pelting. The students caught two persons who were allegedly throwing stones at them and were members of the Akhil Bharatiya Vidyarthi Parishad (ABVP), the student wing of the Rashtriya Swayamsevak Sangh (RSS).
Why does this story matter?
The BBC documentary India: The Modi Question delves into Modi's role in the 2002 Gujarat riots, which killed over 2,000 people. The government banned the documentary after its release, citing emergency clauses and terming it colonial propaganda pushing a "discredited narrative."
Following the ban, the Opposition slammed the government, alleging censorship and several political groups announced the screening of the controversial documentary in defiance.
Students watched the documentary on their phones, laptops
After the blackout, students watched the documentary on their mobile phones and laptops. JNU Students Union president Aishe Ghosh, a member of the left-wing Students Federation of India (SFI), held the university administration responsible for the power and internet outages, which the administration claimed were caused by a major line fault. The JNU administration earlier refused permission to screen the documentary, threatening disciplinary action.
Students marched to police station to lodge complaint
While watching the documentary at a cafeteria on the campus, stones were allegedly pelted at the students from behind the bushes. Late at night, the students marched to the Vasant Kunj Police Station to file a complaint against the alleged offenders. After the students staged a protest, the police agreed to lodge a complaint and assured them of action.
QR codes were circulated to watch the BBC documentary
The screening was scheduled for 9 pm but the power cut at 8:30 pm prompted students to find ways to collectively watch the documentary. For this, the students circulated QR codes among themselves to watch the documentary on their devices in sync. Meanwhile, ABVP members denied their involvement in the stone pelting, saying that their names were being taken for greater media coverage.
Documentary screened in Hyderabad, Kerala
Earlier in the day, student groups at the University of Hyderabad (UoH) screened the documentary, following which the university authority sought a report on the matter from its officials. The Democratic Youth Federation of India (DYFI), the youth wing of the ruling Communist Party of India-Marxist (CPIM) in Kerala, announced that it would screen the documentary across the state, which the BJP termed "treasonous."