Why Dhirendra Shastri,'miraculous' head of MP's Bageshwar Dham, is trending
Why Dhirendra Shastri,'miraculous' head of MP's Bageshwar Dham, is trending
Jan 24, 2023, 10:15 pm
3 min read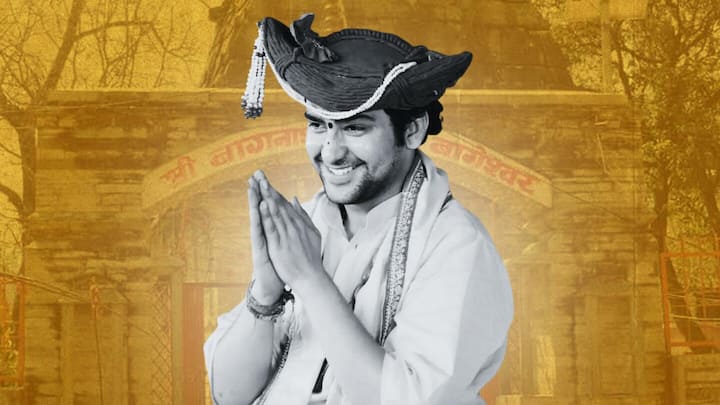 Dhirendra Krishna Shastri, a 26-year-old self-styled godman and head of Bageshwar Dham in Madhya Pradesh's Chhatarpur district who claims to have psychic powers, has recently made the headlines as a polarizing figure. He reportedly claims to be able to read people's minds. While some have accused him of fooling people by promoting superstitions, many others defended him, believing his clairvoyance to be real.
Why does this story matter?
Shastri reportedly travels across the country to deliver religious sermons which draw lakhs of devotees.
In his preachings, he claims to possess divine knowledge about any individual's problems and offers them solutions. He writes his predictions on a piece of paper, which are shown as true.
His videos garner lakhs of views on social media, which are often characterized as provocative and communally charged.
Viral video shows him guessing details of journalist's family
In a video from one of his discourses, called kathas, which has now gone viral, Shastri is seen calling a journalist from the crowd and divulging details about his family members. The journalist is then apparently surprised and hails the extraordinary capabilities of Shastri. Meanwhile, skeptics have asserted that Shastri gathered the information from the journalist's social media accounts as it is publicly available.
Hit headlines after wrapping Nagpur program 2 days before schedule
Earlier this month, Shastri organized a religious preaching program named Shriram Charitra Charcha in Nagpur. Although it was earlier announced the 10-day program would continue until January 13, it was wrapped up by January 11. This allegedly happened after the Maharashtra Andhashraddha Nirmoolan Samiti (MANS)—a rationalist organization working to eradicate superstitious practices—challenged him to prove his miraculous abilities for a Rs. 30 lakh reward.
MANS alleges Shastri violated law
The MANS alleged Shastri's Divya Darbaar in Nagpur violated two laws—Maharashtra's Anti-Superstition and Black Magic Act, 2013, and the Drugs and Magic Remedies (Objectionable Advertisements) Act, 1954. Notably, the group was founded in 1989 by Narendra Dabholkar—a doctor and social activist who was assassinated by two gunmen in 2013. He was a major force behind the adoption of the Anti-Superstition and Black Magic Act.
Several BJP leaders, however, have come out in Shastri's support, including MP's veteran leader Kailash Vijayvargiya. Accused of multiple hate speeches, BJP's Kapil Mishra held a rally in Delhi to support Shastri, alleging he was being picked on for raising his voice against religious conversion and love jihad. Union minister Giriraj Singh backed Shastri, reportedly saying Sanatani ascetics are known to possess supernatural powers.
Prove powers by fixing cracks in Joshimath: Top seer
Meanwhile, seers such as Joshimath's Shankaracharya Swami Avimukteshwaranand and Neem Karoli's Premanand Maharaj have lambasted Shastri. Avimukteshwaranand challenged him to prove his divination by mending the cracks which appeared in Joshimath because of land subsidence. Chhattisgarh Chief Minister and Congress leader Bhupesh Baghel said that even if one has "divine powers," they must not be exhibited for spectacle, as it breeds irrationalism in society.