Explained: What are e-cigarettes and how are conventional cigarettes different?
Explained: What are e-cigarettes and how are conventional cigarettes different?
Written by
Siddhant Pandey
Sep 19, 2019, 12:47 pm
3 min read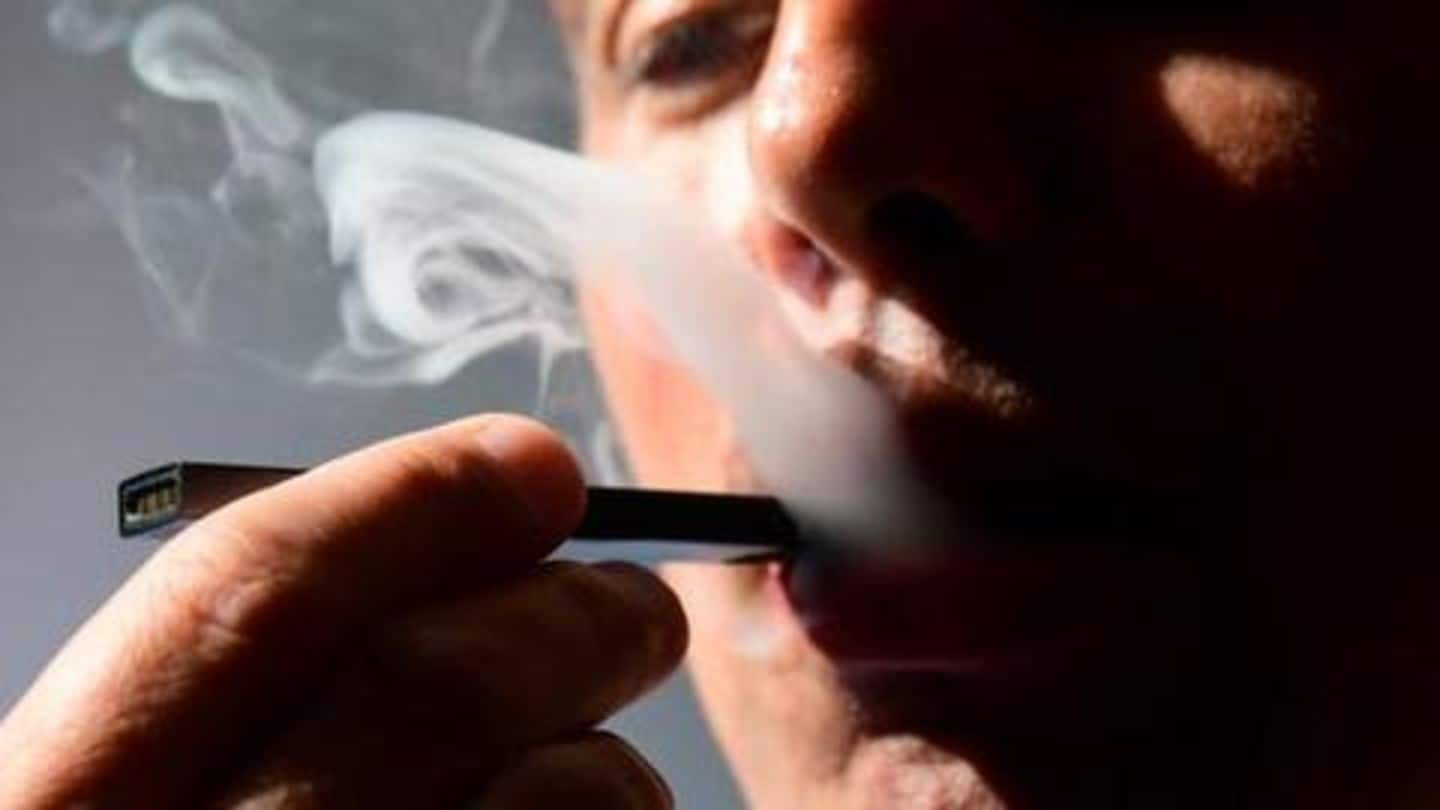 On Wednesday, Union Finance Minister Nirmala Sitharaman announced that the government has banned e-cigarettes, citing health concerns. The Narendra Modi government has banned "the production, manufacturing, import/export, transport, sale, distribution, storage and advertisement" of e-cigarettes. Offenses under the ordinance may lead to up to three years' imprisonment and Rs. 50,000-5 lakh fine. Wondering what's so grave about e-cigarettes? Let's take a look.
First of all, what are e-cigarettes?
An e-cigarettes/vape is an electronic device that aerosolizes liquid containing nicotine among other constituents. The liquid, which may have added flavors, is placed inside cartridges or soaked up in cotton placed inside the e-cigarette. When the vape is turned on, it uses heat to convert the liquid into vapor which is then inhaled by a user through the air vents in the device.
How are they different from your traditional cigarettes?
Vaping is said to be a less harmful alternative to smoking traditional cigarettes. E-cigarettes contain nicotine and not the assortment of toxins present in regular tobacco cigarettes. However, nicotine itself is associated with mental illnesses, increased risk of heart disease, lung spasms, etc., and studies report that various vape brands contain carcinogens. Basically, it's the lesser of two evils. But it's an evil nonetheless.
What are the dangers of vaping?
As stated earlier, vaping may cause several health issues. In the United States, where e-cigarettes are hugely popular, six deaths and 380 cases of lung illnesses were reported due to vaping, according to the Centers of Disease Control and Prevention (CDC) last week. Sitharaman also addressed the epidemic proportions of vape usage, especially among youth and children due to "attractive appearances and multiple flavors."
Vaping has become a style statement: Sitharaman
Sitharaman said vaping has now become a "style statement" adding, "Reports say there are some who are probably getting into the habit of e-cigarettes as it seems cool. It's believed that there are more than 400 brands, none of which is manufactured yet in India."
E-cigarettes cause DNA damage, carcinogenesis, states ICMR report
Although research on vaping is neither extensive nor conclusive, existing studies raise enough red flags. In May, the Indian Council of Medical Research (ICMR) issued a white paper, stating that Electronic Nicotine Delivery Systems (ENDS) have "documented adverse effects on humans which include DNA damage; carcinogenesis; cellular, molecular and immunological toxicity; respiratory, cardiovascular and neurological disorders and adverse impact on fetal development and pregnancy."
Meanwhile, US to also ban flavored e-cigarettes soon
Meanwhile, the Donald Trump administration announced last week that it would soon ban flavored e-cigarettes. However, Public Health England appropriately observed that vapes aren't dangerous enough, compared to cigarettes. The ban in India has already sent shares of cigarette brands soaring. Which makes one wonder, if it's health that's really on the government's mind, a crackdown on traditional cigarettes needs to follow.