Farmers to end protest at Delhi borders on December 11
Farmers to end protest at Delhi borders on December 11
Dec 09, 2021, 03:20 pm
3 min read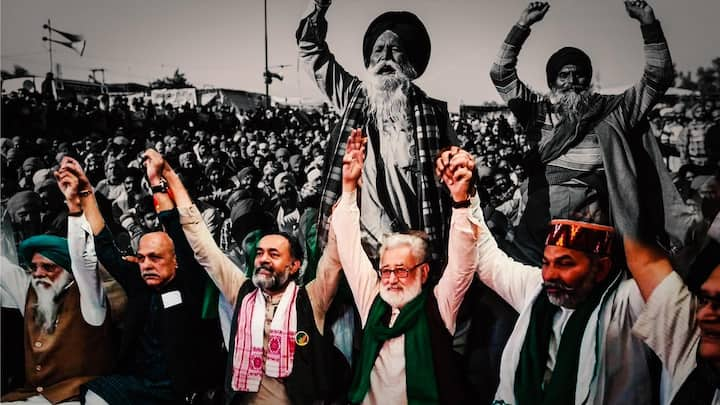 Farmers protesting at the borders of Delhi have decided to end the stir against the now-repealed farm laws on Saturday (December 11). Farmers' unions have reportedly planned a "fateh ardas" (victory prayer) at 5:30 pm on Thursday. On Saturday, they will lead a "fateh march" (victory march) at the Singhu and Tikri protest sites on Delhi's borders at around 9 am.
It has been over a year since farmers have been protesting over several issues, mainly three contentious farm laws, a legal guarantee on minimum support price (MSP), etc.
Once the protest ends, farmers camping at Delhi's borders will go home and the roads will reopen.
The agitation is said to be one of the biggest labor protests anywhere in the world.
Punjab farmers to pay homage at Golden Temple
After deciding to end the 15-month protest, farmer leaders from Punjab said they would pay homage at Amritsar's Golden Temple on December 13. The Samyukta Kisan Morcha—an umbrella body leading the farmers' protest—will hold another meeting in Delhi on December 15.
Government accepts all demands of farmers
The decision to call off the protest came after the Centre's final proposal to meet the farmers' demands. Even after the farm laws were repealed, the farmers had refused to end the stir until all their demands were met. The Centre had then sent a draft proposal to farmer leaders on their demands, which was accepted on Wednesday.
What were the farmers' additional demands?
Here are the other demands: Withdrawal of all agitation-related cases against farmers. Financial compensation to the families of farmers who died during the agitation. No criminal liability to farmers in cases of stubble burning. Prior consultations with the SKM before bringing the Electricity Amendment Bill in Parliament. A committee to discuss minimum support price (MSP) with SKM representatives. Continuation of the current MSP policy.
Demand to sack Lakhimpur violence-linked minister removed
Earlier, the farmers had also demanded the removal of junior Home Minister Ajay Mishra, whose son is the prime accused in the killings of protesting farmers in Lakhimpur Kheri. However, a five-member panel of the SKM later withdrew that demand.
Government repealed farm laws last month
Both Houses of Parliament passed the Farm Laws Repeal Bill on November 29, thereby withdrawing the three contentious laws that sparked protests. Prime Minister Narendra Modi had first announced the repeal of the farm laws on November 19 and also apologized to the nation. Vexed farmers have been protesting against three contentious farm laws for over a year now.