Can't forget Kashmir: JNUSU President Aishe Ghosh at Jamia
Can't forget Kashmir: JNUSU President Aishe Ghosh at Jamia
Jan 16, 2020, 02:04 pm
3 min read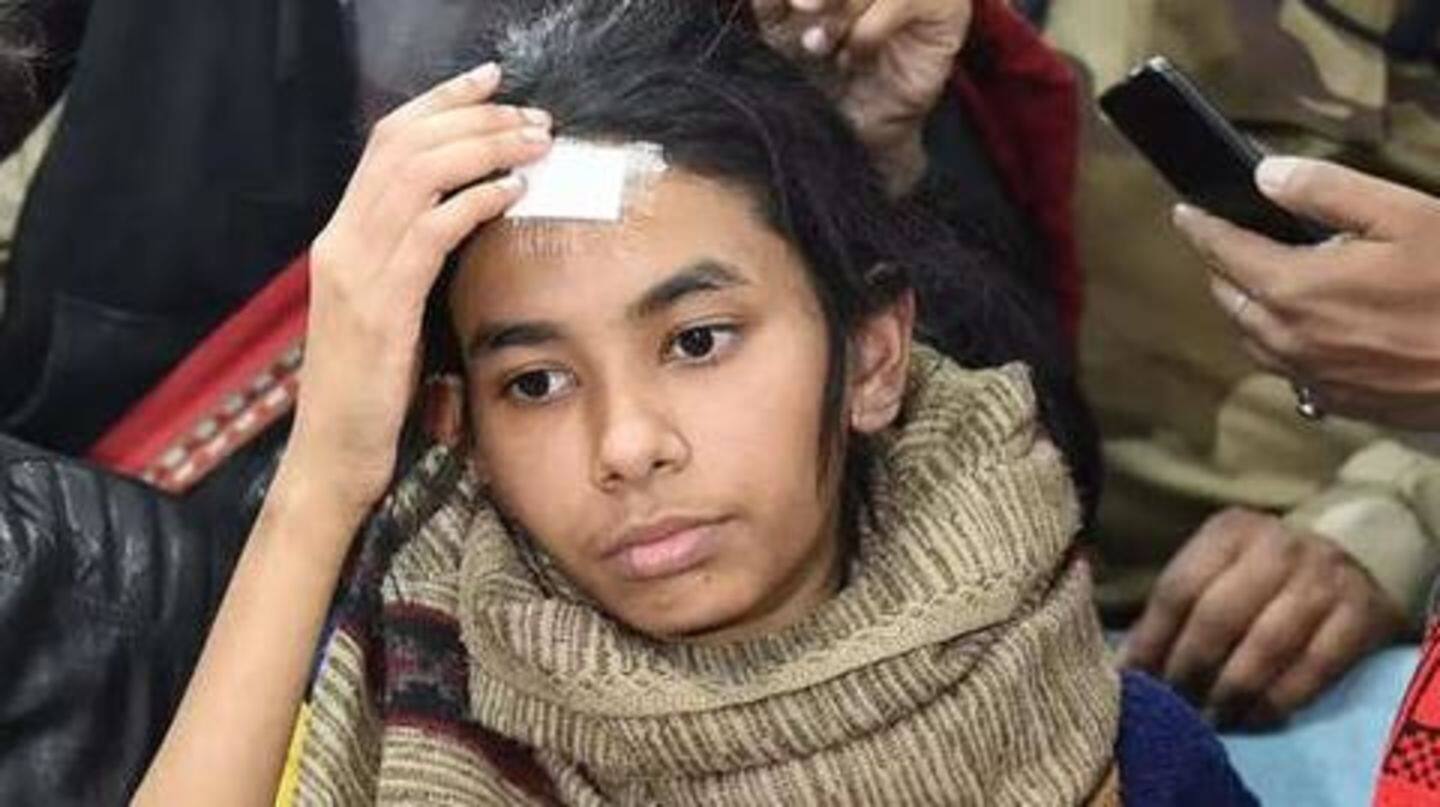 Aishe Ghosh, president of Jawaharlal Nehru University Students' Union, has raked another controversy by mentioning Kashmir outside New Delhi's Jamia Millia Islamia University, where she went on Wednesday to express solidarity. A critic of BJP led Centre, Ghosh said the "struggles of Kashmir" shouldn't be forgotten. That's when the government began the process of snatching our constitutional rights, Ghosh told the crowd.
Background: Kashmir is crippling under a blackout since months
In August 2019, Centre revoked Article 370, withdrawing the special status of Jammu and Kashmir, and bifurcating the state into two Union Territories. Before this move, the militancy-ridden Valley was put under heavy security, and internet/telephone lines were suspended. With modes of communication blocked, activists flagged concerns about human rights violations, but the government said the restrictions were necessitated to contain violence.
Ghosh doesn't support how government handled the Kashmir issue
The curbs imposed in the Valley are eventually being eased (broadband internet services, sans social media, made a return yesterday), but this hasn't been enough to assuage critics. Ghosh, who clearly doesn't approve of the government's steps in Kashmir, said, "In this battle, we cannot forget Kashmir. What is happening to them, the government started snatching our Constitution from there."
Injured Ghosh talked about Kashmir
JNUSU president Aishe Ghosh outside Jamia Millia Islamia: Hum is ladai mein Kashmir ka pichha aur unki baat nahi bhul sakte. Unke sath jo ho raha hai, kahin na kahin wahin se is sarkar ne shuru kiya tha ki hamare samvidhan ko hamse chheena jaye. pic.twitter.com/nnfnUQGjWx

— ANI (@ANI) January 15, 2020
The comments on Kashmir drew criticism for Ghosh
Her comments quickly earned her flak, and it was claimed that protest against JNU fee hike is a facade when the students actually want to slam BJP. For weeks now, the JNUSU has picked up arms against the varsity's administration for the increase in fees. The tension took an ugly turn on January 5, when masked goons entered the campus and thrashed students brutally.
Were we not told that JNU protests were against the fee hike? Well, Aishe Ghosh makes it clear that it was never about the fees! Rakes up Kashmir...

Is it not clear who the heart of 'these' JNUites bleeds for? https://t.co/68oHIxtwJW

— Amit Malviya (@amitmalviya) January 15, 2020
Last week, a "Free Kashmir" poster in Mumbai prompted outrage
Wednesday's incident isn't the only time that Kashmir was mentioned in protests. Last week, a woman named Mehak Mirza Prabhu held a "Free Kashmir" poster at Gateway of India, during a protest convened to show solidarity towards JNU students who were beaten up. The poster sparked an uproar with former Chief Minister Devendra Fadnavis asking his successor Uddhav Thackeray if he supports the idea.
JNUSU President condemned police action in Jamia too
Besides Kashmir, Ghosh also spoke about police excesses in Jamia Millia University. On December 15, cops barged inside the campus and assaulted students after a peaceful protest against the Citizenship Amendment Act ended in violence. Ghosh said even if the police was authorized to enter the varsity, nothing justifies their move of vandalizing the library. She wondered why no one has been held accountable.
Ghosh, accused in JNU violence, was investigated this week
For those unaware, Ghosh is also an accused in the JNU violence case, along with eight others. Delhi Police had named nine suspects in the incident and revealed the case is being handled by the cime branch. When she was named, Ghosh claimed Delhi Police was partial and added she had faith in the judiciary. On Monday, cops investigated Ghosh along with two others.
Cops asked Ghosh to narrate her version
About the interrogation, Ghosh said, "They sought my version of events. They asked me about my complaint. I also asked why they did not register an FIR on the complaint filed by me." She has repeatedly accused ABVP, the student wing of RSS, for orchestrating the attack. And as per Delhi Police, two members of the right-wing organization participated in the violence.