#NewsBytesExclusive: Shanmuga Subramanian explains how he found Vikram's crash site
#NewsBytesExclusive: Shanmuga Subramanian explains how he found Vikram's crash site
Written by
Shubham Sharma
Dec 03, 2019, 11:33 pm
3 min read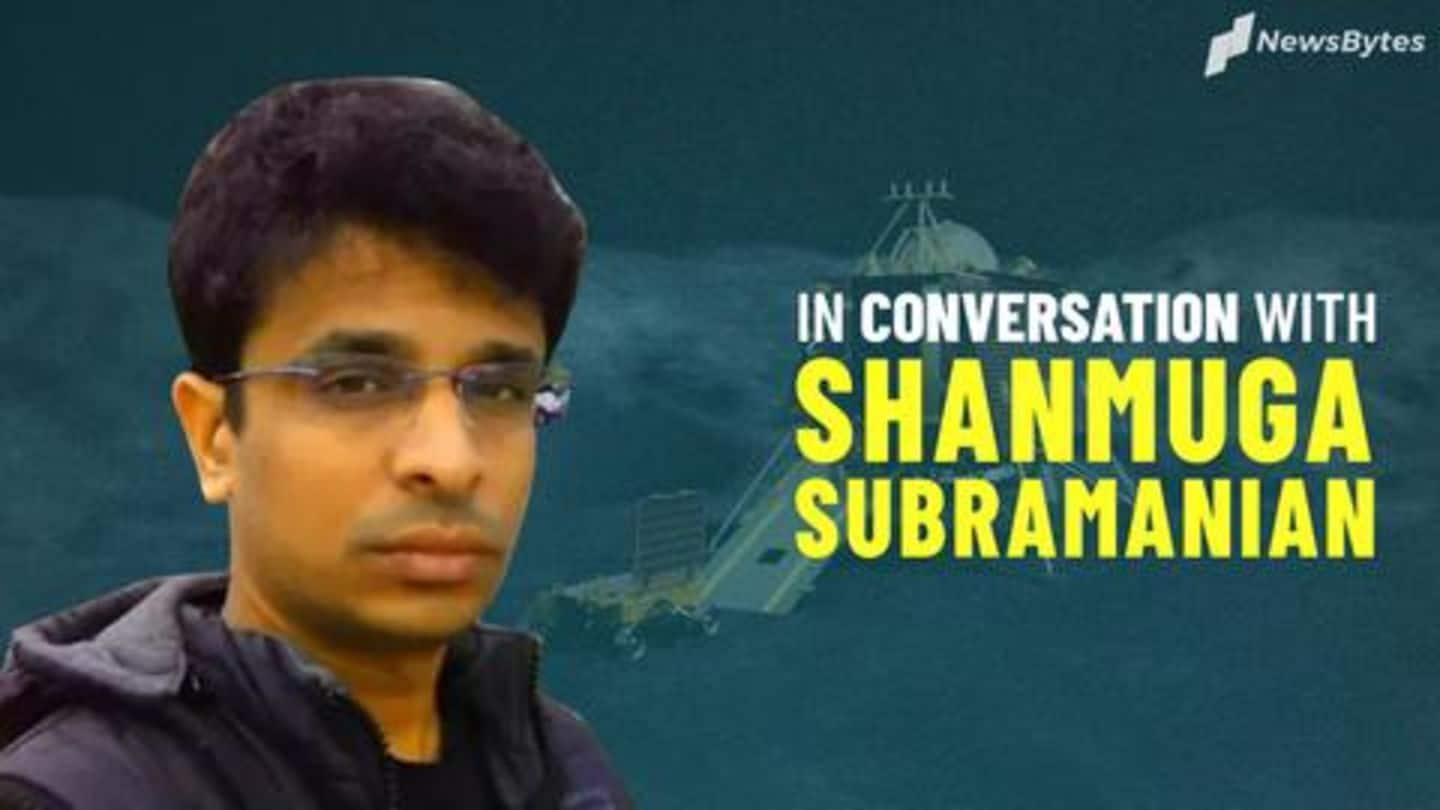 Earlier today, NASA announced it has located the crash site and debris of India's long-lost Vikram Lander. The American space agency shared the images of the contraption but also emphasized that the discovery couldn't have been made if it weren't for Shanmuga Subramanian, the techie who gave the first tip about Vikram's whereabouts. Now, speaking with NewsBytes, he explains how he did it.
Shanmuga on the search for Vikram
Shanmuga expressed his excitement on the discovery and said he started the search for Vikram when NASA released the first batch of images from its Moon orbiter. The agency said the images weren't illuminated enough to locate Vikram but the 33-year-old, who works as a technical architect at Lennox India Technology Center, started scouring them for Vikram's signs.
"I thought why shouldn't I give it a try"
The techie says that when NASA couldn't find the Lander in the first batch of images, he took it as a challenge and thought 'why shouldn't I try looking for it'. Then, he spent around 7-8 hours every day for a period of 4-5 days to compare the images taken before and after the landing, and looked for changes made by the lander's crash.
This is how he figured the exact location of crash
Initially, Shanmuga said, he ran into a lot of false positives while trying to find Vikram, but Twitter users kept correcting him. Then, he found a Reddit forum that detailed the targeted landing location and path of the lander's descent. So, he used the discussions on that forum to triangulate the landing spot within 2 sq km north from the targeted landing site.
On finding the region of crash landing
"I figured it would have stopped short of around 1 km from the landing spot, so it lead to me searching around 2 sq km around the landing area. I searched around North of the landing spot as Vikram approached landing spot only from North."
No high-end software used
Shanmuga said he searched for Vikram in the narrowed down region by comparing the latest photos with those taken from a nine-year-period before the landing. He placed two laptops side-by-side and matched every detail pixel-by-pixel, which eventually helped him locate a tiny blip - a piece of debris from Vikram's hard-landing. Notably, Shanmuga didn't use any special software/tool to parse through data.
Shanmuga was pretty sure about his finding
Before receiving NASA's confirmation and widespread media attention on December 3, Shanmuga had announced the discovery of Vikram on October 3 on Twitter. He says he was pretty sure about his finding back then but needed NASA's nod. So, he wrote to the space agency's LRO team about the finding, prompting them to verify the same through newer, better-lit photographs of the region.
Hopes to inspire people to to take up citizen astronomy
Shanmuga says he hopes his work would inspire other talented space enthusiasts to take up citizen astronomy and look for valuable information in publicly available data, like he did, to help out NASA/ISRO. He added, what he did 'wasn't out of the blue' and any ordinary person could have done it using the internet and available material on platforms like Twitter and Reddit.