SC grants interim bail to Republic TV editor-in-chief Arnab Goswami
SC grants interim bail to Republic TV editor-in-chief Arnab Goswami
Nov 11, 2020, 05:17 pm
5 min read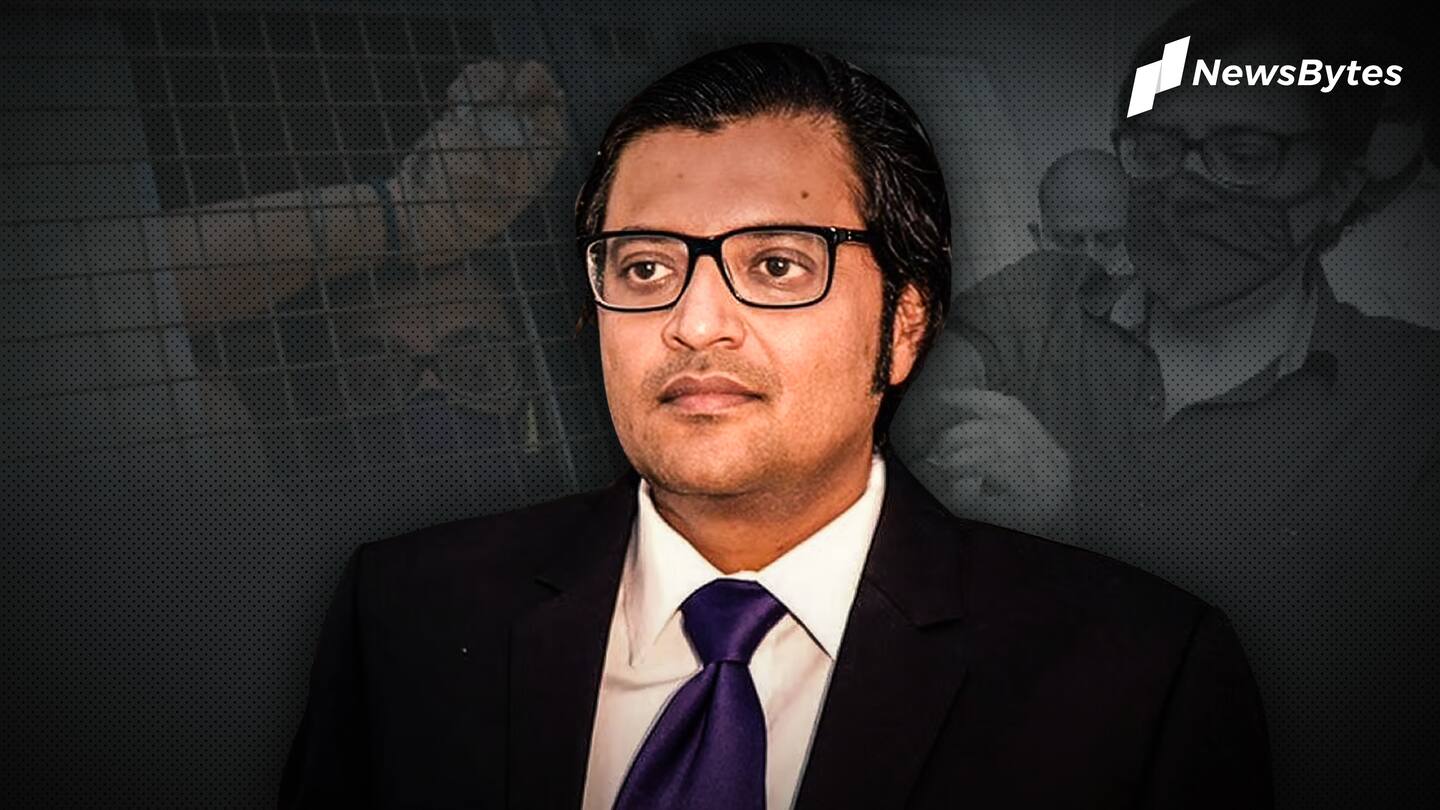 The Supreme Court on Wednesday overturned an earlier order of the Bombay High Court, which denied bail to journalist Arnab Goswami in an abetment to suicide case. While granting bail, Justice DY Chandrachud pulled up the lower court, asserting that high courts have previously denied personal liberties in a number of cases. With Goswami, two other co-accused were also granted bail. Here's what happened.
Background: A 2018 suicide case led to Goswami's arrest
Last Wednesday, the editor-in-chief of Republic TV was arrested from his Mumbai home in connection to the suicide of interior designer Anvay Naik, and his mother Kumud, in Alibaug in 2018. In his suicide note, Naik had blamed Goswami and two others for not clearing dues, leading to financial constraints. Later, the case was closed but the Shiv Sena-led government re-launched an investigation.
Goswami was arrested in dramatic fashion, alleged threat to life
Last week, in the early hours, cops knocked on Goswami's doors, arresting him after much drama. He was taken to Taloja Jail on Sunday, after initially being put up at a Zilla Parishad school. Cops alleged that he was shifted as he used a mobile phone. While he was being taken away, Goswami alleged threat to his life; he claimed he was assaulted.
After HC rejected bail plea, Goswami approached SC
On Monday, the Bombay High Court rejected his interim bail plea saying he should approach a lower court. A day later, the journalist filed an application in the top court through Advocate-on-Record Nirnimesh Dube. Meanwhile, his channel claimed Goswami is being targeted for criticizing the Maha Vikas Aghadi government. In fact, senior BJP leaders also lent support, dubbing his arrest as a "black day."
We are dealing with personal liberty: Justice Chandrachud
Today, Justice Chandrachud seemed angry at HC for breaking the "bail is the norm, jail exception" rule. "We are dealing with personal liberty here. Because he was owed money, Naik committed suicide due to financial stress. Is this a case of custodial questioning?" he asked. The Maharashtra government was represented by senior lawyer Kapil Sibal, while Harish Salve argued for Goswami.
SC had doubts about the sections evoked in the case
"Assuming the FIR is the gospel truth and that's a matter of investigation but is not paying up money abetment to suicide? It will be a travesty of justice if bail is not granted while FIR is pending Mr. Sibal," commented Justice Chandrachud.
Justice Chandrachud, however, said he never watches Goswami's channel
Justice Chandrachud said it was the right time for courts to interfere. He added that Goswami's ideology is irrelevant today. He also revealed that he doesn't even watch Goswami's channel, but that shouldn't stop the court from taking a sane decision. "We must send a message today to the High Courts as well — Please exercise your jurisdiction to uphold personal liberty," he added.
SC suggested state governments to follow some decorum
At this juncture, Sibal intervened asking the bench to look toward the available evidence. Justice Chandrachud admitted that the deceased's family deserves justice, but state governments shouldn't target individuals. "Governments must ignore all this. This is not the basis on which elections are fought. If state governments targets individuals they must realize that SC is here to protect them," he went on.
Goswami not the lone journalist to be jailed, reminded Sibal
During the hearing, which went on for more than four hours, examples of other journalists, who had been unfairly treated by governments were given. Sibal drew attention to Kerala journalist Siddique Kappan, who was arrested on way to Hathras. When his case was listed before SC, the court recommended approaching a lower court, he added. "Such things are also happening," Sibal lamented.
HC was wrong in denying bail to Goswami: Salve
Salve, who fiercely defended Goswami, drew SC's attention to the death of a man in Maharashtra. The deceased held Chief Minister Uddhav Thackeray responsible for his woes. Would the CM be arrested in this case, asked Salve. "There has to be clear "mens rea" for the offense of abetment to suicide," he added, also saying that HC committed a gross mistake by denying relief.
Is Goswami a terrorist, asked Salve
"The way he was arrested...20-30 armed policemen reach his house..arrest him without prior notice and straightaway take to Raigad from Mumbai. Is he a terrorist? Is there a murder charge on him?" asked Salve.
Another lawyer said his client was caught in crossfire
Senior lawyer Gopal Shankaranarayanan, defending Firoz Muhammed Sheikh, said the accused and the deceased were not known to each other. "There are five levels of separation between the accused and the deceased," he said. On this Justice Chandrachud replied, "This cannot be a case for custodial interrogation." "My client is a "collateral damage" of the government going after Arnab Goswami," he argued.
"No question of my client inciting Naik to commit suicide"
Advocate Mukul Rohatgi, who appeared for Neetish Sarda, said his client never met Naik. "I am a 27-year-old man having 0.3 percent share in the company which gave the contract to Naik's company," Rohatgi said, on Sarda's behalf. Saying that the three co-accused have no connection, Rohatgi claimed, "There is no question of my client inciting, abetting, or egging on Naik to commit suicide."
HC was wrong, said SC while granting relief to accused
After the exhausting hearing, Justice Chandrachud ordered Raigad police, under whose jurisdiction Taloja jail is situated, to release Goswami and other accused immediately. They were asked to execute a personal bond of Rs. 50,000. "High Court was in error in rejecting the application for grant of interim bail," said the top court, telling the co-accused to cooperate with the investigation.