Tuticorin: Once again, our saviors, the police, failed us
Tuticorin: Once again, our saviors, the police, failed us
May 30, 2018, 07:25 pm
3 min read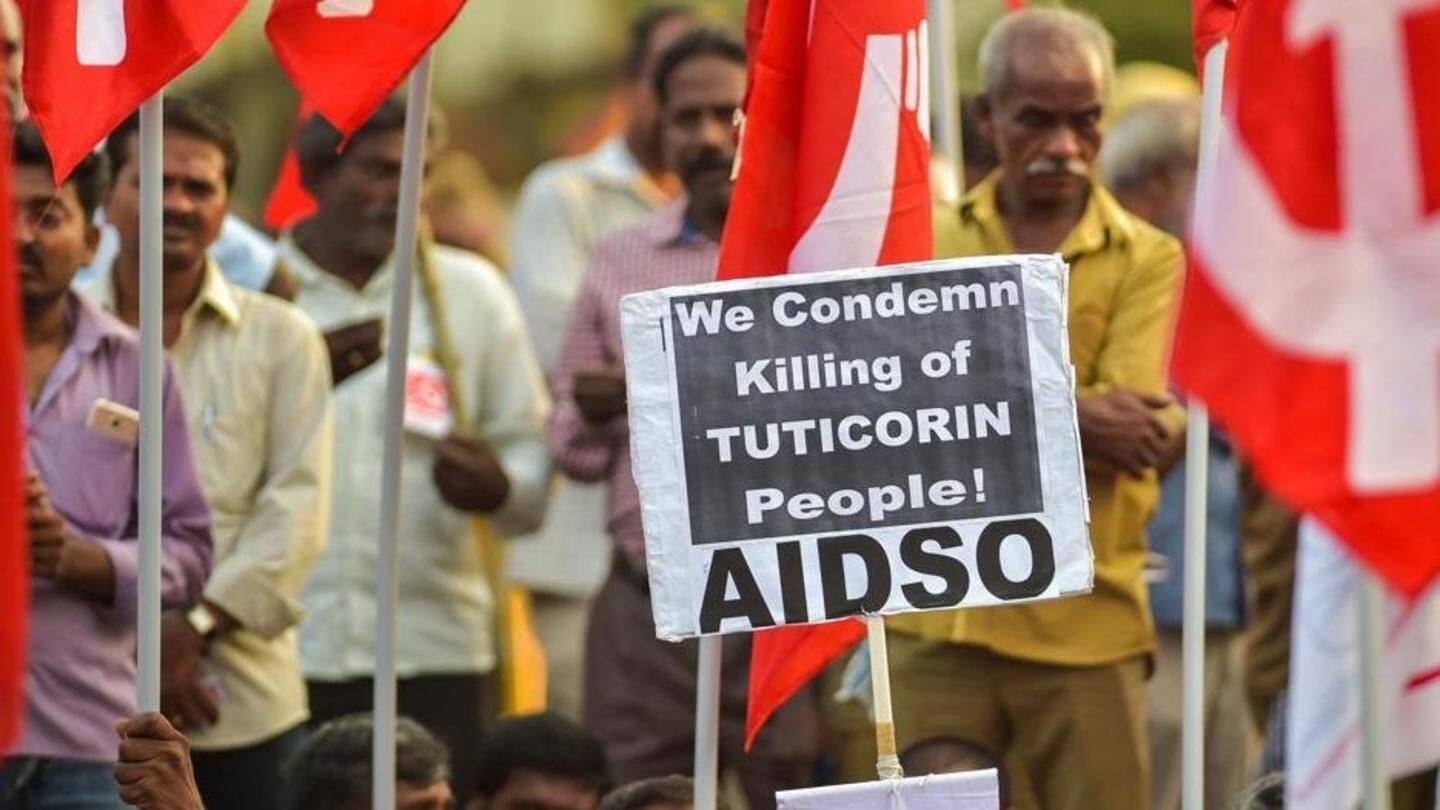 Last week, Tuticorin, Tamil Nadu, saw one of India's deadliest protests. At least 14 died in police firing as they took out demonstrations against Vedanta's city-based Sterlite copper plant. Once again, the same story. Once again, failure of state machinery. Once again, blatant violation of human rights. One can't help wondering why such incidents keep repeating, be it MP, West Bengal, Assam or TN.
What's the controversy about?
May 22 was the 100th day of protests against Sterlite. It was supposed to be a peaceful march, like the days before. But violence broke out soon enough. No one knows who started it, but protesters were pelting stones at cops, who opened fire on the crowd running helter-skelter. Videos showed sniper cops taking aim at protesters from atop buses and shooting.
Here's what Indian laws say about police firing
Police have naturally got to protect others as well as themselves in potentially fatal situations, but there are rules to be followed. They have to issue adequate warnings first, then use their batons before firing teargas and water cannons. Only if these don't work are they legally allowed to fire ordnance. The aim should be to incapacitate by firing on legs, not to kill.
If law-breakers are "criminals", what is Tamil Nadu Police?
Protesters claim no rule was followed. There were no warnings before bullets rained down. Cops were aiming from strategic positions, including from behind trees and nearby terraces. People were shot in the face and chest. One cop was heard saying, "At least one should die." Four cops said that they opened fire when protesters threw stones at the collectorate building, a trivial trigger.
Shocking visuals from the spot
FIR or "range of excuses"?
The two "deputy tahsildars" named in the FIR said they ordered firing because 10,000 agitators with plans of violence were marching with deadly-weapons. But it raises questions: why did they have to order firing when several higher officials were present? Protesters scoffed: demonstrations had gone on for 99 days peacefully, they reminded. Anyway, why would they bring children if violence was planned, they asked.
Why do such incidents keep repeating?
Though officials insist they used teargas first, it remains a fact that forces in India are under-equipped; many states have claimed they lack such resources. Manpower is also smaller than necessary. To ensure effective baton charge, there have to be sufficient numbers. Again, understaffing is a pervasive problem in India. But they can take a page out of J&K's book and use pellet guns.
It's either Tuticorin or Panchkula, no in-between
On the other hand, we have Panchkula, where thousands of Gurmeet Ram Rahim Singh's followers ran amok after his rape conviction, setting fire to property and vandalizing everything in their way. Though many succumbed, not one death was attributed to police-firing. Instead, the force got called out for inaction. The army had to be called in. Police in India seemingly lack restraint either way.
Who will guard the guards?
The first step to solving any problem is accountability, but it is a word that authorities don't understand. Right after the violence, CM E Palaniswami had even defended the police action. As the matter snowballed, they went to maintaining a deafening silence. The Human Rights Commission has now sent in its team for a probe, but it is always the same story.