Does rice help with weight loss? Let's find out
Does rice help with weight loss? Let's find out
Mar 22, 2022, 02:27 pm
3 min read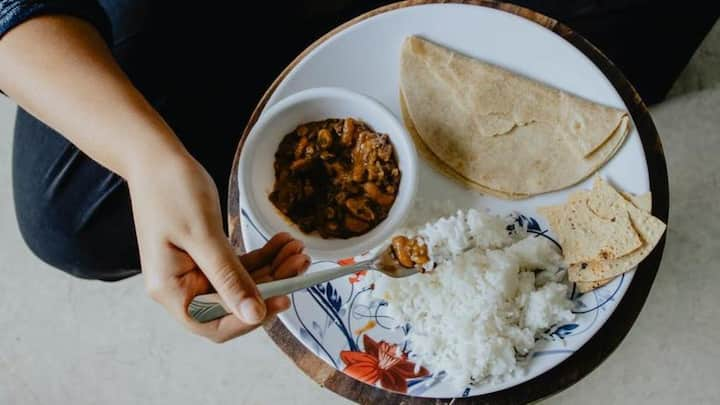 Rice is a staple carbohydrate-rich food in Indian households and is also widely consumed in other Asian countries such as China, Korea, and Japan. However, rice is often linked to weight gain and obesity due to its carb content and less fiber. But, according to various studies, most rice-consuming countries have witnessed lesser cases of obesity. Here's more to it!
Here is what our expert says
When the body burns more calories than it consumes, weight loss happens.
There are both kinds of myths about rice which say it's either good or bad for weight loss.
There is merit to both sides, as when rice is consumed in high amounts, the excess carbohydrates are converted to fat by the body, and in adequate amounts with exercise, it's an energy source.
How does rice help with weight loss?
If you are on a gluten-free diet, then rice is one of the best foods for you. Rice is composed of resistant starch and digestible starch. Resistant starch can actually promote weight loss by maintaining lean body mass, regulating hormones, and improving your appetite. An increase in lean body mass can stimulate your metabolism which as we all know is essential for weight loss.
Which type of rice is best for weight loss?
There are several types of rice grains available among which wild rice, black rice, brown rice, and red rice are some of the healthiest types of rice. Long grain rice is better for weight loss than short and medium-grained ones which are more sweet and starchy. Brown rice is minimally processed which makes it a better choice for weight loss than instant rice.
Some nutritional facts about rice
The calories, vitamins, minerals, and macronutrients in rice depend on the types available in the market. One cup of cooked medium-grain brown rice contains 220 calories, 45 grams of carbohydrates, 4.5 grams of protein, and 1.5 grams of fat. White rice, on the other hand, has about 240 calories with 4.5 grams of protein, 55 grams of carbohydrates, and one gram of fat.
How much rice should you consume to lose weight?
Portion control is the most important thing while trying to lose weight. Proper serving size can make rice weight loss friendly. According to a general guideline by the National Health Service, women between the age of 18-50 who are trying to lose weight must consume about 37 grams of rice per portion. Men should eat 50 grams of rice per portion to lose weight.
Is white rice a good choice for weight loss?
White rice is definitely not the healthiest choice to shed those extra kilos. It is a refined grain that can spike your blood sugar levels and insulin levels. This can lead to unhealthy weight gain. The less fiber in white rice makes it less fulfilling, thereby causing difficulty in losing weight. Non-sticky rice with a low glycemic index can maintain your blood sugar levels.