Common tourist mistakes to avoid in Japan
Common tourist mistakes to avoid in Japan
Feb 07, 2023, 01:59 pm
2 min read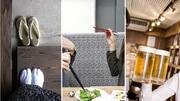 Every country has its own set of socially acceptable behavior, and Japan known for its immense discipline and unique culture has some very specific rules. While you are not expected to know about them all as a foreigner, it is always a good idea to learn of a few cultural faux pas before visiting. Here are five things tourists should never do in Japan.
Wearing shoes at home, work, restaurants, and schools
We all know that in most Asian countries shoes are not allowed inside temples. But the Japanese maintain a no-shoe policy even inside restaurants, schools, homes, and workplaces. This is considered a sign of respect, and it helps keep the interior clean. If you are unsure about whether shoes should be removed, look for signs or follow the example of others.
Being loud or disruptive in public places
Japan is known for its polite and respectful culture, so as a tourist, you must be mindful of your behavior in public. This includes speaking softly, avoiding loud or disruptive behavior, and not blocking pathways or exits. When visiting temples and shrines, be mindful of others and avoid behaving in any way that may be seen as disrespectful.
Neglecting personal hygiene
Personal hygiene is highly valued in Japan, and one must maintain a clean and presentable appearance in public. This includes taking off shoes when entering homes, wearing clean clothing, and avoiding strong perfumes or scents that may be overwhelming to others. Additionally, you must wash your hands frequently and use tissues when coughing or sneezing. Blowing your nose in public is also considered uncivilized.
Eating or drinking in public
Eating and drinking in public places, such as on trains and buses, is generally discouraged in Japan. This is because it is considered impolite to create messes in public spaces, and many people feel it is disruptive to other passengers. If you need to eat or drink while in transit, it is best to wait until you reach your destination.
Chopsticks are an important part of Japanese cuisine. Knowing how to handle them properly is akin to the amount of respect you hold for Japanese cuisine and culture. Pointing with your chopsticks is considered impolite. Tsukitatebashi is a Japanese word that indicates not stabbing your chopsticks vertically into your rice bowl since this is done for Buddhist memorial services. This is associated with death.