NASA's James Webb telescope captures spiral galaxy in stunning detail
NASA's James Webb telescope captures spiral galaxy in stunning detail
Feb 02, 2023, 02:13 pm
3 min read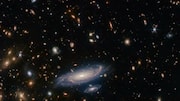 A new image released by NASA's James Webb Space Telescope (JWST) depicts a crowded field of galaxies and bright stars, while the spotlight is on a spiral galaxy. The spiral galaxy, named LEDA 2046648, lies over one billion light-years away in constellation Hercules. What's amazing is that the galaxy has been captured in such great detail that its individual spiral arms are clearly visible.
Why does this story matter?
The $10 billion Webb telescope, which has been carrying out scientific observations since July 2022, has been stunning the world by taking spectacular images.
In the latest image, Webb has captured incredible details of a distant spiral galaxy. The stars and galaxies that are visible are marked by six-pointed diffraction spikes, which are a signature of JWST observations.
The spiral galaxies play host to the formation of stars
In the image, the spiral galaxy LEDA 2046648 is seen at an oblique angle, while another galaxy which is about one-quarter the size lies right below. Both galaxies have a brightly glowing core and encompass regions of star formation, the reason why their spiral arms are lit up. The background stars and galaxies are seen in various colors but mostly shades of orange.
The galaxy-studded image was captured by Webb's in-house camera
This galaxy-studded image was captured by Webb's onboard Near-InfraRed Camera (NIRCam) while the telescope was observing a well-studied object, a white dwarf star called WD1657+343, to calibrate its Near-Infrared Imager and Slitless Spectrograph (NIRISS) instrument. NIRISS also supports parallel observations with NIRCam. This allows astronomers to interpret and compare data from the two instruments, and to characterize the performance of NIRISS.
One of Webb's main goals is to observe ancient galaxies
One of the Webb telescope's primary goals is to observe distant, ancient galaxies in order to provide details of their formation, evolution, and composition. The other galaxies seen in the image are not only smaller than the spiral galaxy LEDA 2046648, but some of them are also more distant, and thereby offer a deeper view of the universe.
Webb's infrared capabilities are ideal for the study of galaxies 
Thanks to Webb's infrared capabilities, astronomers can compare distant galaxies to those that lie closer to our Milky Way. This helps scientists better understand how galaxies grew to form the structures we see in the universe today. By probing distant galaxies, Webb can provide information on their chemical composition and shed light on how heavy elements were formed and built up as galaxies evolved.