NASA's NEO Surveyor will look for the hardest-to-find asteroids
NASA's NEO Surveyor will look for the hardest-to-find asteroids
Jan 05, 2023, 03:37 pm
3 min read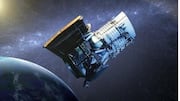 NASA is developing a space telescope called Near-Earth Object (NEO) Surveyor, that will look for asteroids and comets that serve as potential threats to our home planet. It is designed to discover 90% of asteroids, 460 feet in size or larger that come within 48 million kilometers of the Earth's orbit. NEO Surveyor is expected to launch in 2028.
Why does this story matter?
NASA's recent planetary defense test—DART (Double Asteroid Redirection Test)—was a resounding success.
The DART spacecraft crashed into its target, a 520-foot-long asteroid called Dimorphos at a speed of 22,530 kilometers per hour and altered the asteroid's orbit by 32 minutes.
Before the risky asteroids can be deflected, they will first have to be found, and NEO Surveyor is designed exactly for that purpose.
NEO Surveyor is equipped with a single scientific instrument
NEO Surveyor contains one scientific instrument: a 20-inch wide telescope that operates in two heat-sensitive infrared wavelengths. The space telescope will provide information about the size, orbits, composition, shapes, and rotational states of the NEOs. It will be capable of detecting cosmic objects that are hard to find, including dark asteroids and comets that do not reflect visible light.
The NEO Surveyor will be a game-changer
"NEO Surveyor represents the next generation for NASA's ability to quickly detect, track, and characterize potentially hazardous near-Earth objects," said Lindley Johnson, NASA's Planetary Defense Officer at Planetary Defense Coordination Office (PDCO). "Ground-based telescopes remain essential for us to continually watch the skies, but a space-based infrared observatory is the ultimate high ground that will enable NASA's planetary defense strategy," she added.
NEO Surveyor will be positioned at the L1 Lagrange point
NEO Surveyor has passed a technical review and has now transitioned to its final design-and-fabrication phase. NASA is establishing the project's technical, cost, and schedule baseline. The telescope is scheduled to launch no earlier than June 2028. It will be positioned at the L1 Lagrange region between Earth and the Sun and will begin finding NEOs within a decade of its launch.
The previous NEO-WISE mission ended in 2011
Previously, a mission called Near-Earth Object Wide-field Infrared Survey Explorer (NEO-WISE), which ended in 2011, proved to be efficient at detecting and characterizing NEOs. But what makes the NEO Surveyor different from its predecessor is that it is the first space mission that has been specifically built by NASA to discover large numbers of such hazardous asteroids and comets.
Are there any imminent threats posed by asteroids?
NASA confirms that currently there are no known NEOs that pose a significant risk of impacting Earth in the next 100 years. However, unknown NEOs have caused problems before. In 2013, a house-sized asteroid blew apart just 22 kilometers above the ground in Chelyabinsk, Russia, injuring over 1,600 people. The impact generated energy equivalent to around 440,000 tons of trinitrotoluene (TNT).
NEO Surveyor can help understand the origin of asteroids
While the main objective of the NEO Surveyor is for planetary defense, the data obtained from the space telescope can enhance the understanding of the origins and evolution of asteroids and comets, which formed ancient building blocks of our solar system.