Masood Azhar is unwell, his brother is running Jaish-e-Mohammed: Report
Masood Azhar is unwell, his brother is running Jaish-e-Mohammed: Report
Sep 10, 2019, 03:56 pm
2 min read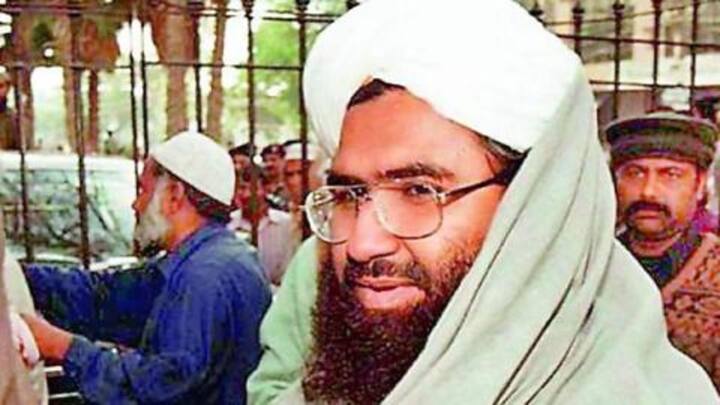 Jaish-e-Mohammed chief Masood Azhar is unwell and in his absence, his brother Abdul Rauf Asghar is running the show, reports TOI. Azhar who is a UN-designated terrorist hasn't been keeping well due to renal failure, intelligence sources told the daily. As he is confined to his quarters, Asghar has stepped up and is at the helm of affairs of the terrorist organization.
Azhar has been waging war against India for years now
Azhar, who was released by New Delhi in 1999 in exchange for the safe return of passengers onboard the Indian Airlines Flight 814, has been waging war against India for years. His outfit was responsible for the 2001 Parliament attack, and most recently the Pulwama attack, in which 40 CRPF soldiers were martyred. In response to February's attack, India launched Balakot airstrikes.
Azhar has been confined to Bahawalpur
Now, sources told the daily that Azhar is putting up at two key camps of Jaish in Bahawalpur, Pakistan. "His confinement to a well-guarded Jaish facility in Bahawalpur is possibly linked to his serious medical condition and the need to ensure his security in the aftermath of the IAF airstrikes on Jaish terror camp in Balakot in February," a person in the know said.
Azhar radicalizes cadre, Asghar takes care of daily operations
Apparently, Azhar has never been an operations man. His job has been to "motivate" cadres and that's being done even now with his pre-recorded sermons. Asghar, on the other hand, sees into the daily operations of Jaish. It was Asghar who orchestrated the IC-814 hijack, which forced India to set Azhar free. Asghar, said to be 45 years old, also delivers Friday sermons.
There are no restrictions on Asghar's movements: Officer
"He meets other Jaish functionaries regularly to plan terror maneuvers. In fact, recent reports indicate that he has been instructed by ISI to escalate Jaish activities in J&K and beyond in view of abrogation of Article 370," an officer said, adding Asghar moves freely.
Notably, Azhar was never in custody, revealed another report
Not long ago, reports claimed that Azhar has been "secretly" released by Pakistan to plan operations against India. Dismissing these speculations, top intelligence sources told Zee News, the dreaded terrorist was never in custody, to begin with. He has been lying low and has restricted public appearances. Meanwhile, Azhar has been declared an individual terrorist by India under the Unlawful Activities (Prevention) Act.