US Speaker Nancy Pelosi addresses Taiwan Parliament; China enraged
US Speaker Nancy Pelosi addresses Taiwan Parliament; China enraged
Written by
Priyali Dhingra
Aug 03, 2022, 10:21 am
3 min read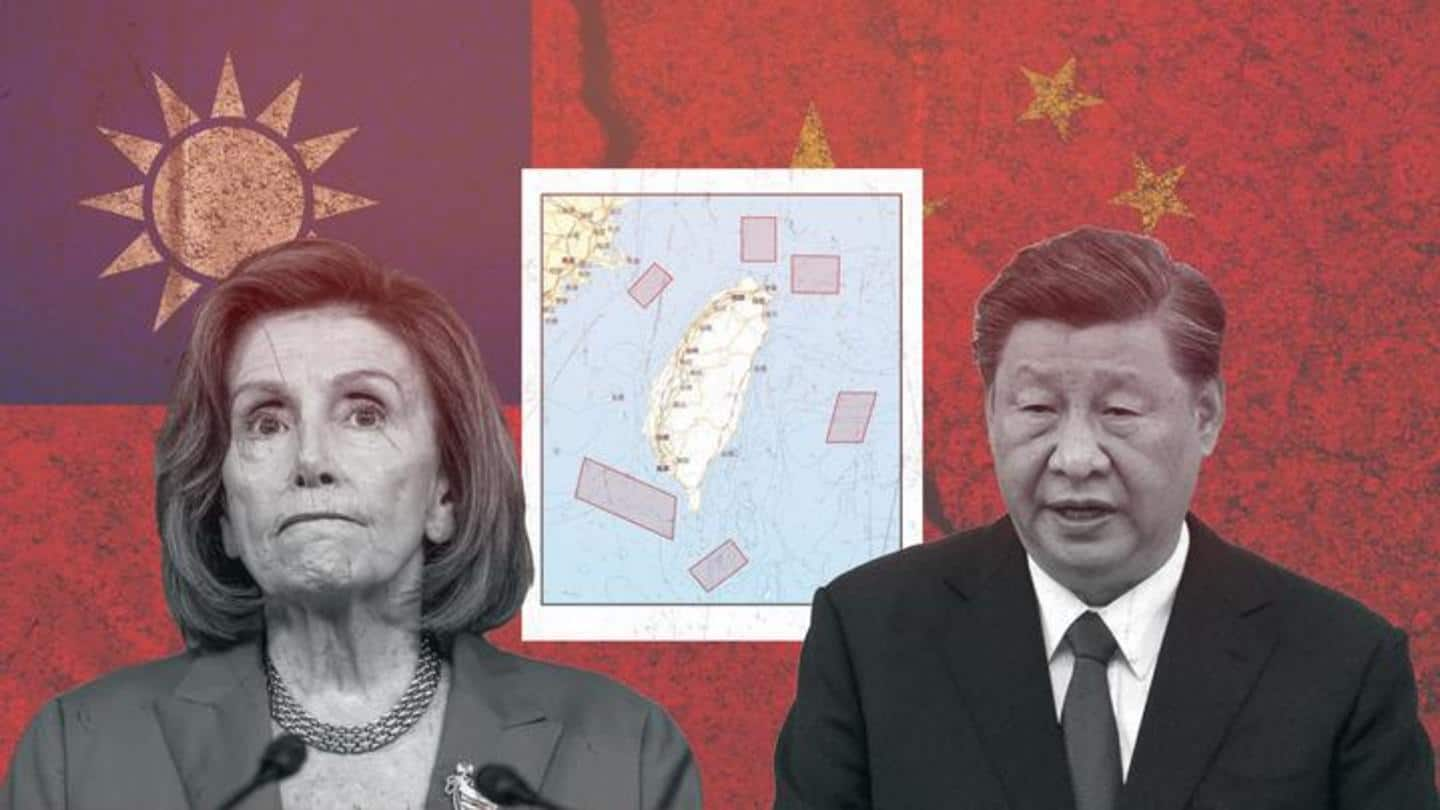 US House Speaker Nancy Pelosi addressed Taiwan's parliament on Wednesday, and met with its President Tsai Ing-wen and human rights activists. As Pelosi's plane landed in Taiwan, her pit stop triggered furore among the Chinese who sent 21 military jets flying over the island. The trip, not backed by US President, is the first high-level diplomatic visit of the USA to Taipei.
Why does this story matter?
While Taiwan remains self-ruled, China claims the island as its own and aims to reunite it with the mainland.
Notably, the US-Taiwan proximity has grown under the American administrations of Donald Trump (2017-2021) and Joe Biden (incumbent).
The US's commitment under the Taiwan Relations Act to provide Taiwan with military support to defend itself is also viewed as an affront to China.
'We come in friendship to Taiwan'
The House Speaker met with Taiwanese President Ing-wen and called the meeting a "show of American solidarity." "We will not abandon our commitment to Taiwan," Pelosi assured, as Ing-wen stated, "(We will) continue to hold the line of defense for democracy." Speaking to Taiwan's legislators, Pelosi said, "We come in friendship to Taiwan, we come in peace to the region."
Watch: Pelosi meets Taiwan President
What did Nancy Pelosi say?
Addressing a press conference afterward, the third highest-ranking US official said, "America wants Taiwan to have freedom with security...We don't want anything to happen to Taiwan by force." While respecting the 'One China' policy, she said American solidarity with Taiwan is "more crucial than ever."
China up in fumes, prepares military drills
As China prepared for live-fire military drills close to the island nation, Taiwan's defense ministry said that it threatens its key ports and urban areas. On Tuesday night, China announced that will conduct a series of joint military operations, including using "long-range live ammunition in the Taiwan Strait." The PLA drills will take place from Thursday through Sunday after Pelosi leaves the island.
China's military drills in Taiwan Strait
On Wed the PLA Eastern Theater Command organized joint drills featuring Navy, Air Force, Rocket Force, Strategic Support Force Joint Logistic Support Force in the sea and air space N, SW SE of Taiwan island pic.twitter.com/GbSstrLUxk

— Global Times (@globaltimesnews) August 3, 2022
China's economic retaliation
China also announced that it will suspend the import of citrus fruits, frozen horse mackerel, and chilled white stripe hairtail from Taiwan. Additionally, China's commerce ministry halted the export of natural sand to Taipei. The Taiwanese President slammed China's response to the visit.
A historic first in 25 years
Pelosi has been a long-time critic of Beijing and has alleged human rights abuses in the nation. The last time a US representative visited the self-governed island of Taiwan was in 1977. Her Taiwan pit stop is expected to increase friction in the already-on-edge China-US relations. Biden earlier said the US military feels Pelosi's Taiwan visit is "not a good idea right now."