Afghanistan: Taliban publicly chop off hands of 4 convicts
Afghanistan: Taliban publicly chop off hands of 4 convicts
Jan 18, 2023, 04:13 pm
3 min read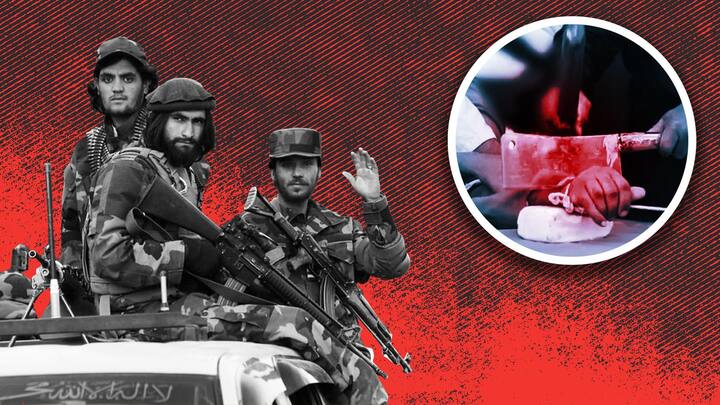 Controversial public punishments including amputations have come to the limelight again in Afghanistan as the Taliban punished more convicts. The regime publicly cut off the hands of four people and flogged nine in Kandahar on Tuesday, local media claimed, per ANI. According to reports, they were convicted of robbery and sodomy and official statements claimed local authorities and people were present during the punishment.
Why does this story matter?
The Taliban took control of Afghanistan on August 12, 2021, forcing senior officials to flee as the US Army retreated from the country.
It has also imposed several restrictions on women, girls, and the media, in addition to vowing to implement strict Sharia law.
Following the takeover, Afghanistan is facing several problems, including hunger and internal displacement, according to the United Nations (UN).
Former minister Shabnam Nasimi details recent event
The Taliban reportedly cut off the hands of four people in a football stadium in Kandahar, ANI quoted Shabnam Nasimi, former Policy Advisor to Minister for Afghan Resettlement and Minister for Refugees in the United Kingdom, as saying. Meanwhile, nine people were flogged in Ahmad Shahi Stadium, Kandahar, on Tuesday on charges of robbery and 'sodomy', reports Tolo News, citing the country's Supreme Court.
Public executions, amputations go on without fair trial: Nasimi
"People are being lashed, amputated & executed in Afghanistan, without fair trial and due process. This is a human rights violation," Nasimi tweeted. Notably, the flogging and the public execution of criminals and convicts following a decree by the hard-liners' supreme leader resumed in Afghanistan despite international condemnation. UN experts have also degraded this form of punishment.
'De facto' Taliban flogged 100 people in two months: UN
According to the UN, the de facto Taliban authorities have reportedly flogged over 100 people since November 18, 2022. Those punished include both women and men in Takhar, Logar, Laghman, Parwan, and Kabul regions. "Each was given between 20 and 100 lashes for alleged crimes including theft, 'illegitimate' relationships or violating social behavior codes," it said in a statement.
Taliban had pledged to bring back strict punishments
In 2021, when the Taliban gained control of Afghanistan, it pledged to bring back strict punishments like executions and amputations to the country. Mullah Nooruddin Turabi—who was the chief enforcer of the Taliban's harsh rule in the 1990s—defended the group and said that "cutting off of hands is very necessary" as punishment for crimes. Turabi said the group has "changed from the past."