Resto-moded BMW 1602, with carbon-fiber panels, is a hand-sculpted delight
Resto-moded BMW 1602, with carbon-fiber panels, is a hand-sculpted delight
Jan 23, 2023, 12:05 am
2 min read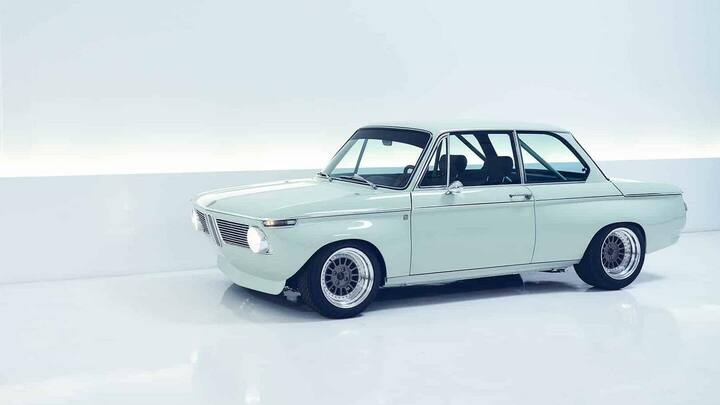 Paul Lefevre, a French surfboard shaper and builder, has showcased a one-of-a-kind resto-moded 1969 BMW 1602, with hand-sculpted carbon fiber body panels. The use of lightweight materials has reduced the overall weight of the classic sedan to just 816kg, all while ensuring the structural rigidity of the vehicle. The car draws power from an old-school 2.3-liter, inline-four engine (codenamed: S14).
Why does this story matter?
BMW 1602 was the first model in the 2 Series (compact performance vehicles) by the German marque and made its debut at the 1966 Geneva Motor Show.
The car was later replaced by the E21 model, which was the beginning of the iconic 3 Series range.
Now, a France-born surfing enthusiast and surfboard builder has restored the sedan with carbon fiber body panels.
The sedan flaunts circular headlights and a clamshell bonnet
The modified 1969 BMW 1602 has a boxy design and flaunts a long clamshell bonnet, signature kidney grille, circular halogen headlamps, a wide air dam, and a raked windscreen. The sedan is flanked on the sides by chromed circular ORVMs, pull-type door handles, chrome window lining, flared wheel arches, and designer wheels. Round taillamps are available at the rear.
It draws power from a 2.3-liter, inline-four engine
The restored BMW 1602 is powered by an old-school 2.3-liter, inline-four engine that generates 207hp of maximum power and 258Nm of peak torque. The mill is mated to a 5-speed Getrag 265 gearbox with a custom short shifter.
The car features a roll cage and carbon fiber dashboard
On the inside, the rear bench of the 1969 BMW 1602 is replaced by an expansive roll cage. It features a carbon fiber dashboard with KMS Can display, a 350mm steering wheel, custom-made upholstery using M1 tweed fabric, bucket-type seats, a lightened internal mechanism for windows, door handles, and a rear-view mirror. The safety of passengers is ensured by Schroth Racing's rally-style four-point harness.
The resto-moded 1969 BMW 1602 is a one-of-a-kind model and is primarily made as a show car. Painted in a Florida Green color, the sedan is strictly not meant for sale to the general public.